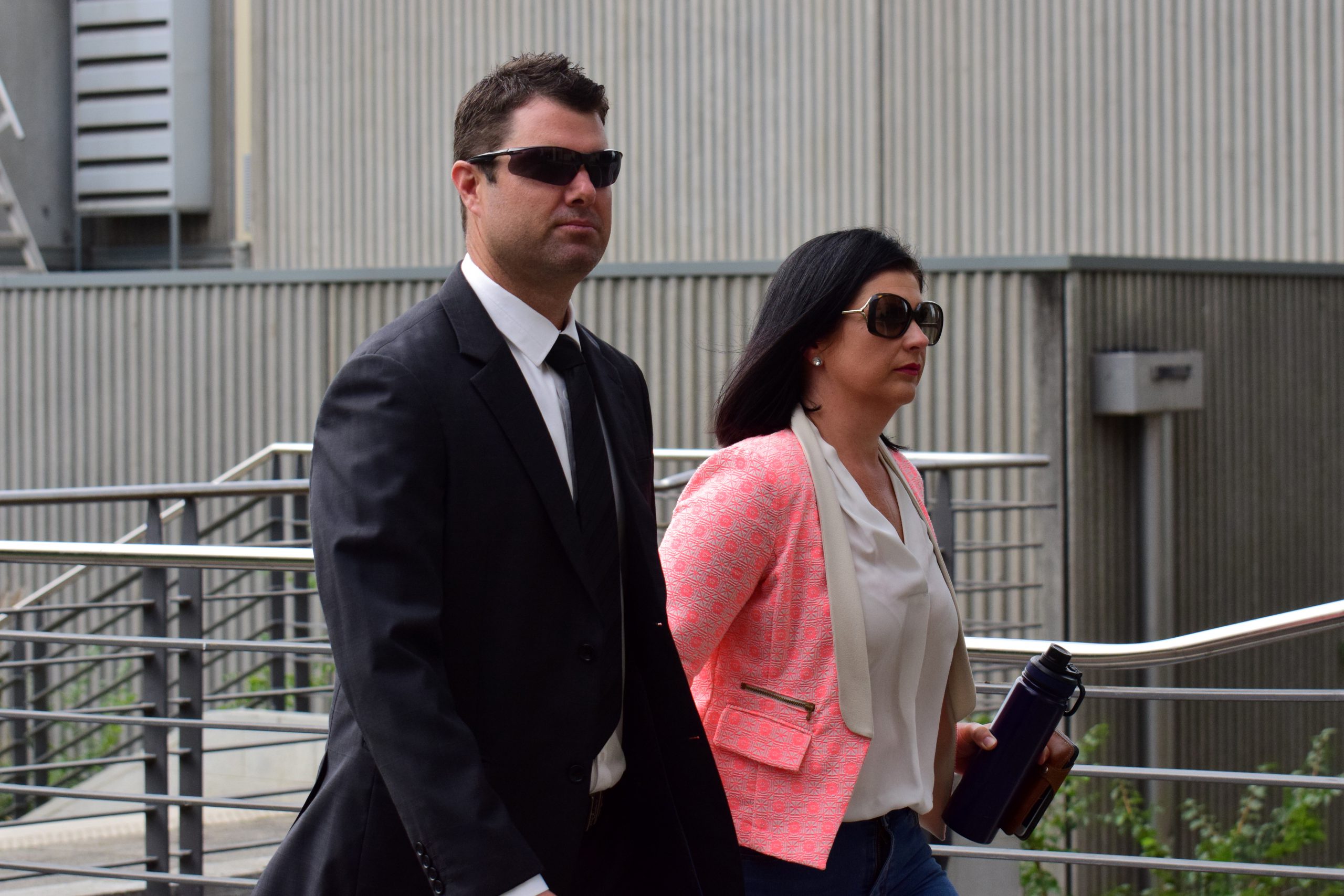 Kate Withers
A police officer who was convicted of assaulting a person in custody has fronted the County Court of Victoria at an appeal hearing this week.

Senior Constable Dallas Ross Howell was placed on a 12-month good behaviour bond in March last year after being convicted on two counts of unlawfully assaulting Daniel Hornsby while he was in custody at the Moe Police Station in 2017.
CCTV footage played in court last year showed Senior Constable Howell enter the cell where Mr Hornsby was being held on the night of September 8.
The vision, which lasts about 50 seconds, showed Mr Hornsby "kick out" at Howell before he was pulled off the bench by the Senior Constable.
Howell is then shown striking Mr Hornsby to the head and upper body multiple times on two separate occasions.
During this week's appeal hearing in Morwell, defence barrister Nadia Kaddeche argued Howell used reasonable force and said his strikes were "defensive".
"A kick is a kick. It is still assault of a police officer," Ms Kaddeche told the court.
"It is not up to Mr Howell to prove his conduct was reasonably necessary, it is up to the prosecution to disprove it was reasonably necessary.
"There is no rule requiring the accused to retreat from a perceived or actual attack."
But Judge Carolene Gwynn said she had "a lot to think about" when deciding whether the charges against Howell would be proven.

"To be perfectly frank, at this stage I'm struggling with whether the force was proportionate to what was occurring, and whether your client's belief was reasonable in the circumstances," Ms Gwynn told the defence.
Four police officers who had contact with Howell after the incident were called as witnesses for the prosecution.
"It's very hard to accept in the face of the evidence of four different witnesses of … comments attributed to your client, being of a similar nature in a similar context … it is very difficult to accept that all four of them are untruthful," Ms Gwynn said.
In her submission, Crown prosecutor Elizabeth Tueno urged Judge Gwynn to take into consideration an email thread between Howell and Traralgon Sergeant Joanne Sinclair.
Sergeant Sinclair, who was charged with overseeing Latrobe Valley police units on the night of the incident, emailed Howell to ask if Mr Hornsby would be charged with assaulting a police officer.
"One thing that has been overlooked … the email to Sergeant Sinclair where (Howell) says: 'No, I've had my justice'," Ms Tueno told the court.
Ms Tueno also argued Howell's conduct on the night of the alleged assault was "not a reasonable response in the circumstances" and rejected the defence's submission that he acted in self-defence after Mr Hornsby "kicked out" and allegedly grabbed him.

"The kick, you can see, it's not an extremely violent kick. it's a man who is drunk and intoxicated on alcohol and drugs," Ms Tueno said.
"It was an entirely disproportionate act to firstly drag him off the bench and secondly immediately go in for the punches on his head.
"In my submission, he has made the decision that he needed to retaliate.
"The other eyewitnesses do not support Mr Howell's version of events. None of the witnesses say that they saw Mr Hornsby grab (his) jacket or throat. There's no proper evidence to support Mr Howell's version of events."

The appeal hearing will resume next Friday, January 31.