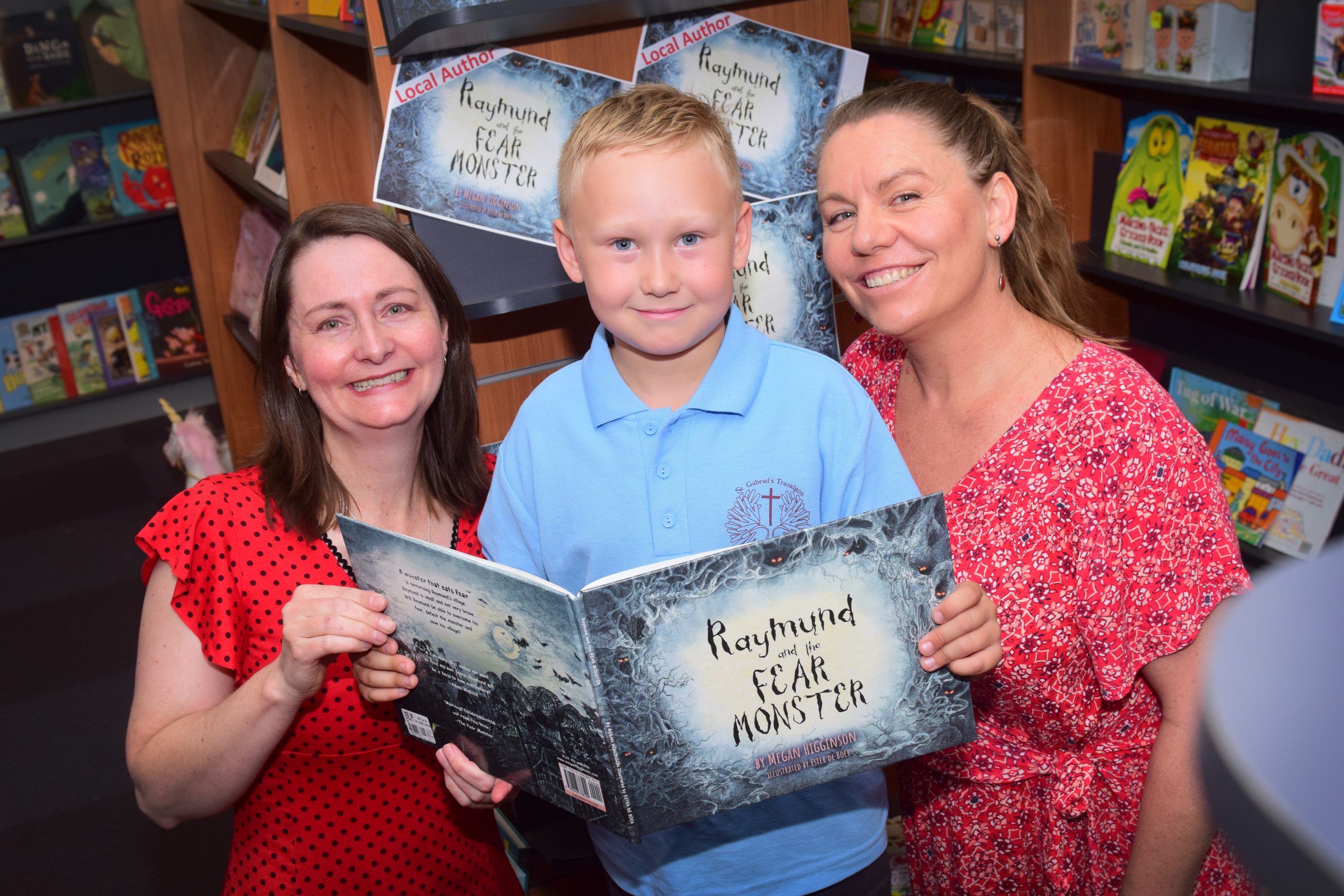 Kate Withers
Seven-year-old bookworm Xavier Byrne walked into the Morwell Newsagency late last year when a particular book caught his eye.

After saving his pennies all summer, the voracious reader returned to the newsagents with money box in hand last week, ready to exchange his hard-earned for locally produced book Raymund and the Fear Monster.
Unbeknownst to him, waiting secretly in the wings to surprise their biggest fan were author Megan Higginson and illustrator Ester de Boer.
Orchestrated by staff at the newsagency, the pop-up meet and greet was a huge hit, and the smile on Xavier's face said it all.
"He loves books. He just absolutely loves to read," grandmother Jeanine said.
"He saw the book and he wanted it so badly and his dad said 'no, you have to earn this one Xavier'.
"So he helped me around the garden, packed up his toys, put his dishes on the sink and made sure he brushed his teeth every night before bed, and every time he did something he said 'can I have another dollar?"
The encounter was equally rewarding for Ms Higginson and Ms de Boer, who relished the opportunity to meet the first in what is hopefully a long line of fans.
"It's really exciting to have a little fan, I always love it when I hear kids and how they respond to the book," Ms Higginson said.
The inspiration for Raymund and the Fear Monster struck after Ms Higginson visited an orphanage in the Philippines in 2013 while on a mission trip.
"I met so many beautiful children and workers and I discovered a lot of them had fears and a lot of them were the same that our kids had," she said.
"Monsters under the bed, in the wardrobe, the dark and things, but they also had a lot of other fears that our kids wouldn't be too familiar with, but some of them might be.
"When I came back I started writing to them every week and I wrote them little stories, and when I went back a few months later I wanted to do something really special for them.
"I wanted to give the children a really fun story that also had some strategies in it that could help them overcome and face their fears."
Released in October, the book has been received with critical acclaim from readers young and old.
"When I first read Raymund and the Fear Monster, I said to Megan 'I want to illustrate that book'," Ms de Boer said.
The intricate illustrations capture all the nuances of the Filipino flora and fauna and came as a welcome return to the medium for Ms de Boer.
"I love doing detail and I hadn't done it for ages, but I just thought I would go to town and it's set in the Philippines so I just made files and files of Philippines jungle," she said.
"You won't find anything (in the book) that doesn't belong in the Philippines jungle."
An extra special illustration can now be found in Xavier's copy of Raymund and the Fear Monster.
A personalised cartoon monster inside the front cover, complete with author and illustrator autographs, have turned the book into his most prized possession.