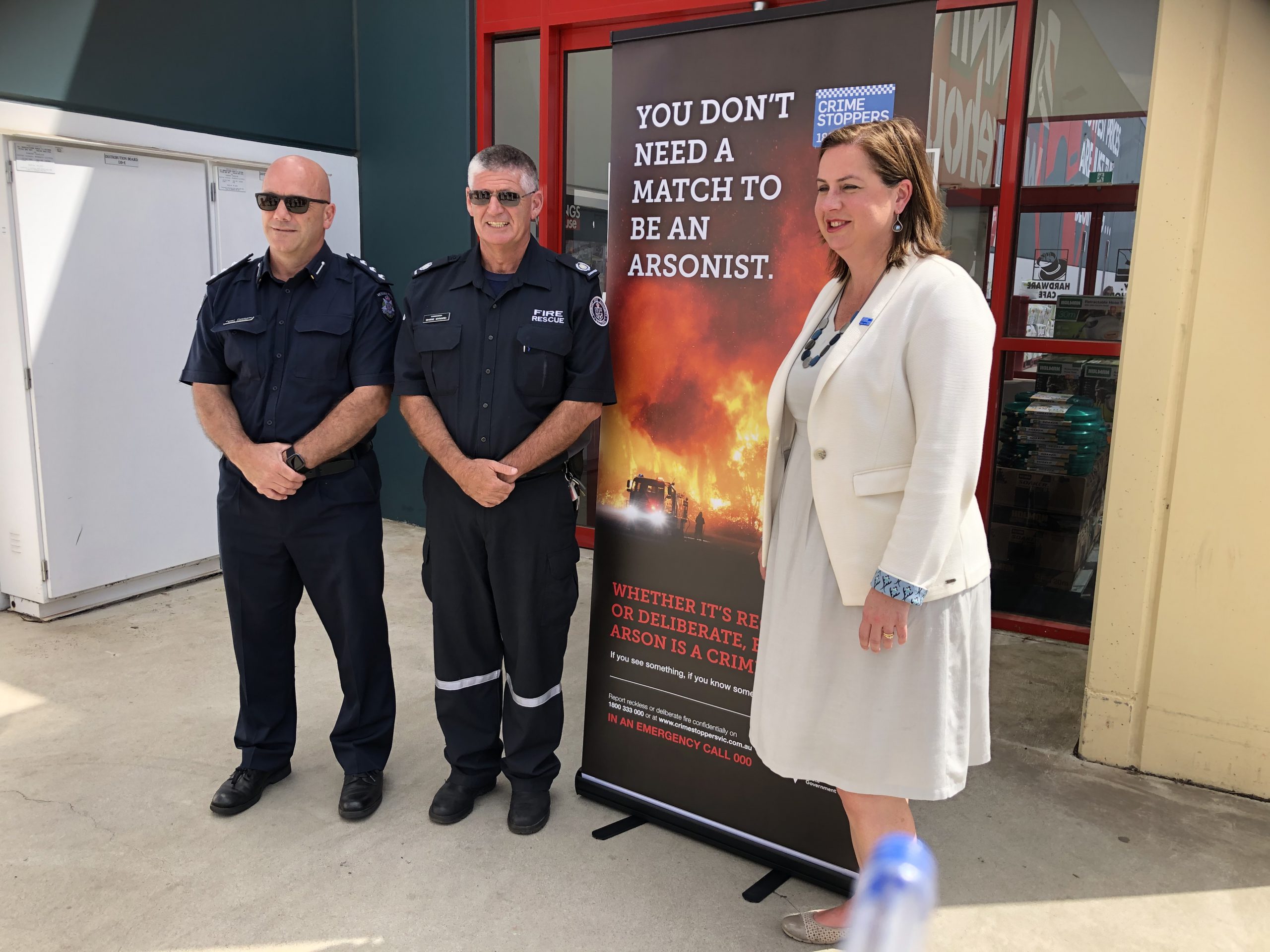 Kate Withers
Crime Stoppers Victoria has launched a new campaign aimed at raising awareness around bushfire arson and preventative measures community members can take to avoid accidental fires.

The initiative, You Don't Need a Match to be an Arsonist, was created in partnership with the CFA and Victoria Police.
Crime Stoppers Victoria marketing and communications manager Fiona Collie said the current bushfire season had generated "the most discussion and debate around arson in many seasons".
"Our firefighters and emergency service workers have gone above and beyond fighting fires and helping communities recover from fires," Ms Collie said.
"The last thing they need is to fight fire that (are) deliberately or recklessly started, and the last thing anyone needs are more homes lost, anymore lives lost or communities and economies damaged.
"We can't control the weather but we can help control arson. It can be reported and it can be prevented, but we need everybody in the community's help.
"We received more than 70,000 calls last year, which resulted in over 1200 arrests.
"Reckless arson is caused when people either don't know or choose to ignore the rules about what can and can't be done during a fire danger period or total fire ban."
CFA Commander Shane Mynard said a number of everyday items had the capacity to spark bushfires, including unattended camp fires, trailers, machinery that isn't constructed or cleaned properly, and machinery inside sheds with flammables.
"Reckless fires are just as bad as arson activity," Commander Mynard said.
"If you see something, please say something. Our firefighters this year have been extremely busy early … and we continue to still be busy now," Commander Mynard said.
"Although we've had milder weather in the last couple of weeks the bush is still dry, and right at this moment there is still active firefights in East Gippsland and also northern Victoria.
"We're not out of the woods yet so we encourage everyone with the long weekend in March coming up to please be careful."
Acting Inspector Peter Fusinato said February was a "danger month", meaning police will "take a very hard line" with regard to both deliberately and recklessly-lit fires.
"What you've got to understand (is) although you may not have intentionally lit a fire it can turn into a bushfire, and as a result there's a penalty of up to 15 years in prison," Acting Inspector Fusinato said.
"There's also penalties for deliberately lighting fires on total fire ban days, which is a fine of up to $37,000 and two years in prison.
"All fires, no matter how big or small … are investigated by the criminal investigation unit by trained detectives because that's the level of accountability we put on it as a result of the devastation it can cause.
"We just ask that if you do see anything suspicious that you try and document as much information as you can."
Make a confidential report to Crime Stoppers by phoning 1800 333 000.