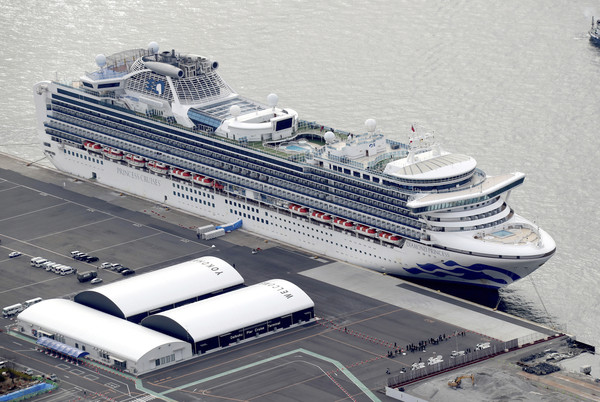 Kate Withers
A Traralgon couple is among 200 Australians currently holed up in Japan as authorities attempt to contain the spread of coronavirus.

Max and Bev Paulet, who are in quarantine on board the Diamond Princess cruise ship docked in Yokohama, have been "stuck" for two weeks.

In an email to Minister for Home Affairs Peter Dutton, son Brett Paulet made an impassioned plea for help and said his parents were experiencing "mental and physical frustration".
"I wish to hear from your office what plans you have for them and the other 200 Australians that are stuck there," Mr Paulet wrote.
"From what we are hearing from them and others on board plus the media reports is that the Australian Government have been very quiet and not offering much support in getting them home at all.
"Obviously the mental and physical frustration is getting to them, which I'm sure you are hearing about and it is only going to get worse while it is ignored.
"All these Australians need to be bought (sic) home. It has been done for the Australians that were in Wuhan so why can it not be done for these Australians?"
Speaking with The Express, Mr Paulet said his parents, who are both aged in their 70s, remain "in pretty good spirits" despite the circumstances.
"They've been pretty good, but the last few days they're definitely starting to get sick of it," he said.
"The ship is treating them really well and they're lucky to have a balcony with their room but they've only been let out of the cabin twice for an hour or so."
The Paulets made pitstops in Tokyo and Taiwan during their three-week cruise, but other Asian destinations on their itinerary were bypassed as authorities tightened border restrictions.
"They're in good health, dad did run out of some medicines for a heart condition but they got that sorted out," Mr Paulet said.
"They're telling us the 19th (of February they'll be out of quarantine), which the government has told them, but the problem is there's new cases (of coronavirus) popping up every day."
Member for Morwell Russell Northe, who is also a friend of the family, has been in regular contact with the couple during the last week.
"It's obviously a very frightening situations for family and friends here, and there's quite a deal of uncertainty about the next steps for Max and Bev and all the the other Australians as well," Mr Northe said.
"My concern is that people on the ship were quarantined to stop a spread, yet almost on a daily basis people have been diagnosed with coronavirus.
"For the mental and physical wellbeing its important to get some sort of certainly to get them home as quickly as possible."
Another 70 people on board the Diamond Princess tested positive for the novel coronavirus, the Japanese health minister confirmed, taking the total to 355 – 16 of them Australians.