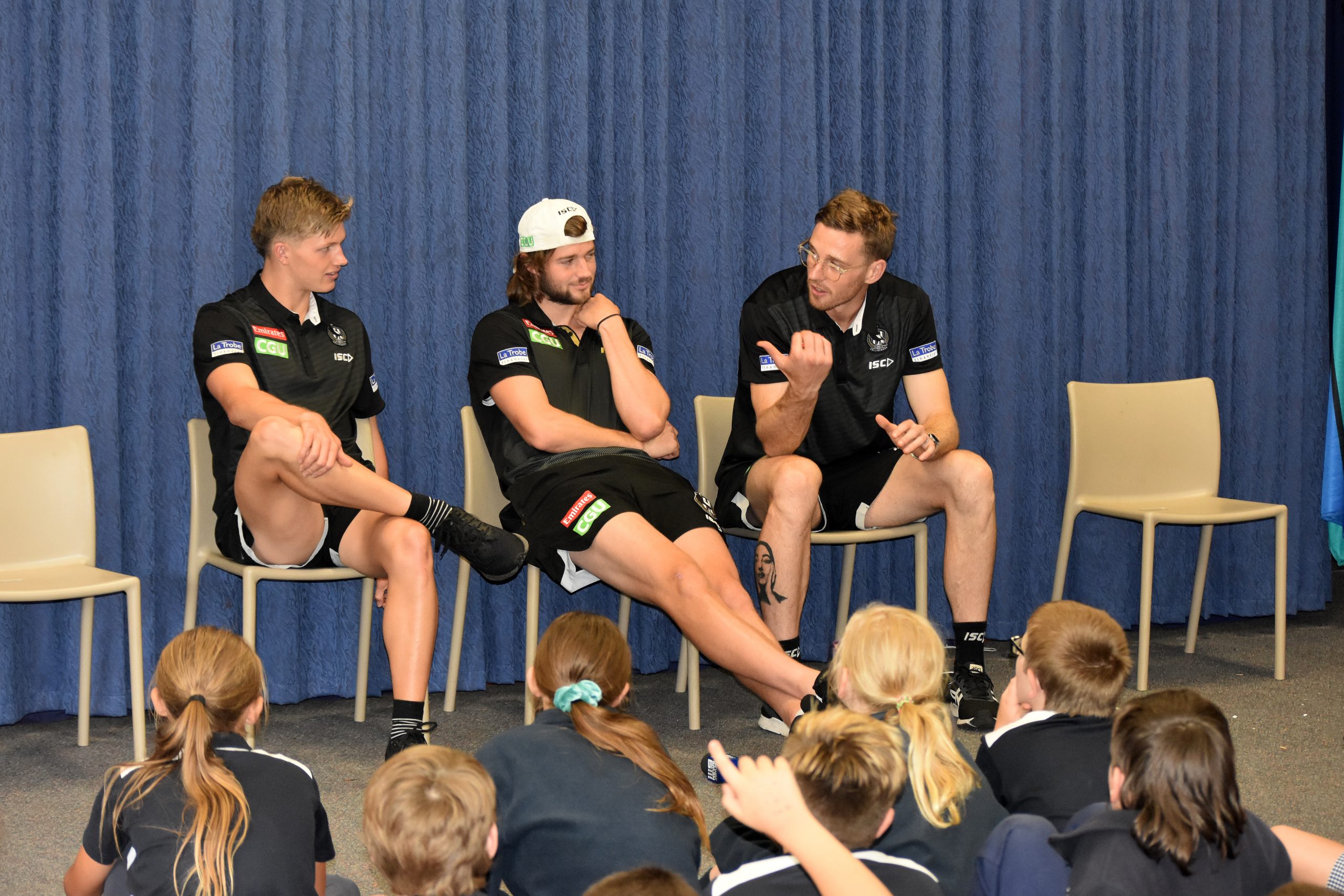 Gregor Mactaggart
COLLINGWOOD key defender Jordan Roughead said the Magpies are tracking well ahead of their pre-season clash in Morwell on March 8.
Roughead, Rupert Wills and draftee Jay Rantall proved the kings of the kids during a visit to Churchill North Primary School on Tuesday.
The visit was among a raft made by Magpies players across the Gippsland region, spreading the gospel of all things black and white ahead of the Marsh Community Series contest.
"We're gearing up for what is hopefully a successful year for the Collingwood footy club," Roughead said.
"That's all our guys are focused on, being a little bit better than what we were last year and obviously the year prior to play in a prelim and grand final.
"Hopefully this is the year we can give ourselves the best chance to be there at the pointy end of the year."
Roughead said Collingwood had its sights on the upcoming trip, where the men and women will both grace Morwell Recreation Reserve.
The boys take on St Kilda in a Marsh Community Series contest at 3.50pm following the AFLW clash between the Magpies and Western Bulldogs at 1.10pm.
Roughead was optimistic Collingwood would be near fullstrength for the showdown with the new-look Saints, which doubles as the club's last before the season proper.
"We're looking forward to the end of pre-season so that we can play some opposition teams," he said.
"Most of our guys are tracking well to play Round 1 and through the Marsh Community Series."
The Magpies triumvirate were at Churchill North following an earlier visit to Hazelwood North Primary, while other players visited primary schools across the region, including Tanjil South and Willow Grove.
They were peppered with questions by students from the Grade 5/6 physical education class before signing autographs for the keen youngsters, including Izabelle Bonorchis, 10.
The Grade 5 student said despite being a Hawthorn supporter, it was great to have the AFL players visit.
"It's good to see them here," she said.
Churchill North physical education teacher Stacey Wood, who played a key role in organising the visit, said the youngsters had been looking forward to the day for weeks.
"It is great for the students to see players they see on television first hand and get the chance to meet them," she said.
"This is the first time the school has had a visit like this and it's been more than I expected, the Collingwood boys have been fantastic. They answered all the students' questions during the Q & A session, and have been signing plenty of autographs as well."