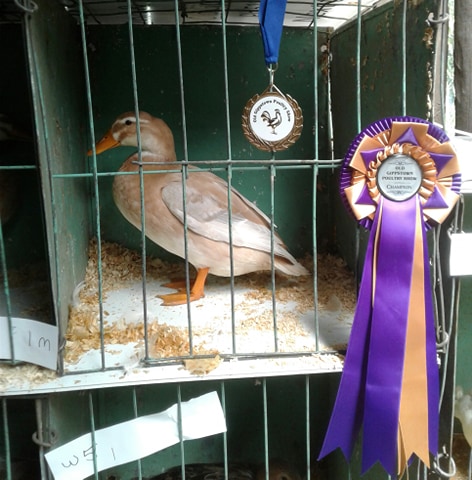 Kate Withers
Feathers were primped to perfection in the lead-up to Saturday as the best in the game plucked up the courage to strut their stuff at the inaugural Old Gippstown Poultry Show.

The pitter patter of tiny feet filled the pageant arena with ducks, chooks, geese and turkeys all corralled to be judged by an expert from the Poultry Stud Breeder & Exhibitors Victoria.
Event organiser Richard Allman said the show was such a hit that pens had to be ferried in from Berwick and Wonthaggi to house the influx of entrants.
"We had 85 entries altogether, which is far more than anticipated and for a first show it's pretty fantastic," Mr Allman said.
"There are breed standards for each breed of chook, duck, goose and turkey, so it's got to conform to weight and height standards and the feathers have to be in good condition.
"Any broken feathers will put the bird out of the running, you can't have scaly legs and the bird has to show itself in the cage."
There were four winning rosettes up for grabs, including one for budding breeders.
"We had really good attendance with the juniors with 29 birds, which is fantastic because it's the young ones you want to get into the hobby," Mr Allman said.
"A white crested frizzled Polish (chicken) took out the juniors, the large fowl section was won by a black silky (chicken) and the bantam section was won by a bantam Buff Orpington (chicken)."

Mr Allman had plenty to crow about come crowning with his own local bantam Saxony duck taking the title of best in show.
"I've got a pretty good line myself so they were in good feather, all clean, presented nicely and she stood up for the judge and said 'look at me'," he said.
"She's a good even brown colour, nice orange neck, the bill is the right colour – which all make up for her breed."
The winning duck celebrated by indulging in a bag of delicious seed.