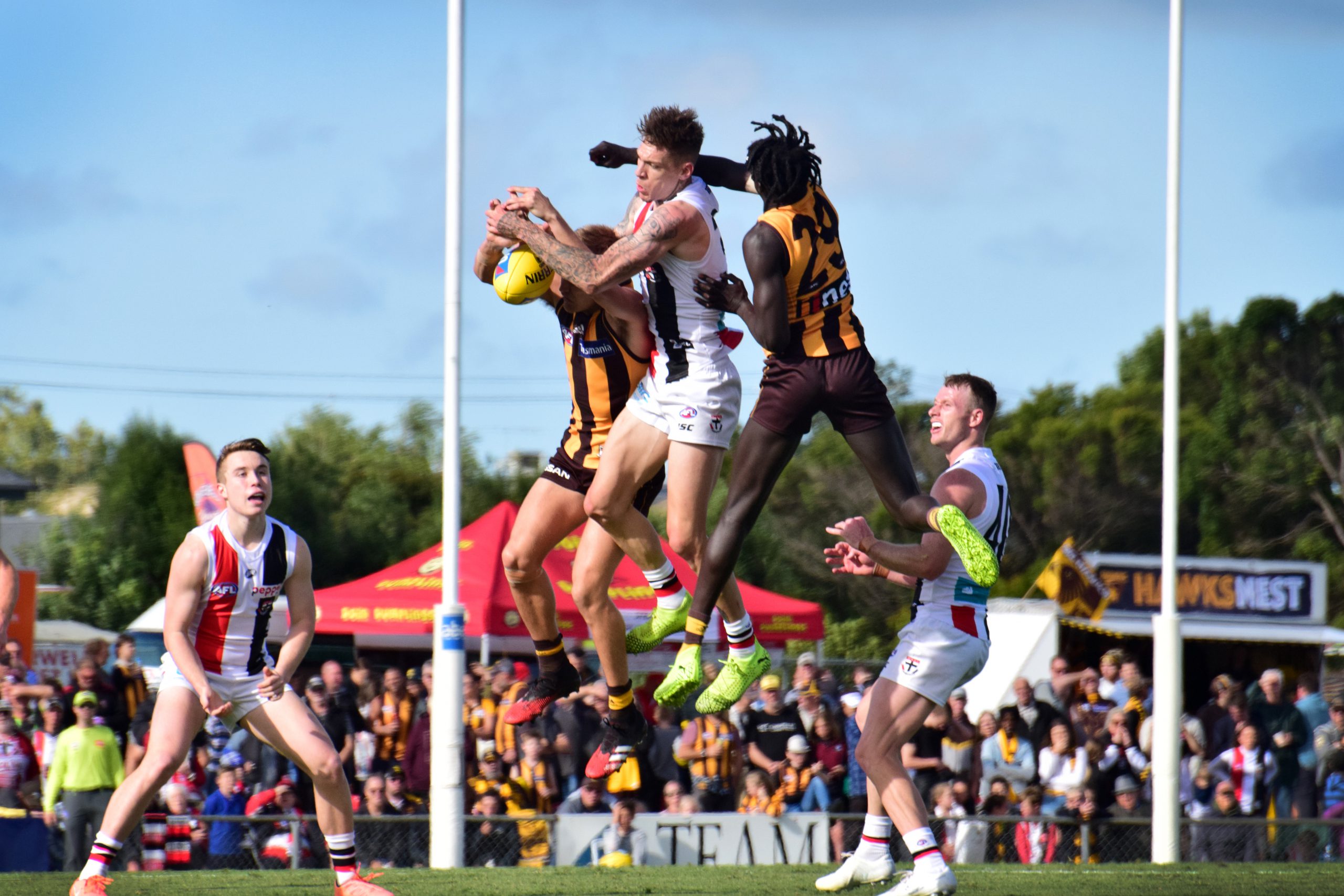 Tessa Randello and Gregor Mactaggart
THE result didn't matter, but the game did.
Friday's Emergency Services match was about more than football, it served as another example of the community comes together in times of need.
A crowd of about 3000 watched on at Morwell Recreation Reserve as Hawthorn defeated St Kilda by 26 points – 11.8 (74) to 6.12 (48).

For both clubs the scoreboard was only elementary.
Hawks coach Alastair Clarkson echoed the thoughts of many when he presented a football, signed by both sides, to Buchan's Scott Cummings, who didn't sleep for days as the bushfires went through his home town.
"Times like these galvanise our country," Mr Clarkson told the crowd.
"Thanks for coming out today, thanks to the St Kilda Football Club for supporting this initiative to play a trial game.
"It was great to see two group of players turn out for this special event and raise some money for a much-needed cause."

Hawthorn ran out onto the ground to a guard of honour made up of emergency service members, with the SES, Fire Brigade, Police and Ambulance well-represented.
"A big thing for today is a bit of recognition for the emergency services," Forest Fire Management's Dion Hooper said.
"The last few months have been pretty hectic.
"We are from the Tambo region so Nowa Nowa and Swifts Creek in the affected area of Gippsland.
"It is the 100th day today of the fires, I think we have worked 78 days of that, it had been long and hard but days like this really help morale which is great."

Ambulance Victoria had a tent set-up, where people could come and learn CPR under the guidance of trained staff.
"Today is a great chance for us to engage with the community and give people experience with CPR," Ambulance Victoria community engagement officer Mark Scammell said.

"We have launched an app as well called GoodSAM, which you can download to your phone and lets you know if people close to you need CPR."

Hawthorn's chief commercial officer Ashley Klein told The Express the event proved to be a big winner.

"We told a lot of people from Melbourne to come down and support Gippsland," he said.
"The ground is amazing.
"It has been presented in immaculate condition."
Thankfully the weather gods also smiled on Morwell, with only one or two drops of rain from the grey skies which hovered pre-match before the sun shone for large parts of the contest.

Morwell Football Netball Club volunteers played a large role in the festivities, with Jackie Mann busy in the canteen.

"It is really nice having the emergency services here at an event that is really uniting the community," she said.
Fellow Tigers member Claire Allison was pleased at the public's response to the game.
"There are more people than we expected here," she said.
"We started serving coffee at 4pm and went until 7pm, it's great to see so many people out for a good cause."
Former Morwell resident Frank Exposito now lives in Pakenham, but wasn't going to miss the game for the world.
The Hawthorn supporter said he loves to come back to the area and brought his daughter to the game to watch her first live game.
"I was living in Darwin for a while and I have just moved back to the area, but I am in Pakenham now."
"I played for the Morwell Tigers with Rod Taylor back in 1987, it is great to be back at the ground watching AFL."
"I am having a great day and I'm hoping to run into some people that I know."

Reece Malcolmson is a Saints supporter, but he was also interested in how Morwell export Changkuoth Jiath performed for the Hawks.

"It's good to see the Morwell local on the field," he said.
"It's great to see the Saints play in here in Morwell and we're lucky to see them play two weeks in a row."
The Saints play Collingwood in a Marsh Community Series clash this Sunday, March 8.
Another interest in 'CJ's' progress was Morwell's Carmel Gniel.
"It is good to see people you know like CJ out there playing football," she said.
Jiath was one of the Hawks' best.

Officials are hoping to reveal fundraising figures from Friday's match later this week, with event sponsor Nissan donating $5500 to the Gippsland Emergency Relief Fund after the Hawks booted 11 goals in their win.
Shaun Burgoyne booted three goals, while Emerson Jeka and former Saint Darren Minchington each snagged two goals.