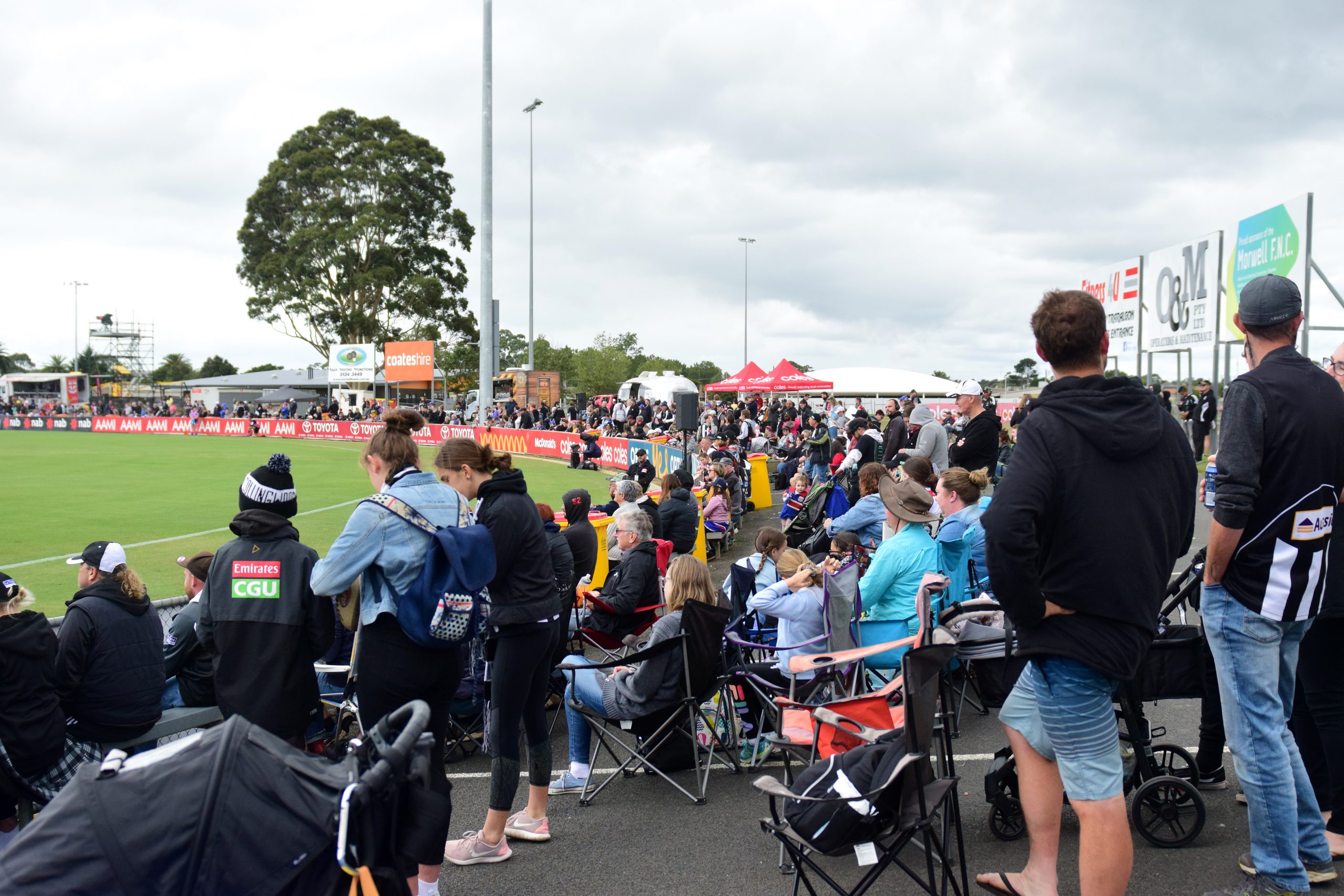 Kate Withers
THE Collingwood faithful turned out in force for yesterday's double-header and the thousands in attendance at Morwell Recreation Reserve certainly got bang for their buck.

On International Women's Day, the Pies' AFLW side led the way, bouncing back from consecutive losses in fitting fashion with a thumping 32-point victory over the Western Bulldogs to kick off proceedings.
But Collingwood's hopes of back-to-back victories were scuppered by St Kilda, who produced a second-half fightback to win the Marsh Community Series clash by 11 points.

Sisters Lucinda and Mel Rafferty, who travelled from Mitcham for the day, were two members of the Magpie army helping paint Morwell black and white.
"Footy is life," Lucinda said.
"It's part of our culture, we've always grown up going and we don't know anything but football."
The sisters also trudged to Wangaratta to see their beloved Magpies last weekend and jumped at the opportunity to hit freeway to Morwell to watch both teams flex their muscle.
"The girls started of well and I think the boys have started really well preseason," Lucinda said.
"The girls are really starting to find their groove together and the new players come in for the boys, watching them and seeing how they go is really exciting."
The Rafferty sisters, hard task masters with high hopes for season 2019, agreed a pass mark for the men this year was a berth in the big dance.
"A grand final would be great. We went to the 2018 grand final … we were front row because we're AFL Gold Members," Mel said.
"This is my 14th year as a member and (Lucinda's) 16th year, so when we say born and raised Collingwood, we mean born and raised Collingwood."
Off the field there was plenty to keep idle hands and feet busy between games.
Stars of the future were put through their paces with skill drills and even practiced speckies with the soft cushioning of an inflatable field at their feet.
Food trucks, coffee carts and the Morwell Recreation Reserve canteen were churning out fodder to the masses at a rate of knots, and working feverishly behind the scenes to make the spectacle a smooth one was a band of busy workers.
The Morwell Football Netball Club and Morwell Cricket Club joined forces to host the bumper day, their second in as many weeks after last weekend's Hawthorn-St Kilda clash.
"It's good for the community obviously, but it's also good for the local users to make a little bit of much-needed revenue for the clubs," Morwell Cricket Club president Craig Giddens said.
"The two main tenants, we've been having meetings for probably the last two months, it's a lot of meetings and we've just got to hope that everything goes well on the day.
"This is the third or fourth one we've done, so the good thing about our members is they all chip in."