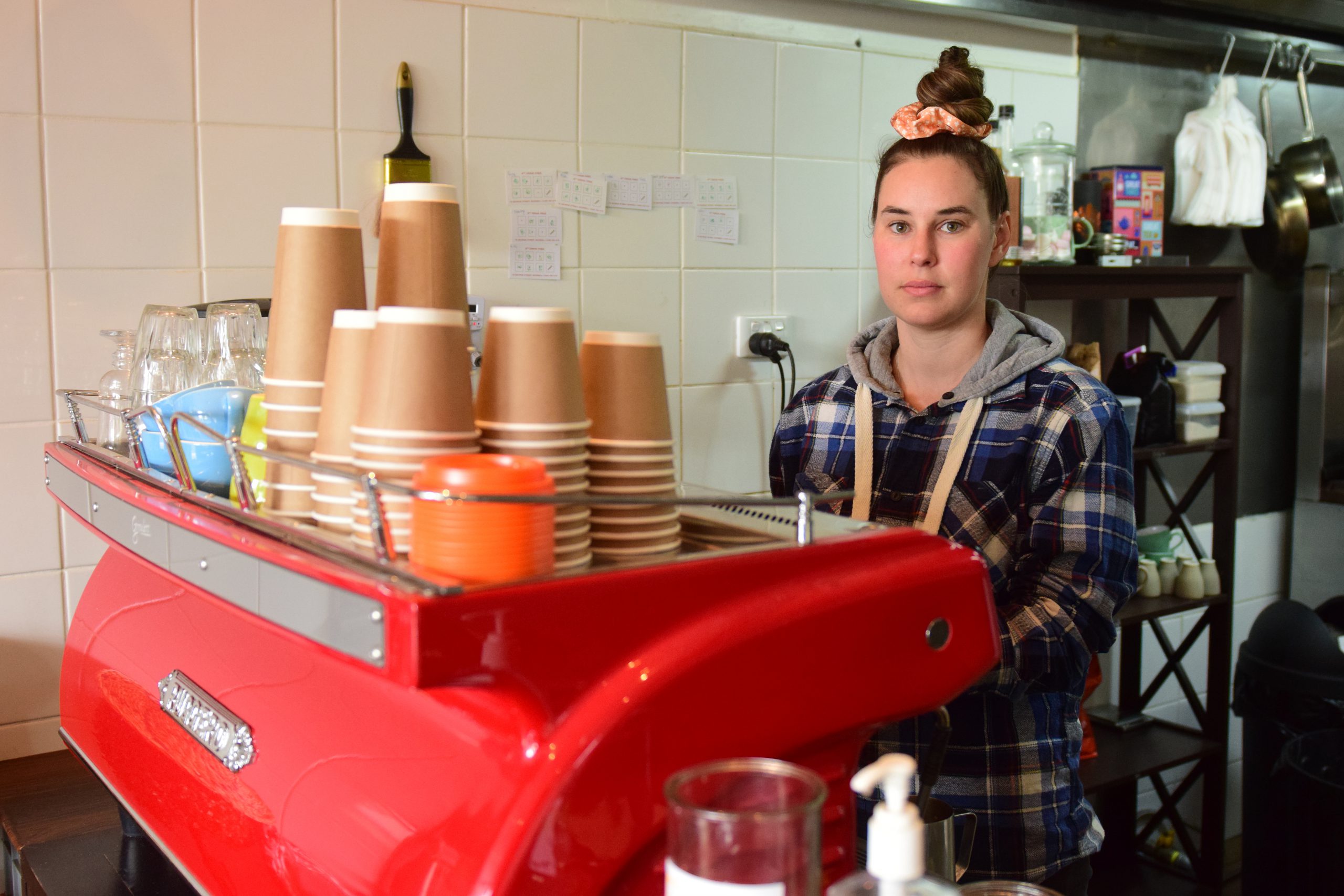 Kate Withers and Hayley Mills
Small business owners have spoken of their concerns and uncertainty in the wake of the state government's announcement that restrictions would be placed on all non-essential business.

Moose Head Cafe owner Mercedes Pitcher, who has been in business on George Street in Morwell for about 13 months, said there was an air of "doom and gloom" in small business circles.
"I have no idea if I'm going to stay open," Ms Pitcher said.
"It's my livelihood, so it's hard to see if I'm going to stay open or not.
"I'm going to do the whole take away thing and hope for the best. I'm going to try and try."
Dear Delilah Florist owner Donna Hicks celebrated the second anniversary of her business in March and admitted she was "confused" about just what the restrictions entailed.
"So yesterday (Sunday) I was under the impression that we're to close by Tuesday or around that time, but … I'm not entirely sure," Ms Hicks said.
"But then, if you are open then obviously people are going to go out, so then are we doing the right thing?
"I think we will just wait and see what other business around us do because there's a lot of our foot traffic.
"I understand we can trade with our website and they're saying we can still do our deliveries because couriers are still working … so we may keep our online store going."
Under the state government restrictions essential health and medical services and pharmacies will remain open.
Denture Clinic dental prothesist Steve McRae said, at the moment, it was "business as usual".
"We've already got people booked weeks and weeks ahead of today (Monday), so I guess it's just whether people stick to their appointments, that's the main thing for me," Mr McRae said.
"Last week we only had three cancellations for the whole week, but I suspect we will probably see more with the weeks to come. It's just natural.
"Fingers crossed, we're still getting enquiries and people are still turning up to their appointments.
"For me, at the moment, it's not as bad as other industries."
Other small businesses have also reported steady activity or increase in sales despite the shutdown measures.
S&J Cycles owner Shane Dunn, who has been trading in Morwell for 30 years, said he had observed an unseasonal spike in sales.
"At the minute we are flat out busy, we're going nuts. It's like Christmas at the minute," Mr Dunn told The Express.
"I feel like we're running like butchers and bakers at the moment. We're in demand, but that could just go stop, just like that."
But Mr Dunn accepted there would likely be new and more strict restrictions placed on businesses as the government ramps up its attempt to stem the spread of coronavirus.
"With everything retail-wise we should go OK trading. We're keeping numbers small in the shop, we should be fine, we're still turning over (a profit) but (if) that changes, what do I do?" Mr Dunn said.
"My kids are knocking off school today … so what do I do with my kids? I'll bring them to work suppose.
"So, is that stage two or stage three that is going to come to us? Buying bikes might be great for us now but in another month it might be null and void.
"How do we stay fit? How do we keep the kids fit now there is no sport? If we get shut down, we get shut down. There is not too much I can do about it."