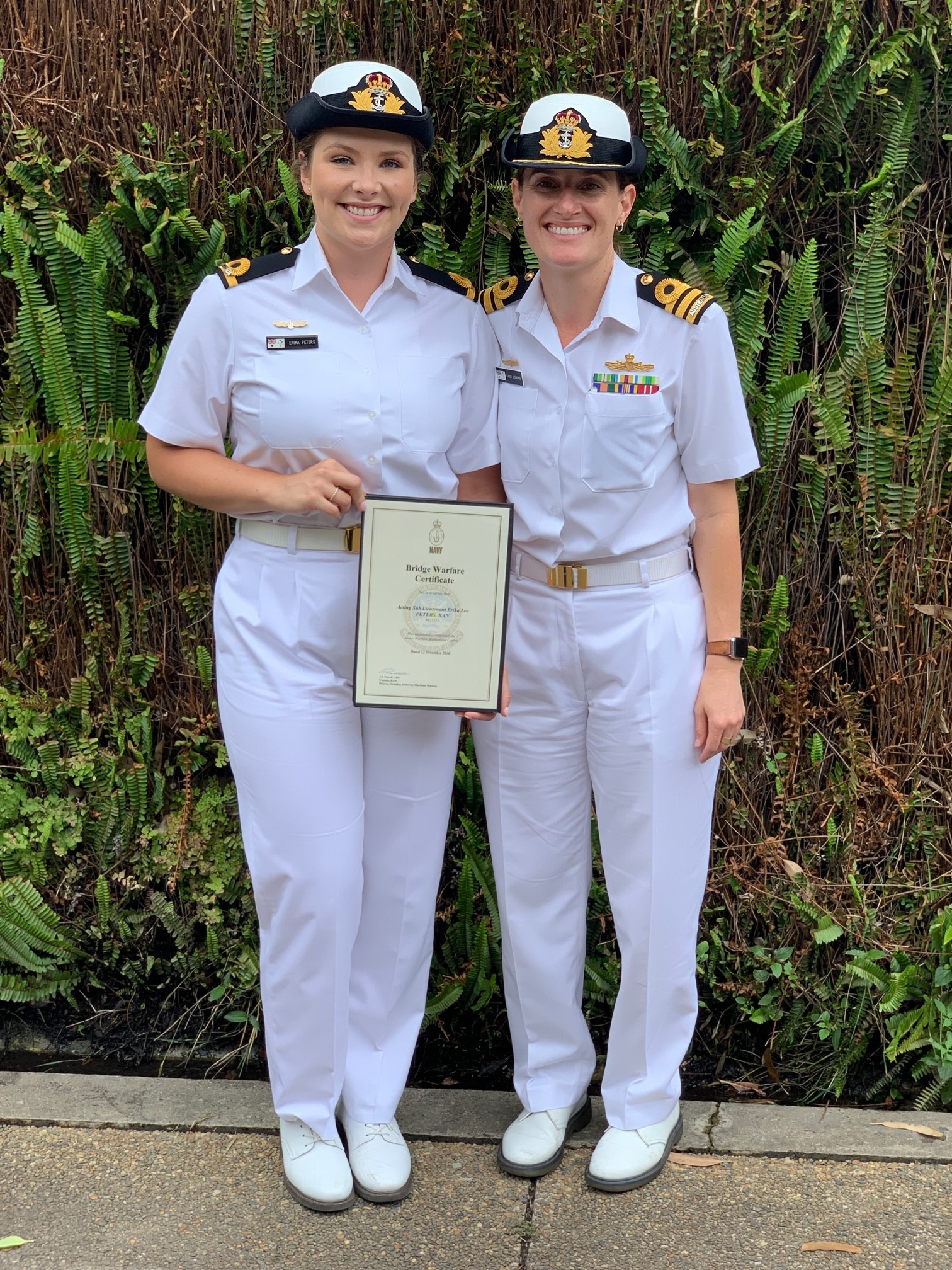 Michelle Slater
Two sisters are carrying on a Yinnar family's Australian Defence Force tradition and have followed on from their father's navy career to become high-ranking officers.

Lieutenant Erika Peters and Commander Cindy Jenkins are second generation Navy recruits, taking after dad Gareth Peters, who was a maritime technician for 10 years.
Lieut Peters has only been in the service of four years and has already been Maritime Warfare Officer on Australia's biggest ship – RAN flagship HMAS Canberra.
She is is now in the highly selective and prestigious role of flag lieutenant for the Commander of the Australian fleet.
"I suffer from sea sickness quite badly, this is funny as I joined the Navy, but I can manage it," Lieut Peters said.
"I've had a short career and I'm still in my early stages, and I'm in a lucky situation to have experienced what I have."
Lieut Peters has served on the HMAS Canberra and HMAS Adelaide after learning how to drive the HMAS Wollongong, which she said was like "learning to get your driver's licence".
"It's pretty full on. Sometimes I take a step back on the bridge go wow! Holey Moley! I'm in the middle of the ocean in charge on behalf of the captain of the biggest ship in the fleet," she said.
She said driving a ship was a "massive team effort", with a range of people on the lookout to make sure everything was on track.
Lieut Peters was "adamant" she would not join the Navy, but decided to sign up after spending a few days at sea on the HMAS Sirius with her older sister who was on a four-month overseas delpoyment.
She said both her dad and sister – who had been in the Navy for about 20 years – helped to give her first-hand experience of what it would be like in the service.
Commander Jenkins has intercepted suspected drug traffickers and pirate ships in the middle east and taken part in counter terrorism as part of Operation Slipper on board the HMAS Melbourne.
She is now commanding officer at the RAN recruit school based at the HMAS Cerberus, overseeing new recruits in their 11 weeks of training to become sailors.
"At the end of the 11 weeks it's amazing to see the transformation from when they arrive with long hair in civilian clothes, to at the end when they are marching in navy uniform. It's very special," she said.
Comm Jenkins said she originally signed-up to travel and get an education – and has achieved both of these goals in spades, with a map on her wall marked with all the countries she's visited.
"When I grew up, my mum never gave me the impression that there was nothing I could never do. I've never noticed being a female in a male-dominated environment, we have equal opportunities," Comm Jenkins said.
Both sisters said the challenges in the Navy included being months away from family at sea and living in close quarters for long periods, but the rewards were plenty.
Both spruiked the merits of team work, self-discipline, meticulous training, preparation, leadership skills, making new mates and becoming a member of the Navy family.
"This is why Anzac Day is so important to us, it's a reflection of this bigger family you are part of," Comm Jenkins said.
Proud dad Mr Peters recommended the defence force as a pathway for young people, but acknowledged it was not a lifestyle for everyone.
"I'm very proud of my daughters, they've aspired a lot higher than I did as officers," the Morwell RSL member and former Hazelwood Power Station sparky said.