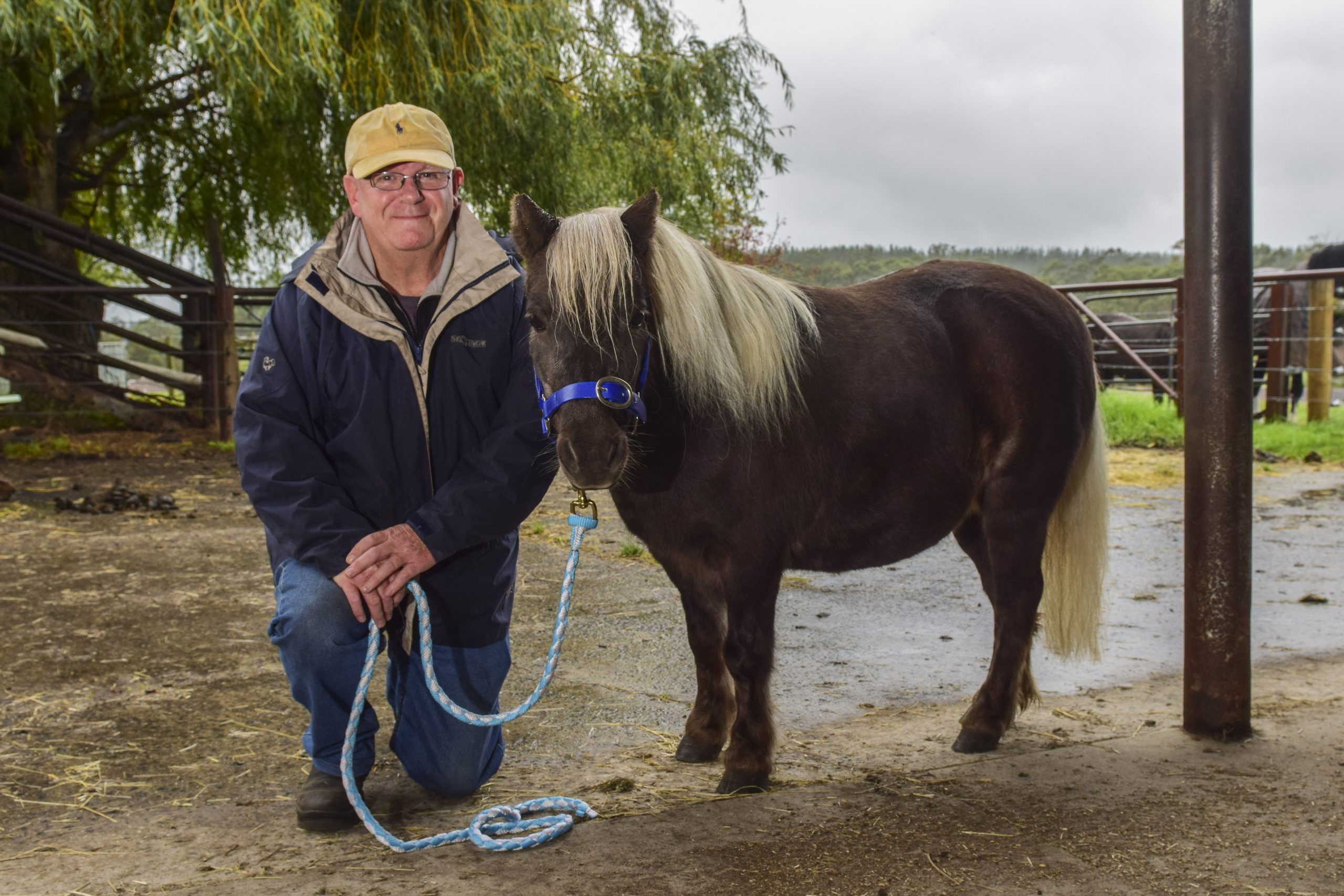 Michelle Slater
A pint-sized pony who was seized by RSPCA officers and adopted out to her new home is now bringing joy into the lives of senior citizens at Andrews House in Trafalgar.

Taffy, the miniature pony-cross-shetland, is not even waist high to the average adult, standing at just seven hands.
Her owner, enrolled aged care nurse Ed Bennett, was looking for a therapy horse to take to work and picked up the seven-year-old mare from the RSPCA's Pearcedale centre in a "grossly overweight" condition.
"Her colour stood out with her blonde mane and tail, and she was not as big as a Shetland. She had a very good nature and I thought she would adapt quite well to being a therapy horse," Mr Bennett said.
"I had seen ponies going into nursing homes or hospices visiting sick or elderly people, or those in palliative care, and it makes the day of the residents."
Mr Bennett said "everyone" at Andrews House has fallen in love with Taffy, particularly at a time when families are unable to visit their loved ones during COVID-19 lockdowns.
He even found tiny pony boots so her hooves won't slip in the floor, made up her own identity lanyard, and carries a bag around in case she leaves some fertiliser behind.
"When she meets a resident, the first thing she does is either put her nose in their lap or their on bed for a pat, no one is nervous or apprehensive around her," Mr Bennett said.

"The resident's personality changes straight away, they smile and reach out to her. Most have had horses in their early lives, or a story about a horse or pony, they can relate so much to animals."
Mr Bennett had also been taking his greyhound Phoenix in to meet the residents and hopes one day to take both the pony and dog in together to work their magic.
At home, Taffy is kept on a strict diet, sharing a paddock with Molly the miniature mule as well as two standardbred ex-harness racing horses, a Clydesdale-cross and a sheep.
"Molly is very dominant, she chases Taffy away from her food and pretends to kick her or bites her on the neck or bum," Mr Bennett said.
The experienced Churchill horseman said he always tries to get rescue horses to give them a fresh start and had found "fabulous" riding horses at the RSPCA.
"If they are a bit rattled or affected by trauma, they soon come around with a bit of TLC," he said.