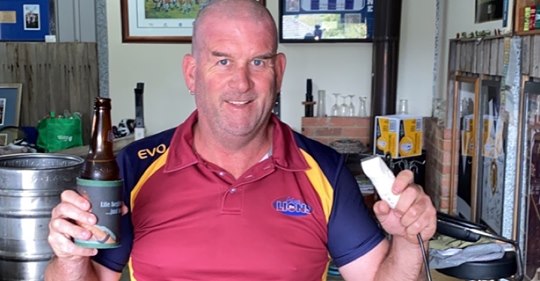 Kate Withers
On a day that would have marked the start of the 2020 season in the Gippsland Football Netball League, the Moe FNC community embarked on a campaign of a different kind.

Instead of running through the banner on April 4, The Lions' thirds ran a buzzer through their hair and shaved off their locks in a show of solidarity for player Tajh Eden.
Tajh, 16, was dealt a cruel blow when he was diagnosed with sarcoma of the elbow in November last year.
He has been travelling to the Royal Children's Hospital in Melbourne every fortnight for six days to undergo intensive chemotherapy and hydration.

"Today was supposed to be round one for us in football, and as a team we were going to shave our heads for Tajh Eden," coach Stephen Rock said.

"The boys wanted to honour him and do something for Tajh and his family. Tajh is an amazing young man and a very talented footballer."
Six weeks ago a marathon 12-hour surgery to remove the tumour in Tajh's elbow and replace the section of bone with his fibular and a steel rod was a huge success.
And, with 10 rounds of chemotherapy down and four to go, Tajh said he was "feeling pretty good" on the home stretch of what has been a trying eight months.
"I had a scan and got some really good news that the tumour was not active anymore, so after that we started seeing the surgeon and it was then that I had surgery," he said.
"It was a bit daunting at first, being told I'd have to be in a wheelchair, but the surgeons were really happy with how it went and I actually ended up just in a moon boot and arm cast."
The Mirboo North resident, who was also part of the Gippsland Power under-16 squad last year, has been blown away by the show of support from the Moe FNC community.
"They've been absolutely amazing. They've just been so good to me, it's been a bit hard obviously not being able to see them with all the coronavirus stuff going on," Tajh said.
"Then I've sort of been in hospital every two weeks, so it's been extra difficult, but the messages from them, the calls … it's been amazing.
"Dad told me they were going to shave their heads before round one and all run out with shaved heads and it was actually a bit of a surprise, and then they organised the fundraiser as well which was just amazing.
"I would've never expected it but there's definitely a couple of rough scones getting around at the moment."
The head shave Go Fund Me page has so far raised more than $1500 for Tajh and his family to help cover the costs of travel and treatment.
Another, set up by friend Ned Hanily earlier in the year, is sitting at more than $21,000.
"I jumped into bed on New Year's Eve and got a message from Ned and he said he'd raised $750 from he and some mates shaving heads," Tajh said.
"He said he had another surprise for me and off his own bat started the page, and I couldn't believe the amount of money being put in.
"I felt a bit bad really, so did mum and dad … I didn't really want to take the money from people but it was definitely overwhelming."
To donate to the Go Fund Me page for Tajh, visit https://au.gofundme.com/f/raising-money-for-tajh.