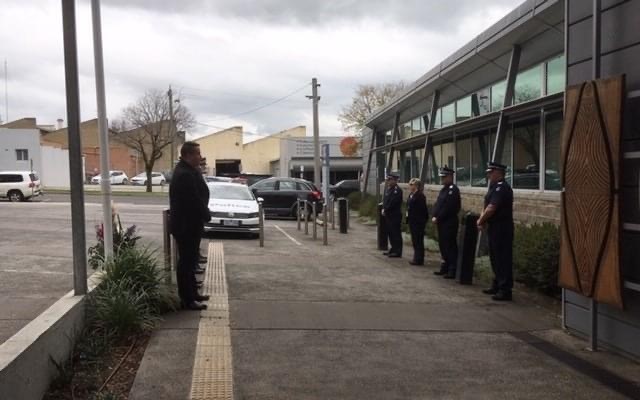 Tessa Randello
Police stations across the state paused to honour the four Victoria Police officers who died in a tragic road accident in Melbourne last month.

Leading Senior Constable Lynette Taylor, Constable Glen Humphris, Senior Constable Kevin King and Constable Josh Prestney died when a truck hit them on Wednesday, April 22.

Because of social distancing rules funerals for the officers have been small and private.

Senior Constable Lynette Taylor's funeral was held on Thursday, with funerals for Constable Humphris and Senior Constable on Friday and Constable Prestney's funeral will be held today.

Moe Acting Senior Sergeant Darren Eldridge said the community has given the station a huge amount of support.

"We have put a police car in the driveway of the station with lights going, a guard of honour and a minute silence on Thursday and Friday," he said.
"It is very humbling to be able to honour them in this small way, although it is disappointing that we are not able to give them a full police funeral, but I understand that will be possible at a later date.
"Certainly the feeling here is very sullen but we have received a lot of support from the community and other emergency services."
Act Snr Sgt Eldridge said the station had been "inundated with flowers and cards and it is gratifying to see that there is that support from the community."
Traralgon Acting Sergeant Ash Thwaites said the station had also held a minute of silence, lined up police cars and had a guard of honour on Thursday and Friday.
"It's a bit sombre, there are members who know them through people, so as a team we have just been sticking together and get through as we always do," he said.
"The community has been really supportive and we have had lots of cards and flowers and people coming in to give their condolences."