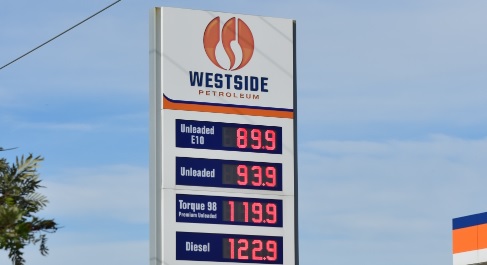 Gregor Mactaggart
Latrobe Valley motorists are enjoying some price relief at the petrol bowser.

With coronavirus restrictions forcing a reduction in demand for fuel around the globe, prices have plummeted to lows not seen this century.

Prices in the Valley for unleaded petrol are predominantly hovering between 89.9c and 103.9c per litre.

That figure has dropped between 20c and 30c a litre during the past month with weekly average international crude oil prices decreasing by about US$50 per barrel since the start of the year.
RACV senior vehicle engineer Nicholas Platt said the power was in the hands of motorists when fuelling up.
"We recommend motorists use RACV's online fuel price comparison tool to find the cheapest fuel locally," Mr Platt said.
Prices across the Valley are higher than Melbourne where the average unleaded retail price as of May 3 was 90.9c per litre, although some outlets have prices as low as 79.9c per litre.
But while most motorists are enjoying the advantage of current prices, Mr Platt said the news was not as good for diesel vehicle drivers.
"The wholesale price of ULP fuel is currently 97 cents, and the average price of a litre of unleaded petrol is around $1.28, but diesel prices remain largely unchanged at an average of $1.39," Mr Platt said.
"There's no reason for this, service stations seem to be taking advantage of diesel vehicle drivers. The price of diesel fuel doesn't go up or down in a price cycle like unleaded petrol, so the owners of diesel-powered vehicles are being unfairly penalised," Mr Platt said.
"One in five vehicles on our roads is diesel-powered, with tradespeople and transport companies tending to use diesel-powered vehicles, so ultimately it will be consumers who end up paying for these higher fuel prices through the goods and services they need."
Mr Platt said the unfolding COVID-19 crisis would most likely cause world oil prices to fall even lower.
"We are seeing the cheapest wholesale price for years, with analysts predicting further falls," Mr Platt added.