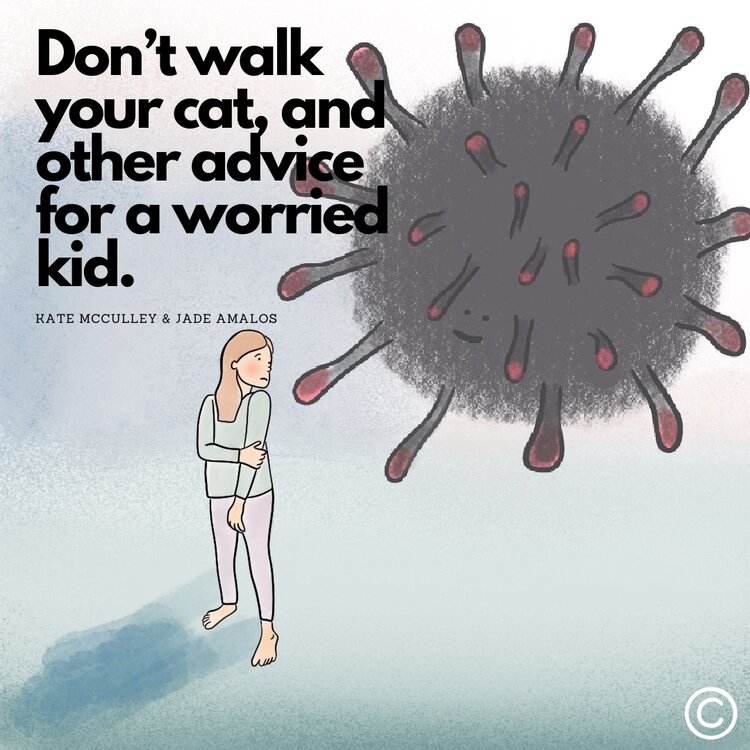 Kate Withers
Adapting to a new normal – at least temporarily – presents challenges for everybody.

Visual artist Jade Amalos noticed seven-year-old daughter Sienna was, like a whole generation of children, experiencing a lot of fear and anxiety due to the COVID-19 pandemic.
Ms Amalos approached author and early childhood educator Kate McCulley-Watson and the pair collaborated to create an e-book for Sienna.
Forty-eight hours after their first conversation, the digital book Don't Walk Your Cat, and Other Advice For a Worried Kid was born.
Once finished, they felt their story could benefit a wider range of children experiencing similar feelings and empower them with practical strategies to help regulate their emotions.
As an early education teacher, Ms McCulley-Watson believes visuals are often the best medium to communicate to an anxious child, or adult, in times of high stress.
"It was the hope of Jade and I to create a book that would provide practical tools and concrete strategies for families to use with their children during these unprecedented times," she said.
"We hope that it can act as an important conversation starter for families and can also equip and empower children now with skills and strategies they need to more successfully handle anxiety and stress throughout their life.
"We hope that readers finish the book with a deeper understanding about the importance of naming big internal feelings, talking to a trusted person about your feelings, engaging in self care, and steps to staying healthy such as good hygiene."
Since it's release in late March, the book has been received with critical acclaim.
"It has been shared widely by primary schools, early education services, secondary schools, pediatric networks and special education services in over 70 countries around the world," Ms McCulley-Watson told The Express.
"This has been very humbling. We sincerely hope that it is reaching the children who may benefit from it the most, particularly children who are feeling big or scary emotions right now, such as anxiety and fear.
"Above all we hope that there is a strong message of resilience for the reader – hope that together, we will absolutely get through this challenging time."
Don't Walk Your Cat, and Other Advice For a Worried Kid, can be accessed at byjade.com.au/shop