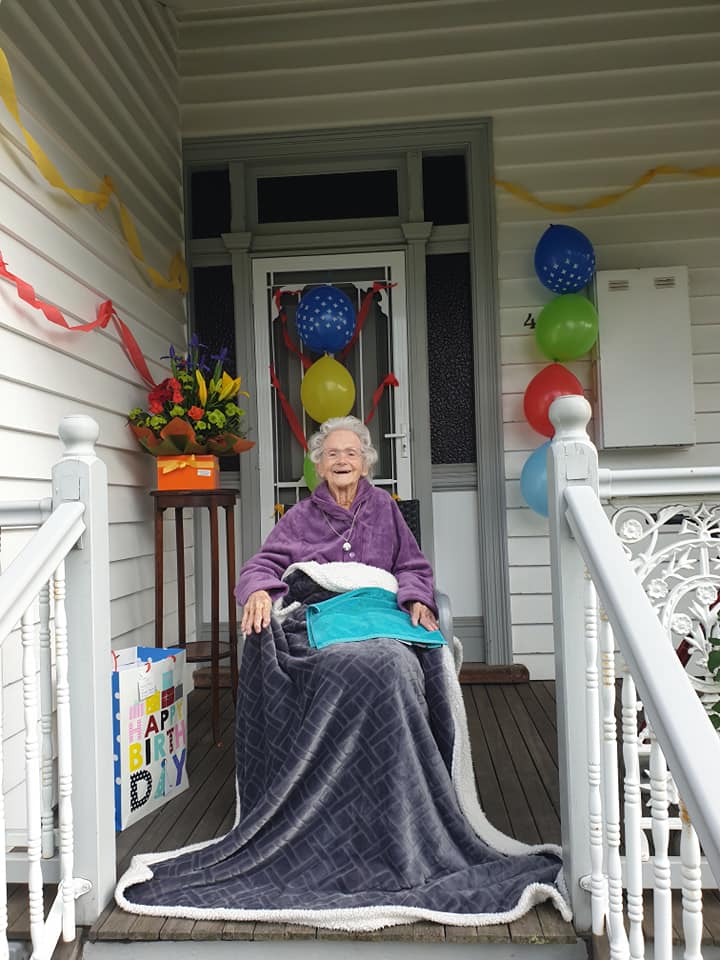 Kate Withers
Among the sea of flowers and greeting cards surrounding May O'Reilly on the weekend was a framed letter from Her Majesty The Queen.

Royalty in her own right, the Traralgon resident raised the bat on Sunday to mark her 100th birthday and was celebrated in a fashion befitting a true queen.
Born in 1920 in the Queensland town of Gympie, May grew up as one of 10 children before meeting husband Gordon and moving to the Latrobe Valley in 1946.
The couple had four children of their own, including daughter Ges Hammer, who lives with May and had the pleasure of enjoying the special, albeit slightly unorthodox, birthday with her mum.
"I woke her up with 100 kisses from me and everyone else that wasn't able to kiss and hug her," Ms Hammer said.
A sports fanatic, May took great pride in raising the bat to mark her own remarkable century on Sunday.
"She loves sport – especially my two boys – they played footy and she was there every Saturday for as long as she could be," Ms Hammer said.
"She loves cricket, boxing, swimming … any sort of sport really and she's a big North Melbourne supporter."
A cavalcade of well-wishers, including many of May's nieces, nephews and friends also threw her a drive-by party.
"There were about 20 cars that came by the house as we were sitting on the porch and then a man came by and played the bagpipes," Ms Hammer said.
"She also received a singing card from and opera singer who sang Amazing Grace, which was just delightful, and a fire truck went past with sirens on."
The newly-minted centenarian attributes her longevity to prayer and faith in God, as well a healthy intake of fruit and veg, abstinence from alcohol and the love of her "many grandchildren and great grandchildren".
"She lives by the belief she hasn't done anything spectacular in her life but I feel that the person she is, she's just so kind and generous and takes it one day at a time and takes the good with the bad," Ms Hammer said.
"Her caring and gentle nature endears her to all that meet her and her good humour is cherished.
"She's just so gorgeous and supportive and excited for anything her kids or grand kids do.
"I said to her 'what's the highlights of your life?' and she said looking after my two sons, her grandchildren."
May, who is "very into her IT", was able to connect with her grandsons who live in Canberra and Melbourne via video conference call on Sunday.
"We've started to do that on a Thursday night and we have a meal together, which she absolutely loves," Ms Hammer said.
"One of my friends gave her a 1920 penny, she had a a portrait done of her from three different eras throughout her life and she had the Apostolic Blessing from the Pope, which was really special.
"Russell Northe also sent through a framed picture, and mum has always been an avid watcher of Question Time, so she was really touched.
"But she was more than happy with the celebrations. I think we'd be pretty hard done by to replicate it again, even though we were in isolation."