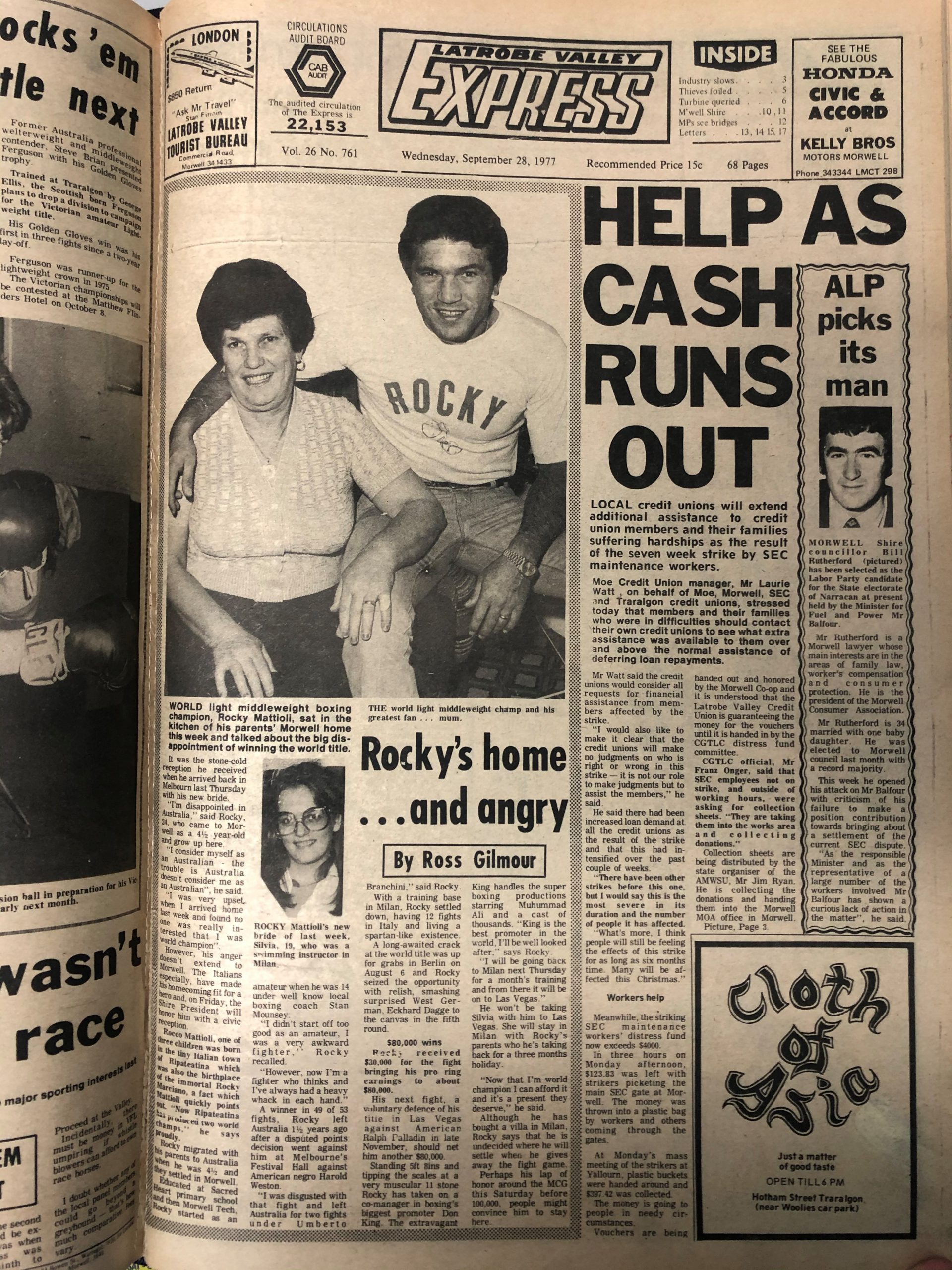 Gregor Mactaggart
IN 1977, Sylvester Stallone became a household name in Australia when the film Rocky became a smash hit at the box office.

But it is the story of the real-life Rocky, who was crowned the world champion in the same year which captured the hearts of those in the Latrobe Valley.

His story begins in the town of Ripa Teatina, regarded a tranquil part of the Abruzzo region in southern Italy.
Renowned for its vineyards and olive groves, Ripa Teatina has a strong link to two world boxing champions.
Undefeated heavyweight champion Rocky Marciano's father Pierino Marchegiano was born in Ripa Teatina before emigrating to the United States in 1912.
Four decades later, Rocco 'Rocky' Mattioli was born in Ripa Teatina on September 20, 1953.
Named after the legendary Marciano, whose names still resonates today more than 50 years after his death in a plane crash, Mattioli said he always knew his destiny.
"The funny thing about it was that I became world champion also. It was only a dream for me, so I was carrying on always with this Rocky Marciano inside me, pretending in front of the mirror, pretending I was world champion, pretending how it feels," Mattioli told The Age in 2004.

At the age of 4 1/2, Mattioli emigrated to Australia with his family and settled in Morwell.
The first time he walked into a gym, he was there only to act as an interpreter for a cousin from Italy, who wanted to learn how to box.
In addition to his linguistic talents, Mattioli also displayed a real aptitude for the sweet science.
He started his amateur boxing career at the age of 13 under the guidance of trainer Stan Mounsey in an old shed adjacent to the Morwell RSL.
By 16 he was the Victorian Amateur Champion and finished runner-up at the National Championships.
The 1960s and 1970s were a golden era for boxing in Australia and the Channel 7 show TV Ringside brought bouts into lounge-rooms across the country.
Lionel Rose, Johnny Famechon and Tony Mundine became household names, and so too did a young man from the Latrobe Valley.
Mattioli turned professional before his 17th birthday and soon became one of TV Ringside's star performers.
He opened his professional career with a second round knockout of Tony Salta in March 1970 and over the next 21 months, fought 23 times.
Mattioli built up a record of 20 wins, one draw and two defeats (Ricky Day and Paul Moore), with most of the fights taking place at the legendary Festival Hall.

But he also treated his supporters to three memorable nights in Morwell.
Mattioli knocked out Bernie Martin in the fourth round on March 23, 1970, just a fortnight after his professional debut.
Martin came back for a second crack a month later, but Mattioli won by TKO in the sixth round and he then dispatched Billy Stewart by knockout in the fourth round on May 29, 1970.
Mattioli, who came under the guidance of former national champion and Footscray footballer Ambrose Palmer, made significant strides in 1973.
He knocked out Jeff White in the 12th round to win the Australian Welterweight Title and added the Australasian Welterweight crown following a war of attrition against Tonga's Pongi Lee on July 12, 1973.
The wins just kept coming for Mattioli, who was beginning to fight international quality opponents.
He took care of Americans Eddie Perkins and Billy Backus, the Filipino Dommy Cotacte and Mexican Jose Luis Baltazar.
Mattioli had his first overseas bout in Noumea on May 11, 1974, defeating the Frenchman Jacques van Mellaerts by TKO in the ninth round.
By 1975 and with a second Australasian Welterweight Title in his keeping, Mattioli headed to Europe.
Wins against the Puerto Rican Chris Fernandez and Spaniard Mimoun Mohatar took Mattioli's record to 37-2-1.
He bounced back from a surprise loss to American Harold Weston on points at Festival Hall in September 1975 with a series of top-class performances throughout 1976.
Six bouts delivered five wins and a draw with the Italian ace Bruno Arcari in Milan, watched on by a packed house at the Palazzo dello Sport.
The Mattioli juggernaut just kept rolling on as three wins set the scene for the chance to fight for the WBC Light Middleweight title on August 6, 1977.
Mattioli's opponent was the German Eckhard Dagge, who had claimed the best after he pulled off a stunning upset against Elisha Obed, winning by 10th round TKO in June 1976.
Dagge successfully defended his title against former world champion Emile Griffith three months later and followed that up with a draw against Englishman Maurice Hope in March 1977.
Dagge was 29 and owned a record of 20-3-1 when he stepped into the ring against Mattioli, who was six years younger, but a veteran of 53 fights (48-3-2).
The Express – Wednesday, August 10, 1977

Gippsland has done it again – first Lionel Rose and now Rocky Mattioli – world champion boxers.

Mattioli won his world light middleweight title in Berlin on Saturday.

The Express' story also referenced a comment made by John Di Fabrizio to trainer Stan Mounsey many years earlier.

"Do you think he'll make a boxer, Stan – because he won't make a boilermaker!" Di Fabrizio said.
Mattioli returned to Australia and said he was stunned by a stone-cold reception when he arrived in Melbourne.
"I consider myself as an Australia – the trouble is Australia doesn't consider me an Australian," he said.
"I was very upset when I arrived home last week and found no one was really interested that I was world champion."
There was a stark contrast when he hit home in Morwell, receiving the front page treatment from The Express, as he introduced his new bride Silvia, a swimming instructor from Milan, to his parents.

He was honoured with a civic reception and the local Italian community made his homecoming fit for a hero.
In an interview with Ross Gilmour, Mattioli reflected on his journey to the world title.
"I didn't start off too good as an amateur, I was a very awkward fighter," he said.
"However, now I'm a fighter who thinks and I've always had a heavy whack in each hand."
Gilmour wrote Mattioli lived a 'spartan-like existence' at his training base in Milan ahead of the bout which changed his life forever.
A long-awaited crack at the world title was up for grabs in Berlin on August 6 and Rocky seized the opportunity with relish, smashing surprised West German Eckhard Dagge to the canvas in the fifth round.

"Rocky revieved $30,000 for the fight, bringing his pro ring earnings to about $80,000. His next fight, a voluntary defence of his title in Las Vegas against American Ralph Palladin in late November, should net him another $80,000.
Standing 5ft 8ins and tipping the scales at a very muscular 11 stone, Rocky has taken on a co-manager in boxing's biggest promoter Don King.
The extravagant King handles the super boxing productions starring Muhammad Ali and a cast of thousands.
"King is the best promoter in the world, I'll be well-looked after," Rocky says.
"I will be going back to Milan next Thursday for a month's training and from there it will be on to Las Vegas."
He won't be taking Silvia with him to Las Vegas.
She will stay in Milan with Rocky's parents who he's taking back for a three-month holiday.
"Now that I'm world champion I can afford it and it's a present they deserve," he said.
Although he has bought a villa in Milan, Rocky says that he's undecided where he will settle when he gives away the fight game.
Perhaps his lap of honour around the MCG this Saturday before 100,000 people might convince him to stay here.
Mattioli retained the WBC Light Middleweight title until March 1979 before bad luck befell him in the bout against Englishman Maurice Hope, the man who drew Dagge back in June 1976.

When Hope decked Mattioli in the first round, he instinctively reached out to break the fall and broke his own wrist.
Here is the Associated Press report.

A broken wrist has ended Rocky Mattioli's championship reign, but the new king, Maurice Hope, says he plans to give Mattioli, a chance to regain his crown.

Hope, of Great Britain, dominated their bout Sunday for the WBC junior middleweight title.
Mattioli fractured his right wrist during the fight and finally gave up after the eighth round.

Hope floored his opponent in the first round with a hard left and was the aggressor throughout the fight.
"I hurt my wrist early in the fight. By the 8th round I was suffering too much pain to continue," Mattioli said.
"I will offer him a rematch," Hope said.
That rematch took place at Wembley in July 1980, 17 months after their previous meeting.

Mattioli had bounced back with six consecutive wins, all in Italy, while Hope, born in Antigua, before moving to England at a young age, had just the one bout, a title defence against Mike Baker, who he knocked out in the seventh round.
The two fighters produced an epic contest with Hope ending the bout with an 11th round TKO.
It would prove the last shot at the title for Mattioli, who finished his career with a sixth round knockout of Pedro Guerrero in Los Angeles on August 19, 1982.
He finished with an outstanding record of 65 wins, six losses and two draws, having duelled with boxers from 21 different countries.
Mattioli was inducted into the Australian National Boxing Hall of Fame in 2004 and an inaugural inductee into the Latrobe City Sporting Hall of Fame in 2006 as one of five legends, joining Una Holt, Bernie Quinlan, Ted Kalkhoven and Andrew O'Sullivan.