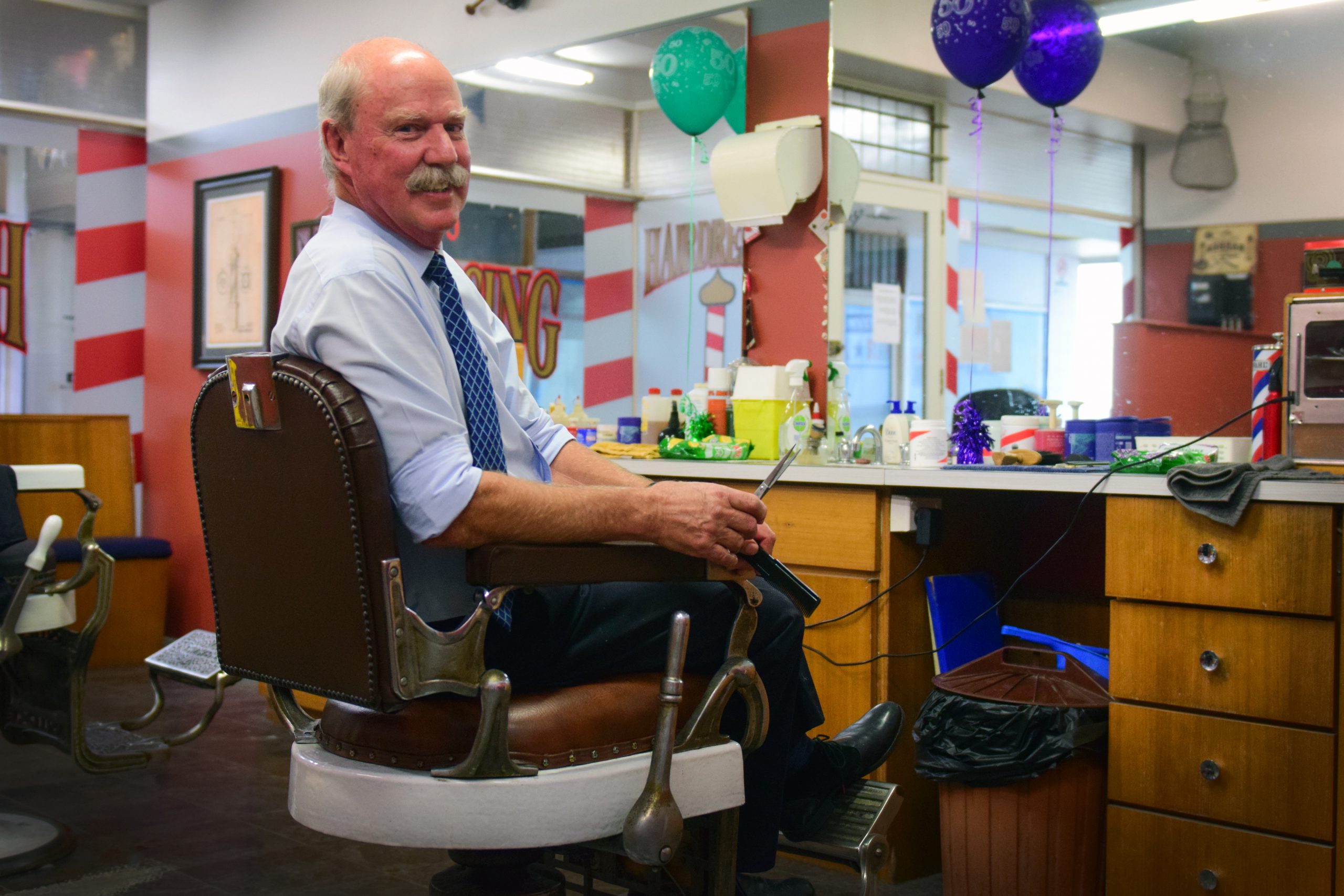 Michelle Slater
A Traralgon barber is celebrating half a century in business since he opened his shop in the Seymour Arcade.

David Ramsay, 71, quietly marked the golden milestone during lockdown, but recently reopened the barber shop for his loyal customers, some of whom he has been taking care of for decades.
"I've been privileged to run a business in this town, Traralgon is a magnificent town and I've met some wonderful people. I couldn't be any more content at this stage and I still love it," he told The Express.
"I love being with people, and I love my job, I've never done anything else. I've been lucky enough to start my own business which is still a success today."
Mr Ramsay began his apprenticeship at 14 under Bill Tei, who ran a barber shop in the Seymour Arcade, before he opened his own business further along the same arcade in 1970.
"I was going to be a panel beater, but all the Traralgon panel beaters had already organised apprentices," Mr Ramsay said.
"My mum told me to get a haircut on the way home and Bill Tei asked me what I was going to do, so he said he would teach me to cut hair."
Mr Ramsay said short backand sides was the go to do when he began, but then long hair became the rage when the Fab Four hit the headlines.
However, fashion is cyclical and he said the old style has since swung back.
"I'm still doing the same haircuts from 50 years ago. I've been cutting one guy's hair for 53 years, I used to cut his hair as an apprentice. Some I've been cutting for forty years," Mr Ramsay said.
"I don't like to call them clients, they are more like friends. I could tell you some stories, but this is as far as it goes.
"It's like a footy trip, what is said in the barber shop, stays in the barber shop."
The old school barber shop looks pretty much the same from when it opened, apart from when Mr Ramsay moved across the arcade 14 years ago.
"I've seen a lot of businesses start up and close down in the arcade, there's been some good businesses over the years, but traffic is nowhere near as it was when the plaza opened up,' he said.
Mr Ramsay passed his skills on to his son Mark, who is now running the business with dad, lending a hand a couple of days a week.
He said they shut up shop for five weeks when COVID-19 hit, but recently opened again with restricted services and strict hygiene practices.
"The shop's anniversary was when we were closed, it's a bit disappointing as we couldn't do anything or we would've celebrated it a bit," Mr Ramsay said.
"I don't think there is any other business in Traralgon operated by the same people for 50 years. I could retire, but I love working."