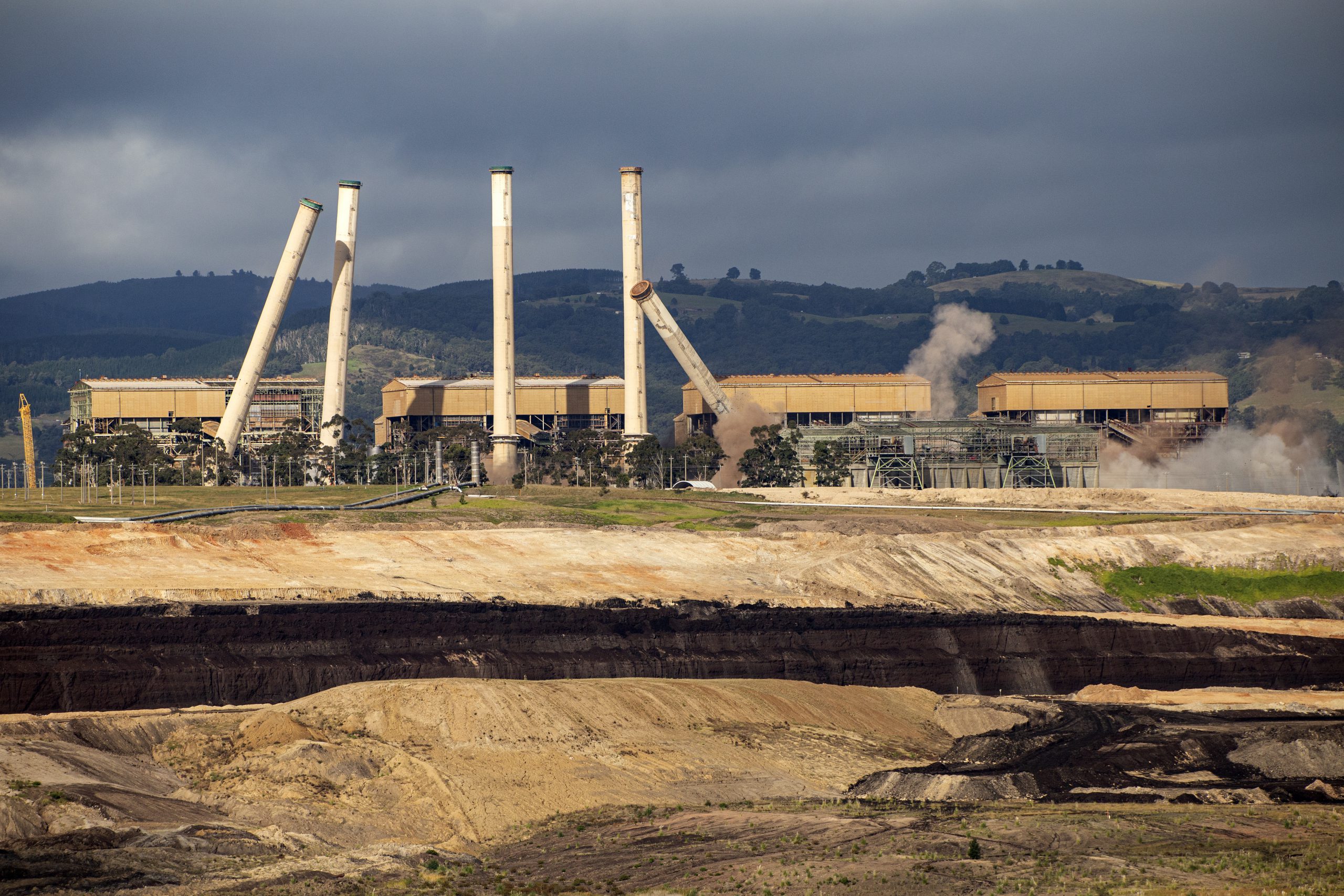 Michelle Slater, Kate Withers, Gregor Mactaggart, Tessa Randello
Half a century of Latrobe Valley history turned into a pile of rubble today when the eight chimneys from the former Hazelwood Power Station were demolished in a controlled collapse.

The historic event was originally scheduled for about 11am, but was put back by about an hour-and-a-half while the demolition team waited for ideal conditions to mitigate dust.

It was showtime at 12.27pm when the first chimney was detonated and took less than a minute in total for the 137-metre-high stacks to be reduced to rubble, signalling the end of an era for Hazelwood.

ENGIE head of corporate affairs Ryan Auger said he was "pleased with the result" when the collapse went according to plan after 10-12 months of planning and preparation work.

"We ran in 15-minute countdowns based on a package of weather updates as it was really important we had the perfect atmospheric conditions to proceed," Mr Auger said.

"It's an ideal day, we have a south/easterly wind that's not too strong blowing exactly in the right direction and perfect for all the right modelling, particularly for suppressing dust."

ENGIE set up two water systems including a 37-metre high water curtain to help disperse dust of which some lingered briefly over the mine void for a few minutes after the collapse.

The eight chimneys were each detonated by timed charges in 4.6 second sequences to fall on top of each other to minimise the dust plume.

Mr Auger said the rubble contained a small amount of bonded asbestos which would be bagged and transported via internal roads and placed in an Environmental Protection Authority approved disposal cell.

"Through design and engineering, we have mitigated all the risks and I'm confident there will be no risk to the community," Mr Auger said.
"We are lucky at Hazelwood, we have a 40km perimeter and a 3500 hectare site, it's a vast exclusion area, not only around the blast site itself, but also the site overall."

Mr Auger said the chimney collapse was a "milestone" as part of the three-year Hazelwood Power Station demolition program.

He thanked the men and women who worked at Hazelwood and had significantly contributed to Victoria's power supply.

He said the team would next be focusing on demolishing the turbine halls and boilers, which would also be blast felled.

"We recognise that this event means different things to different people, for some, this event represents change and renewal, for others it's the end of an era," Mr Auger said.

"Ultimately, the power station will become a pile of chip rock."

Right across the Latrobe Valley, residents scrambled to find the best vantage points to bid one final farewell to the famous pillars.
Monash Way in Churchill was lined with cars with hundreds of onlookers soaking up the historic occasion.

Shoppers stopped to catch a glimpse in Morwell, which offered some of the best views, while there were reports of drivers on the Princes Freeway parked in the emergency lane as they waited to catch the action.

Thousands made the pilgrimage to Coach Road in Newborough where the sweeping vista of the Valley is now changed forever.

The demolition attracted a large local, national and international audience, with major commercial television networks in attendance along with the ABC to capture the historic moment.

The Express' Facebook Live stream attracted more than a thousand viewers at its peak with more than 10,000 views of the collapse within two hours.

The demolition represents the end of an era for the power station, which started preliminary firing of its number one unit boiler in February 1964 and was officially opened in March 1971.

Hazelwood was closed in 2017.

FOR MORE COVERAGE, GRAB A COPY OF THURSDAY'S PRINT EDITION OF THE EXPRESS