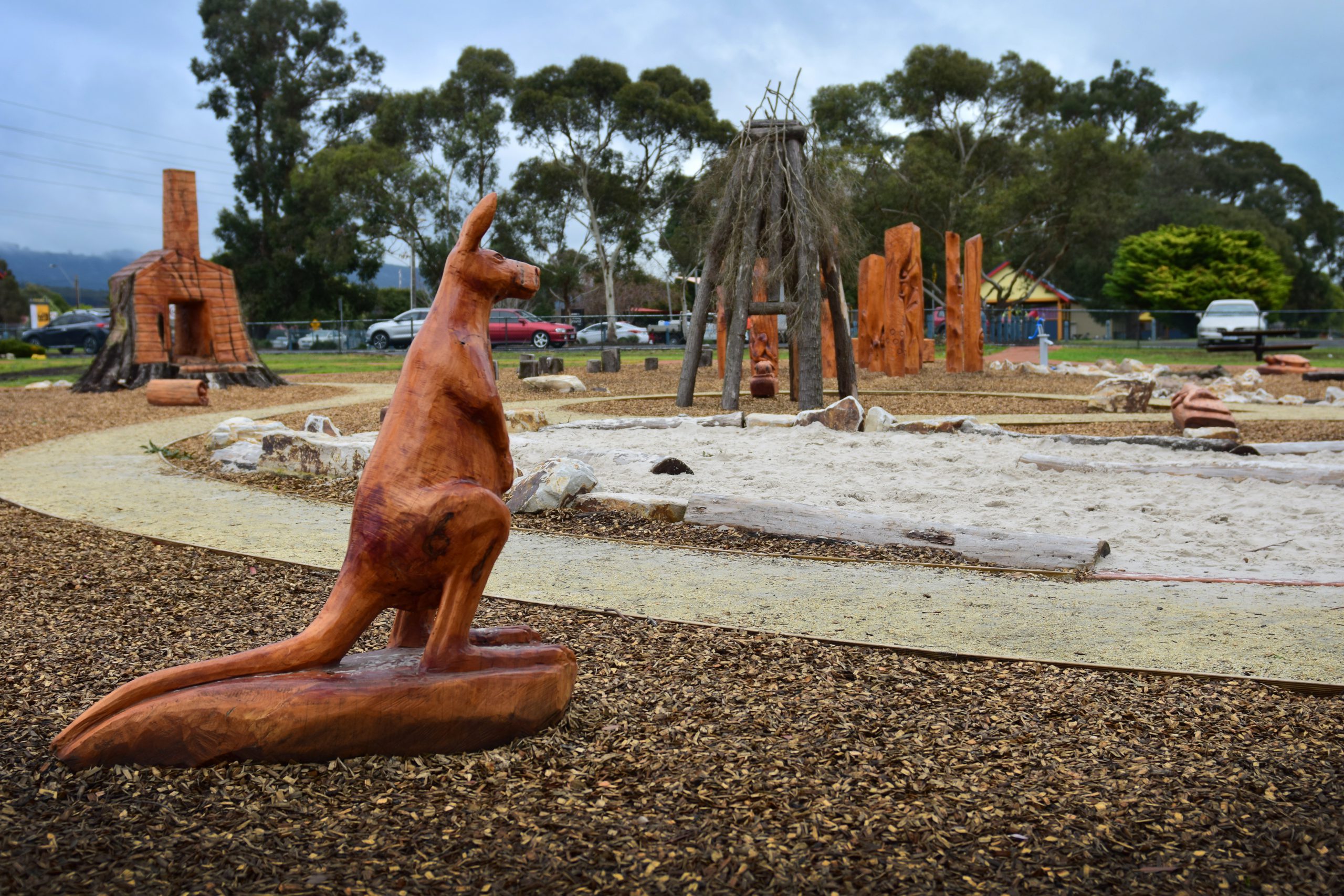 Kate Withers
Wood sculptor John Brady created his most recent body of work at Moe Apex Park "with small children in mind", but the enchanting new play ground has already captured the imagination of all ages.

The Fulham-based artist helped bring to life the vision of Latrobe City Council, which set out to create the first nature play space of its kind in the region.
It features new trees, shelter and barbecue area, park furniture, a network of pedestrian paths and play elements installed by Gippsland-based Filmer Landscaping.
A menagerie of native Australian fauna, picnic seating area, totem poles and a tree house make up the 30 whimsical centrepieces of the park, lovingly hand-crafted by Mr Brady.

Using timbers from the trees on site at Apex Park, each piece was carved using a variety of chainsaws and power tools before the finished product was treated.

"They had an idea of what they wanted which was the native animals and totem poles and specific animals and then I just made up the designs," Mr Brady said.
"Separately the animals took probably two or three days each, and that's just the carving, and there's a lot more work in the finishing and oiling, which takes quite a while.
"The tree house was the hardest one, there was a lot of work in that because the stump had rocks in the crevices.
"You might only do 10 minutes carving and then hit a rock, so that was the most intricate piece."
The large stumps from the original Monterey cypress trees at the park proved the perfect material for Mr Brady's sculptures.
"They're a really good type of cypress and probably the only suitable one we have in Australia because it'll stand up to the weather and it doesn't split like a lot of other timbers," he said.
"It's in between a hard wood and soft wood, so it carves cleanly. The Apex Park was a good job and I quite enjoyed it."
A Latrobe City spokesperson said the playground at Moe Apex Park was "unique" to the region.
"It is our first nature playground which we are incredibly proud to be able to bring to our community," the spokesperson said.