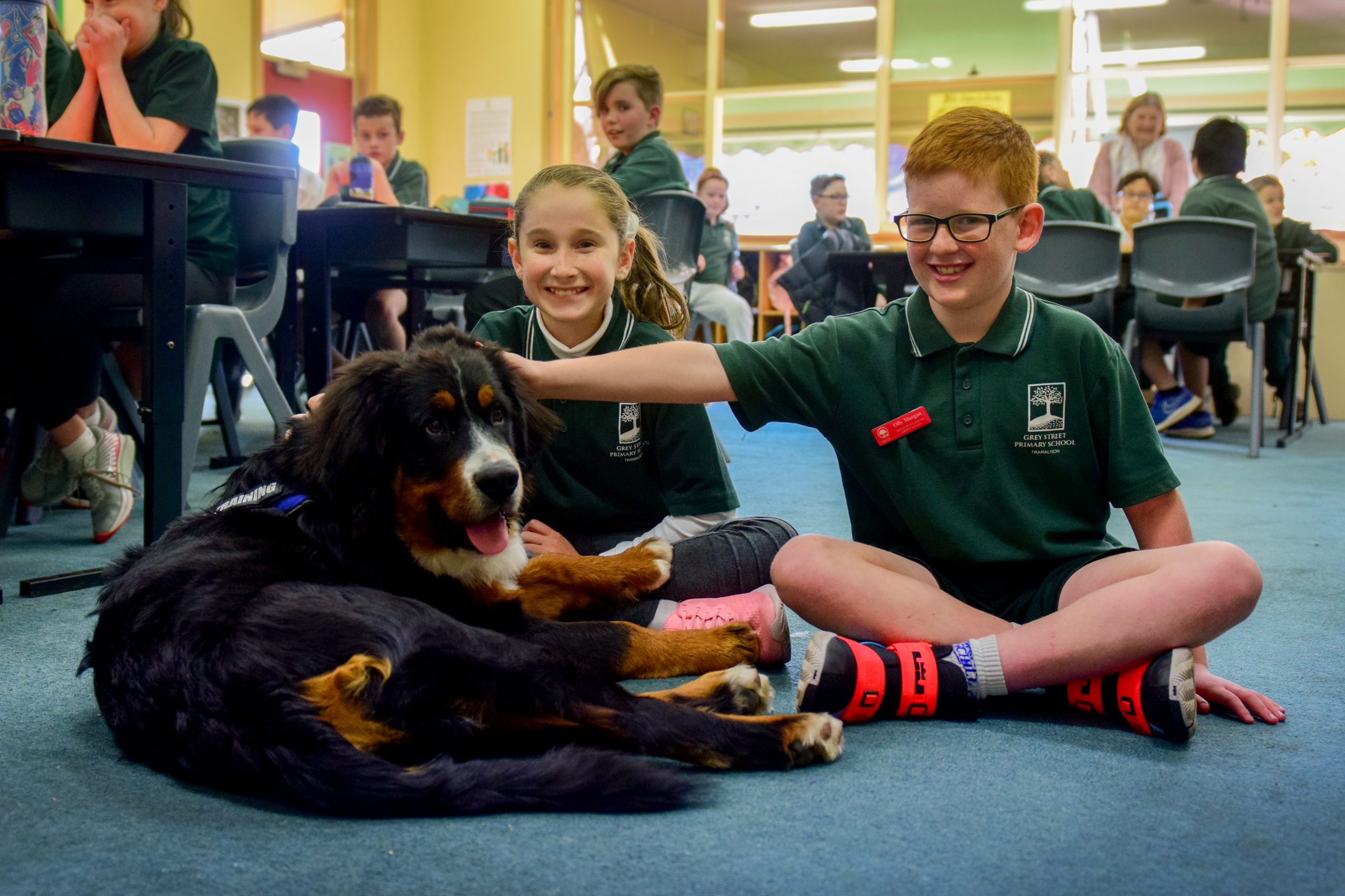 Tessa Randello
Support dog Moby was among smiling faces welcoming students back to Grey Street Primary School on Tuesday.

The eight-month-old Bernese mountain dog has been working with the school's welfare team since the start of the year and is now helping students ease back into on-site learning.
Grey Street Primary School principal Dean Gray said students were shocked to see how big Moby had grown while they were away.
"Now that all the kids are coming back from time away and with restrictions for adults coming on site it provides a bit of anxiety for students, so Moby has been walking kids to class … it has been really nice to have him at the gate and he can be that beacon that they walk towards," Mr Gray said.
"He is very popular, being a puppy he still needs to take time off during the day so he has a bed in the office and has a bit of a snooze in the middle of the day, he mostly works in the morning and afternoon.
"Currently he works alongside our welfare team helping any students that require some help regulating their emotions or that feel a bit anxious and patting a dog can always be calming."
Moby has had basic obedience training and will have more specific training to provide specialist support to children at the end of the year.
Mr Gray said the staff is relieved to have the students back on campus.
"There were a lot of smiles coming through the gate this morning, especially those bigger kids who rely so much on their social circles, having their friends back was really important for them," he said.
"How quickly the kids got their heads around the new technology was really impressive, but every student is going to have a different experience with off site learning depending on their circumstances. We tried our best to cater for all students and families as much as we could so it is better to have them back."
Mr Gray said Grey Street Primary School encouraged parents not to enter school grounds in accordance with government regulations.