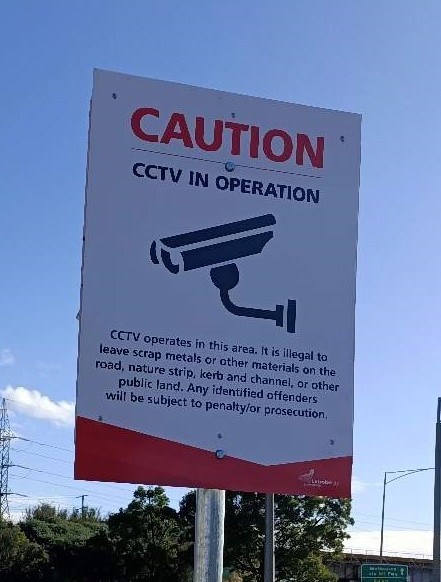 Tessa Randello
Latrobe City Council signs warning against the dumping of rubbish at a Morwell scrap metal yard have been replaced.

It comes in the wake of community members raising concerns about the ambiguity of the signs at Sledge Hammer Metals, with multiple visitors to the yard also receiving fines for depositing scrap metal.
Sledge Hammer Metals owner Tony Di Fresco said he noticed the signs, initially erected about two months ago, had been replaced on July 15.
The new signs, he said, are "about four times bigger", and included the installation of an additional sign.
A new directive has been added, which reads: "it is illegal to leave scrap metals or any other materials on the road, nature strip, curb and channel or other public land".
Mr Di Fresco said he was not notified the new signs would be installed, but was pleased they were less ambiguous.
"At least they are giving people more of an opportunity to know the parameters that they are working in," he said.
"The bigger signs are good, they felt like a form of entrapment beforehand because people could not see them, but I just don't want people to get hurt by the fines.
"I try and clean up as much as possible and let people know where to leave stuff but I just can't be there 24/7."
Despite the new signs, Mr Di Fresco said he had received two non-compliance notices from Latrobe City about his own signs within the yard.
"(The signs) say we are a scrap metal buyer, so I have had to move those. I just don't know what is going on, it feels like they are harassing me," he said.
Morwell resident Gabe Feenstra received a fine for depositing litter on June 12 at 3.06pm, after an employee helped him take scrap metal into the business.
"I know about the signs now but I live just around the corner from Sledge Hammer Metals and I couldn't see the signs from the direction I come to the scrap yard," Mr Feenstra said.
On Tuesday, July 21, Mr Feenstra said he received a call from a councillor who told him his fine had been revoked and he instead received a warning.
However Allan Young, who also received a fine a few weeks ago, said his application to have an infringement notice reviewed had been denied.
"We have lived here for 13 years and I have dropped many things off there and all of a sudden we have to keep Morwell beautiful, it would be nice if the council give us a bit of warning," Mr Feenstra said.
"I am a pensioner, you try and do the right thing and the Commercial Road scrap yard is a convenient place, people aren't trying to do the wrong thing."