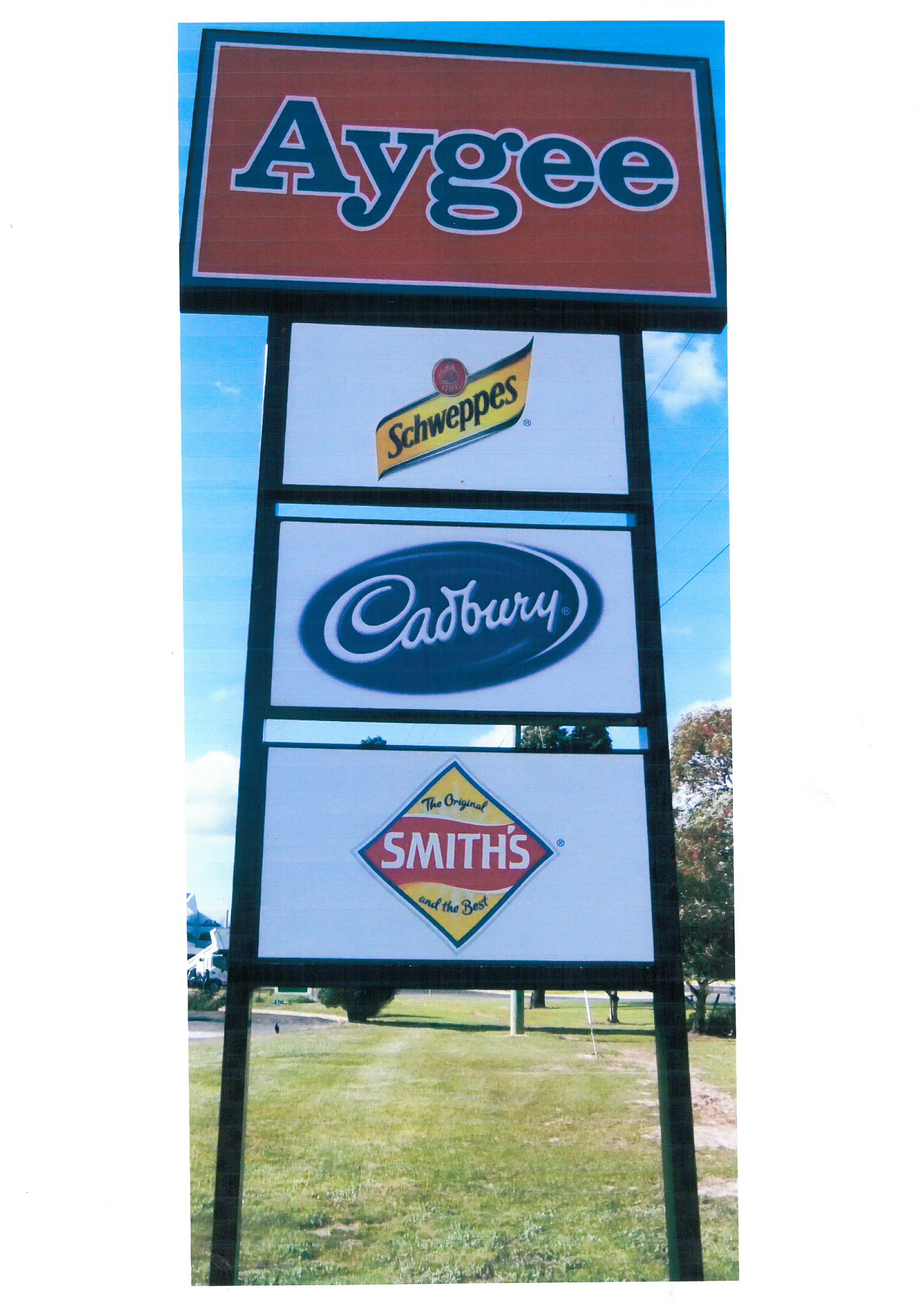 Gil Tipping
Arch Graham took a sip from the little glass tumbler, then held it up to the kitchen light. "Mmm" he murmured..finally..the taste and the colour were just right!

He called to his wife Aileen "You'll never guess what I've just done!"
You could say this was the true beginning of what is now known as Aygee Gippsland.
It was 1950.
Post-war Australians were mightily relieved and the forgotten feeling of hope was returning, but many commodities were in short supply, and there was an abundance of opportunity for the business minded.
Arch Graham was a qualified chemist, and was working in this role at APM, but he had previous experience at a factory in Melbourne producing ingredients for breweries, soft drinks and cordial making.
Arch could see a need for flavour essences and liquid food colours for making milk bar syrups and cordials, and experimenting in his kitchen at Loch Park Road, Traralgon to make these products.
After months of trial and error, Arch's Eureka moment (described above) finally arrived.
He had worked out and recorded formulae to make a full range of flavours and colours, and was ready to go into production.
But first, larger premises would be needed where a full production plant could be set up.
Easy! Arch simply moved into his garage!
This was a dual benefit, because his wife Aileen at last got her kitchen back.
No longer were her benches and tables covered with beakers, test tube samples and charts, although there still had to be a 60 gallon milk vat for washing bottles in the back yard.
It wasn't long before production commenced, and when nearby stores discovered that high quality flavour essences and colours could be obtained locally, the business took off, and Arch needed help.

In 1951, he enticed his brother Allan and wife Isabella and two young children, and Arch and Allan's parents, Arch snr and Ruth to move from Melbourne to join the firm.
It had to happen quickly, so after the addition of a caravan in the backyard, the new arrivals moved in with Arch and Aileen's family at Loch Park Road, expanding the household to ten!
It was noticed that five of the family members had the initials "AG", so the business name "Aygee" was an obvious choice.
Cordials and milk bar syrups were added to the product range, and in 1952, a purpose built factory was constructed in Tanjil Street Traralgon, managed by Allan.

This was a bold move for what was still a startup business, showing both confidence and business acumen.
Aygee was distributing its products ever more widely through Gippsland with Arch snr performing the role of chief salesman, and the business continued its rapid growth.
In 1955 the firm added "fizz" to its range with the creation of Aygee Aerated Waters, and in 1958 Aygee lemonade was awarded first prize at the Royal Melbourne Show.
This was a huge achievement, because the competition was open to the whole of Australia, and there were 17 other similar businesses in Gippsland alone. (By 2020, only Aygee was left standing).
It is clear from all this remarkable success that Aygee was turning out some high quality product, and it is no surprise that in the fiercely contested world soft drink market, the small country business came under the notice of the big players.
To use a local analogy, it was as if the little ship of Aygee had left the calm, familiar waters of the Gippsland Lakes, and passed through the Entrance out into the heaving seas of Bass Strait, connected thereby to the great oceans of the world.
This new paradigm brought fresh challenges for Aygee, sometimes in the form of giant competitors who would have been happy to see them close down, but there were also opportunities.
Not all such companies were bent on achieving monopoly.
The prestigious international company Schweppes was distributing its products to a handful of Gippsland outlets, but when Schweppes observed the much wider coverage and rapid growth of Aygee, in 1963 they appointed Aygee as their franchise bottler and distributor for the Gippsland Region.
In the same year Allan Graham junior joined the firm as a driver/salesman, and would later become managing director. The alliance with Schweppes was based from the very beginning on respect and trust, and is still in place today.
It has been a boon for both firms, assisting each to grow their brands, and later was a bulwark for Aygee against more predatory competitors.
While the alignment with Schweppes was a major milestone in the Aygee story, it was not the only reason for the company's success.
Aygee were a proactive and astute business, ever prepared to move with the times and look for new opportunities. They were forever growing, extending their territory and product range.
Along the way there have been many unforgettable moments and events; some momentous, some unusual (and with the passage of time, amusing), and some quite challenging.

Early on there were a couple of incidents involving Aygee trucks.
In 1958, an unmanned truck had rolled down a hill in Thorpdale and slammed into the Pub, much to the embarrassment of the driver who was at the bar and swore he had left the handbrake on.
In 1967, Aygee's first ever brand new truck was at the tip offloading waste paper when the load caught fire with much damage to the truck but no one hurt.
In 1971, the company bought several glass fronted fridges for placement in venues to be stocked by Aygee, and postmix was added to the products offered.
The connection with Schweppes continued to bear fruit, when in 1972 Schweppes purchased the Tarax brand, which in later years was incorporated into the Aygee range.
In 1977, a two-acre site was purchased in prime location on the corner of Eastern Road and the Princes Highway. A modern factory was built, and company still sits there.
The transformation of Aygee from an idea in Arch Graham's mind to a dynamic, thriving local business was complete. But success does not come without challenge.
Allan Graham jnr, having not long been installed as managing director, was sitting in his shiny new office and he received a call from a senior Coca-Cola executive in Melbourne.
He explained to Allan that Gippsland Bottlers, Coca-Cola's franchise bottler, had been taken over by Coca-Cola, that their product would henceforth be distributed from Melbourne, and that Aygee should get ready for some serious competition.
He said he didn't think Aygee would survive, and that Allan would be better off to just close the doors and walk away.
This was typical of many exchanges between the two companies over the next few years, but Allan had plenty of challenges to deal with without wasting energy on pursuing a rivalry.
Instead he stayed focused on what had made Aygee successful and kept driving the company forward, although there were always new challenges coming along.

Many readers will remember the rise of supermarkets and convenience stores from around 1983, and the devastating effect this had on milk bars and corner stores, most of which closed never to reopen.
With each closure, Aygee lost another valuable customer, then had to learn how to compete with the supermarkets, who could buy in bulk direct from suppliers.
In 1980, Aygee was appointed a commission agent for United Distillers, and in 1985 they purchased local firm Crystal Cordials, picking up the Tarax brand, and two valuable employees who each worked in key roles at Aygee for more than 20 years.

In 1995, Aygee added a full range of confectionery to its range, including Cadbury, Mars, Nestle and Smith's.

But the wheels of world business never stop, and big trouble was brewing.

In 1998, Coca-Cola bought Schweppes worldwide, which would have given Coca-Cola an 85 per cent share of the Australian soft drink market.
It was highly unlikely Coca-Cola would continue the Schweppes label, which would have been a massive hit to Aygee's product range. It looked like the Coke executive's prediction of 20 years earlier would come true.
But Aygee decided to fight, and lodged a complaint with Australia's competition regulator, the ACCC. chairman Alan Fels contacted Aygee directly, and after consideration, the takeover was disallowed in Australia.

Aygee had dodged an Intercontinental Ballistic Missile!

Those big wheels kept turning, although this time in Aygee's favour.
In 2000, Schweppes Australia acquired the rights to Pepsi in Australia, and also bought the Spring Valley fruit juice business. Both of these moves added to Aygee's range.
In 2010, Schweppes Australia was purchased by Japanese company Asahi, who had no intention of discontinuing the Schweppes label, which was good for Aygee.

The future was looking rosy, and Aygee continued to expand, by now firmly established as the number one soft drink and confectionery distributor in Gippsland.

So why has Aygee been so successful?
Yes there have been brilliant business skills, but the company could have sold out many times and walked off into the sunset with a stack of money to retire on. They never did that. Why not?
Having watched the progress of Aygee for 46 years (since arriving in the Valley in '74), and getting to know many of its owners and employees quite well, I would like to offer an explanation.
They believed in looking after their clients, big and small, developing a sincere personal relationship based on trust and goodwill-going out of their way to make sure deliveries were correct and on time.
They also applied this principle to their staff, to whom they gave respect, encouragement, acknowledgement, generous reward, kindness, and, when necessary, tender loving care.
In return the staff were intensely loyal, and always wanted to put their best foot forward for the boss.

In my view a key sign of a successful company is having long term staff, and this is certainly true of Aygee, with a great many employees serving the company for 20 years of more.

With core principles like these in place, it is little wonder to me that Aygee has been so successful for so long. Who wouldn't want to work for, or deal with, a company like that?

Finally, they loved Gippsland, especially their town of origin, Traralgon, and the Valley.

It had been good to them-they wanted to see all of it thrive, and never wanted to be anywhere else.

Aygee has always been very community minded, and have assisted countless sporting clubs and events over the years, either with cash sponsorship or supplying free soft drinks or merchandise.

Within only the last year, catastrophic bushfires in East Gippsland have destroyed the peak trading season for Aygee and many businesses, and now COVID-19 has brought business around the world to a halt.

Aygee has a history of overcoming challenges and is determined to hold firm, and to protect the jobs of all of its employees.

This year, Aygee completes it's 70th year of continuous operation, which is a phenomenal achievement.

How many local businesses can you think of that have done that?

Even more remarkable is that they are still wholly owned within the original family.

After 53 years service, Allan jnr retired in 2016, and nowadays Aygee is jointly run by Allan's brother Paul and Allan's son Glenn, who between them have 70 years service.

As it stands today, Aygee has 32 staff, more than 100 suppliers, a wide product range, more than 1500 clients and is the largest confectionery, snack food and beverage distributor in Eastern Victoria.

For me however, there is something which stands out above all this, It is the manner in which they have conducted their business. I would use the word "generous".

They have been unfailingly generous to all who crossed their path, however big or however small.
This was not always easy, like when an executive from a giant global company tells you they are bent on closing you down.
Recently, I had a man helping me tidy up the garden around my house. I know him quite well and I told him I was writing this piece about Aygee.

"Oh yeah" he said "We used to mow their lawns up at Eastern Road..when it was hot they would come out and tell us we could help ourselves to as many cold drinks as we wanted!..We loved working for them!"

Yep, that's typical Aygee.

As locals, we can be proud of Aygee for what they have achieved, and for showing us that you can be highly successful in business without surrendering your humanity.