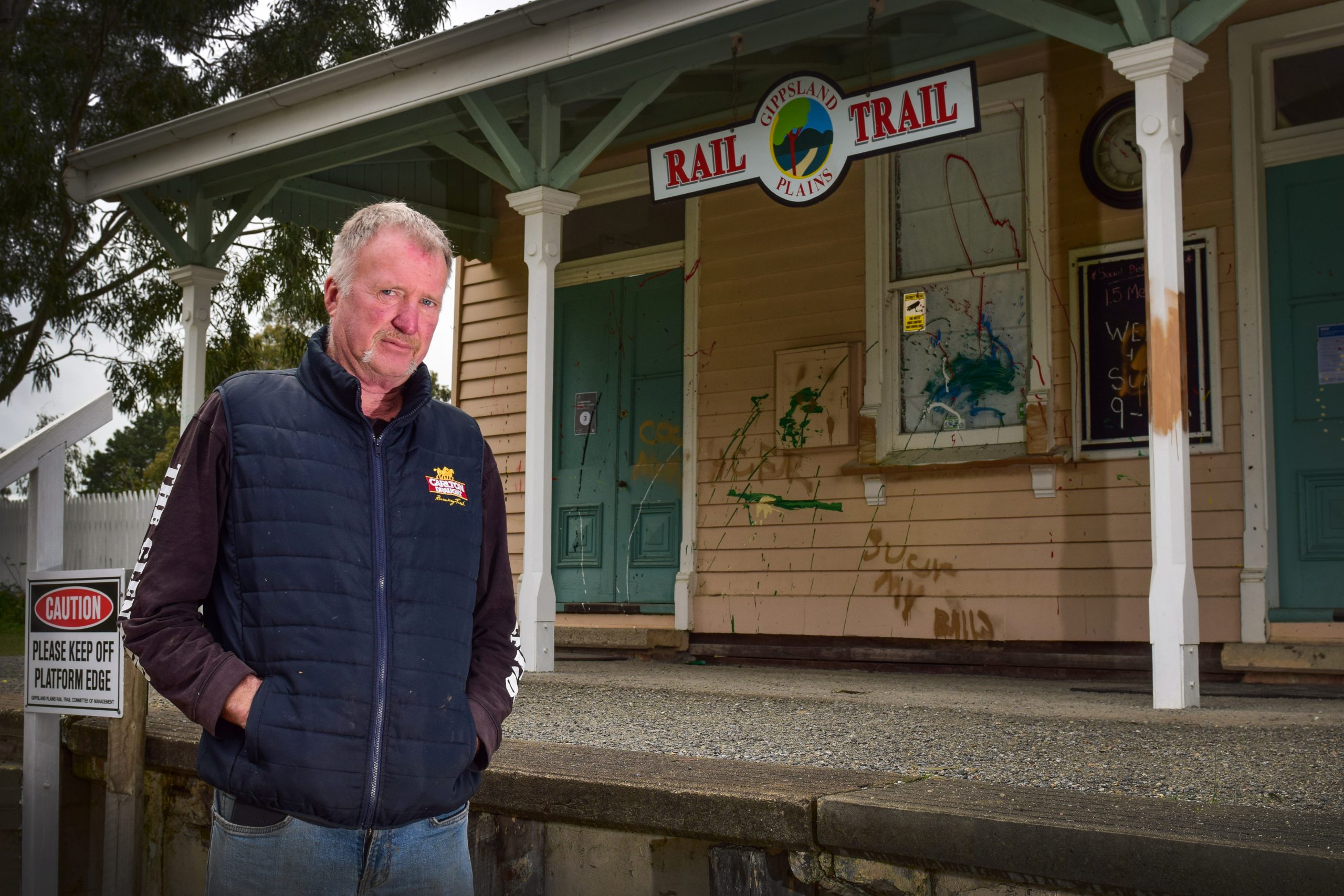 Kate Withers
Mindless vandals have targeted the iconic old Glengarry Railway Station overnight, leaving business owners and the local community outraged.

Platform 3854 Cafe owner David Barnes arrived to find the heritage-listed building at the old station plastered with graffiti and paint this morning.

The business, which has been up and running for about six weeks, sits atop the scenic Gippsland Plains Rail Trail on Main Street and was a labour of love for Mr Barnes and co-owner Tony McNulty.
"We've been doing it up for about six months and it's been going really well and people around here are loving it at the moment, so it's just a pity," Mr Barnes told The Express.
"We had plans to open up today and you can't open when it's like that, so with all the stuff getting around the world at the moment there's enough going on without worrying about little nitty gritty stuff."
Empty acrylic paint tubes and spray cans were left scattered around the cafe and the grass area around the Apex Park was also torn up by car tyres.
"A small business like this, we've got three girls working here and we'll have to fix all of this up before we can open again," Mr Barnes said.
"That means they probably don't get paid, they lose money, we lose income and it makes it bad for the town because it's quite a busy spot.
"The good thing about it is we've given three girls jobs, and with all the stuff going on, they need it."
Platform 3854 leases the premises from the Gippsland Plans Rail Trail Committee and Mr Barnes estimates the 1883 building will need to be repainted entirely, costing thousands of dollars.

"Because it's a heritage building we can't just do whatever we want, so we'll always run everything we do by the railway society," he said.

"This is run by volunteers, so they only do it because they love doing it but when you come in and see that it probably deters them."
Mr Barnes is also the publican across the road at The Glengarry Hotel and said vandalism was an increasing cause of concern for local business owners and the community.

The old station has been targeted in the past, with vandals last year defacing the building on two separate occasions.

"I would like to see a lot more lighting around the area in Glengarry because there is a lot of this sort of stuff going on," he said.
"Maybe some cameras in the park, we just need different things that can deter people from doing these sorts of things.
"We've got some cameras over there (at the pub) and we're going to have a little look later on, so hopefully we will be able to notice who they are and we'll be handing that onto police."
Anyone with information about the vandalism is asked to phone the Traralgon Police Station on 5172 2700.