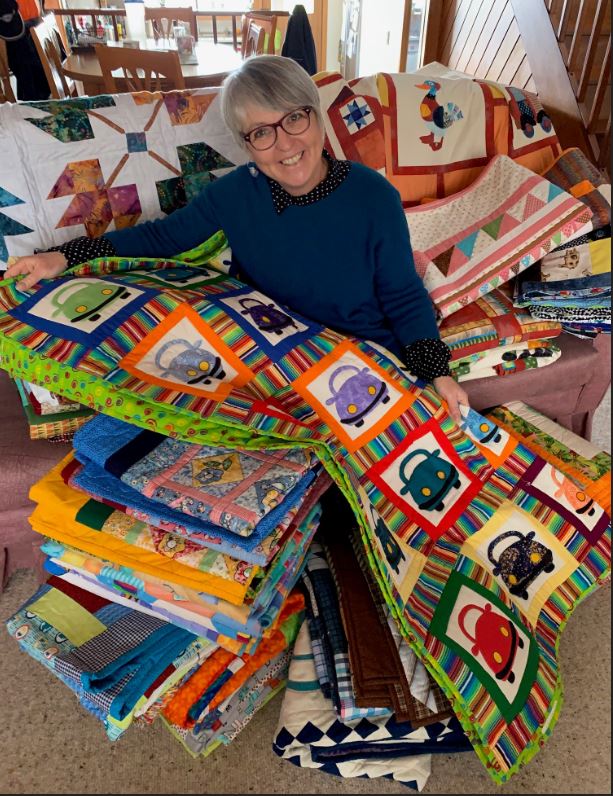 Hayley Mills
MEMBERS of the Latrobe Valley Quilters who share a passion for patchwork quilting have been busy sewing for those in need.

A build-up of quilts in the cupboards saw the group of about 25 members look for a worthy cause to receive the handmade quilts.
Following a meeting with Anglicare Victoria's community development officer Cathrine Muston, the group knew precisely where those quilts would be welcomed.
"We haven't donated for two years and we had a build-up in our cupboards," Latrobe Valley Quilters president Linda Brock said.
"Cathrine attended one of our meetings and she told us about all their programs and the need for items like this.
"Cathrine was just so warm and welcomed them with open arms."
Anglicare Victoria received 35 of the quilts that were ready to be distributed to children in the foster care system.
"The quilts will provide comfort to children in the foster care program who often have very few possessions," Ms Muston said.
"It's the middle of winter, it's cold and we had lots of kids quilts to be donated. The quilt is theirs to keep."
Ms Brock said the group was proud to offer their support.
"Cathrine said everyone in the office was so excited to receive them and we as a group were thrilled they just wanted them and they are valued so much," she said.
"It provides a purpose for many who no longer need quilts for their own family, but receive great enjoyment in sewing for others.
"It is heart-warming to our members to be able to give something that is valued and makes a difference in the lives of children in foster care."
Throughout the years, LVQ has also donated items to Berry Street and Latrobe Regional Hospital.
"Like all quilting groups , we are always donating for different causes and we have these quilts that we make up and need a home." Ms Brock said.