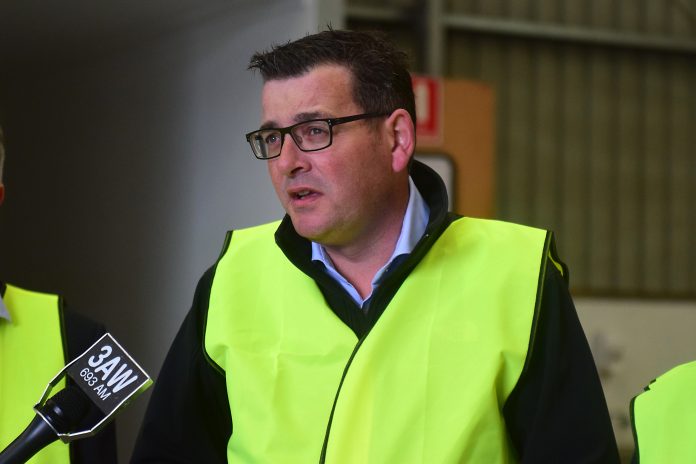 Kate Withers
Restrictions across regional Victoria will be relaxed from next weekend under the state government's highly anticipated roadmap out of coronavirus unveiled today.

From midnight on Sunday, September 13, regional Victorians will be allowed public outdoor gatherings of five people from a maximum of two homes.
A "single person bubble" will also be created, permitting those living alone or single parents one nominated visitor.
Childcare will be open to all children and schools will return to onsite learning from Term 4 with COVID safety measures in place.

Regional Victoria will be "a step ahead" in Stage 2 of the four-stage plan from September 13.
Metropolitan Melbourne will remain in Stage 1 of the roadmap until September 28, but some restrictions will be eased from September 13, including extended curfew and exercising hours, social bubbles to accommodate those living alone and outdoor gatherings of two people.

Premier Daniel Andrews said regional Victoria's progression towards the last step of the plan – the "COVID normal" – depended on the maintenance of low daily case numbers.
"We will reassess based on total numbers … but regional Victoria will more or less be able to move to the third step quite soon," he said.

"It will be perhaps a matter of weeks before regional Victoria can move to a very different range of settings compared to Melbourne.
"More shops will open, more people will back at work … it will be a relatively normal set of circumstances, certainly compared to the situation that metropolitan Melbourne will be in for some time."

Progression to Stage 3 of the roadmap will be made when the daily average number of cases is less than five for a period of two weeks.

Stage 3 will include no restrictions on leaving home, public outdoor gatherings of up to 10 people, visitors from outside the home and a return to outdoor seated service for hospitality.

"This is less than we would like to do. We would all like to open up as soon as possible but that is not the nature of this virus," Mr Andrews said.

"I want a Christmas that is as close to normal as possible and these steps are the only way that we will get to that point.

"The modelling… indicates that if we open up too fast then we have a very high likelihood that we're not opening up at all, we're just beginning a third wave.

"We can't run out of lockdown, we have to take steady and safe steps … to find that COVID normal.
"In regional Victoria those numbers are low, they do need to be lower but they are low."

There are currently 12 active cases of coronavirus in Latrobe City and 87 across regional Victoria.

The Opposition described yesterday's plan as a road to nowhere.
"Victorians have been betrayed; robbed of hope the Andrews Labor Government is getting this crisis under control or is competent to do so," Opposition leader Michael O'Brien said.
"Daniel Andrews promised a roadmap out of lockdown, but instead we've got a plan for more lockdowns. Labor is only offering Victorians more job losses, more businesses forced to close their doors for good and more sacrifices by each and every Victorian."
Nationals leader Peter Walsh echoed those sentiments.
"Daniel Andrews' one-size-fits-all approach out of lockdown will kill jobs, businesses and regional economies in country Victoria," Mr Walsh said.
"The Andrews Labor Government has missed an opportunity to provide a lifeline to regional Victorian businesses."