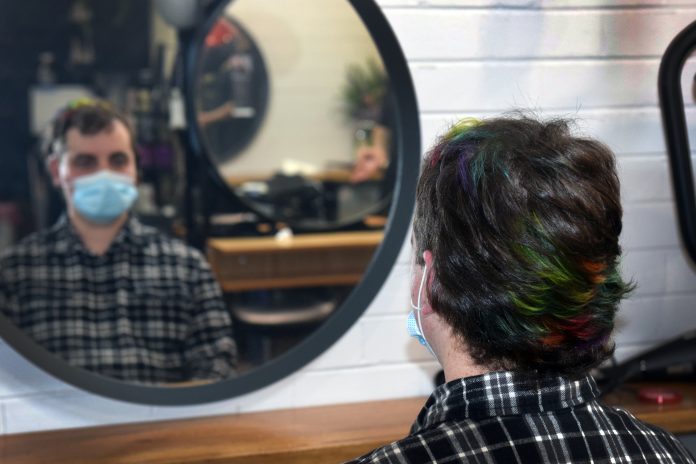 Tessa Randello
Eighteen days ago Traralgon-based Kieran Jackiw went to the hairdresser for his first mullet to raise money for the Black Dog Institute's Mullets for Mental Health.

In under two weeks the 33-year-old hit his fundraising goal of $1000 and, as promised, dyed his mullet rainbow on R U OK? Day.

Mr Jackiw was shocked that he managed to raise close to $2000 in 10 days for the not-for-profit facility for diagnosis, treatment and prevention of mental health disorders.
With about two weeks still left in September, he increased his goal to $5000 and said "even if I don't get that at least I have raised a lot for a great resource".
"I tend to be pretty loud and stand out and I wanted to do something that was a bit fun so that even if the hair just makes someone smile, that is great," Mr Jackiw said.
"I wanted to put a spin on it that was a bit fun, that people could really get behind … I am happy to be the one with the weird hair that starts the conversation with people around mental health.
"Even if just one person has a laugh at it on the street and for a few minutes is not thinking about coronavirus… or see the fundraiser and decide to have a look at resources on the Black Dog Institute's website that would be great.
"The statistics that really stood out to me were that of the one in five people who have mental illness, 60 per cent will not seek out help.
"People either don't know where to go or how to get help and there is also a stigma around pride and asking for help … it's not like a broken leg that everyone can see you just carry it with you."
Mr Jackiw said he hadn't had his hair dyed since he was 18 years old, so was a little bit nervous sitting in the chair.
"My wife said she doesn't mind what the colour will look like, I am actually a bit more worried about my three-year-old son … he is a pretty strong, independent kid, he will tell me if he doesn't like it," he said.
"I had no idea what it was going to look like, but either way it is an ice breaker and that's all that really matters. Even just with a mullet people drop their defences and are more open to talking about how they are feeling, (it) opens up the conversation around mental health … at a time where it is really needed most."
Mel's Cutting Room in Traralgon donated the colour and cut for Mr Jackiw's mullet and added the colour on Thursday night.
To help Mr Jackiw reach his goal go to https://www.teamblackdog.org.au/s/9810/10219/e.
If this article causes you or someone you know concern, phone beyondblue on 1300 224 636 or Lifeline Gippsland on 13 11 14.