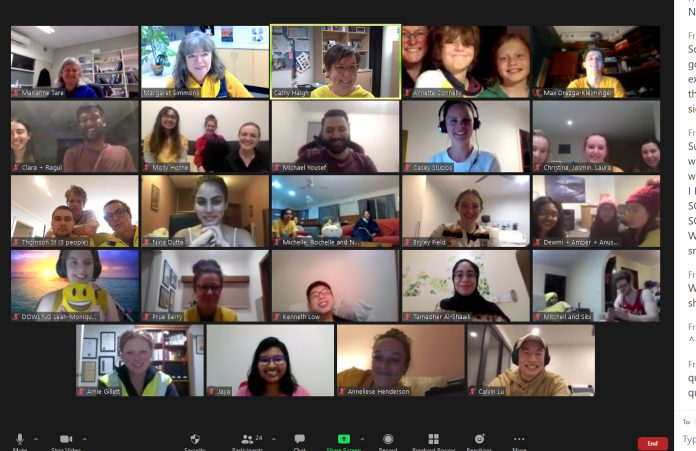 Tessa Randello
Monash School of Rural Health students in Gippsland came together, virtually, to compete in the All Gippsland Championship Quiz last week.

The Zoom trivia night was organised by the faculty to check in on students for R U OK? Day.
Monash University Medical Students' Society representative for year 4C Calvin Lu said the event made students feel very supported by the Gippsland team.
Mr Lu is currently completing a hospital-based semester in Traralgon after working in Leongatha and has not been home to Melbourne since mid-June.

"My role in short is to be a liaison between the students and faculty members, the organisation has been pretty limited at the moment because we usually run social events … which has obviously been hard at the moment," he said.
"The UMSS had organised coffee vouchers for students for R U OK? Day and the Gippsland faculty told me they had also organised something so we also gave some money to send snack as a pick-me-up to the students.
"The fact that the faculty went out of their way to organise something really fun for the students was so nice and just made us all feel really supported.
"During the first wave, they organised Zoom Q and As and have been very transparent, they are also giving weekly updates and it's gone a long way to give us that feeling of certainty, when everything feels very uncertain."
Mr Lu said connecting in any way possible with students during coronavirus is important because of the strain restrictions have had on them.
"It's very easy within the university year to get lost in the stress of it all … the fourth year is the most difficult of our course because it counts toward where we go when we graduate and everyone has been a bit more on edge dealing with new resources online and missed placements," he said.
Monash Rural Health Gippsland director, Associate Professor Catherine Haigh said before the quiz students heard presentations from the Victorian Doctors Health Program and Monash University Professional Support's Dr Philippa Corby and Associate Professor Lyn Clearihan.
"We had a Zoom meeting and talked to them about the importance of looking after themselves and checking in with one another before the quiz, which was a bit of fun and a way for students to connect with one another," she said.
"It's important for our students because it's a very intense course, they are exposed to all sorts of human vulnerabilities and this COVID year has been a very uncertain year and they have been really cut off from one another."
Associate Prof Haigh said she received help from Churchill-based doctor Marg Simmons and the pair had a lot of fun putting the event together.
"Using Zoom will be great because no one will miss out or have to travel, there were five rounds of eight questions (and) fun prizes … things like a built your own robot hoover and a fluffy cow because we are in Gippsland," she said.
"All of the prizes were sourced locally and some sections of the quiz were about Gippsland, so those who have really connected with the local area will have an advantage."