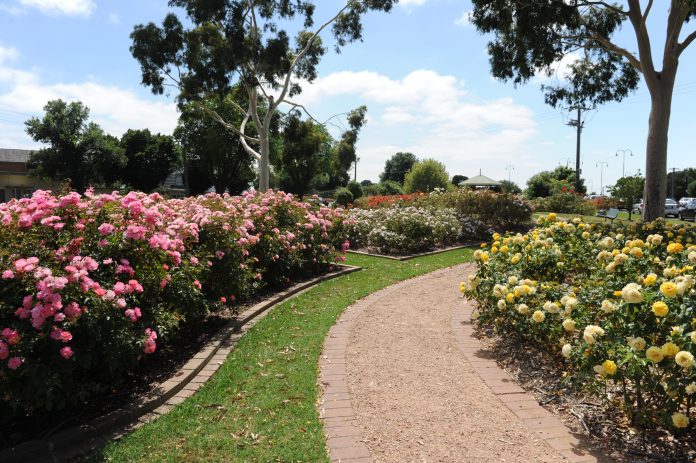 Cher Jimenez
VISITORS at the iconic Morwell Centenary Rose Garden will still be able to enjoy the thousands of roses that are now in full bloom despite COVID-19 restrictions, thanks to the tireless volunteers who worked at the garden in between lockdowns.

It was "perfect timing" according to Morwell Rose Garden Committee president Del Matthews that enabled volunteers to come down to the site to prune roses in time for spring.
Ms Matthews said pruning works were done in between the first and second Stage 3 restrictions which allowed volunteers just enough time to complete the majority of the garden.
The internationally-known garden has about 400 varieties and a total of 4000 roses.
"We got the pruning done in between the first and second lockdowns and worked there every Monday and Tuesday," Ms Matthews told The Express.

"We haven't got to the climbers but we got most of the garden pruned."
Ms Matthews said there were about 50 volunteers of the garden, however not everyone was able to participate in pruning activities because of COVID-19 restrictions.
She said pruning the thousands of roses at the garden used to be a fun social activity for green thumbs before the restrictions as volunteers
shared a meal and even went out for dinner on weekends.
Ms Matthews said roses were pruned during winter when they were dormant to enable them to produce new blooms.
"If it's your own garden it's no drama if you're unable to prune. Roses are tough, they will survive," she said.
"But ours is a display garden so it's important to cut it out so that it'll look good."
Ms Matthews said less than 20 volunteers worked at the garden across six weeks in between lockdowns and followed social distancing each time.