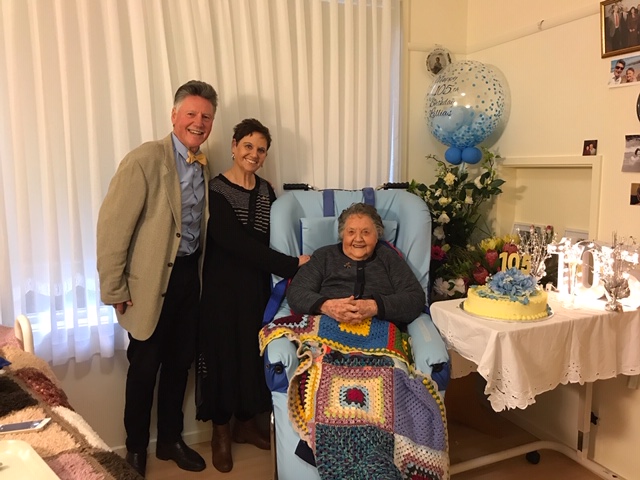 Lillias Hart is proud to be the eldest resident at Andrews House, Trafalgar.

Ms Hart celebrated her 105th birthday last month with balloons, flowers, cake and a Zoom session with many of her five children, 13 grandchildren and 24 great grandchildren.
Her daughter, Margo Tongs, and son Graeme Hart were able to celebrate the day with their mother in person and said it was a very special day.
"The House made allowances for me and my brother to be there together, the two of us take turns to visit her everyday it is really nice that we can do that," Ms Tongs said.
"There was more than 20 people on the Zoom call and we organised a balloon and cake and many of her friends and family sent her beautiful flowers.
"It was a beautiful celebration it really was, she was very excited and the balloon is still up in the ceiling of her room, there were about 20 people on the Zoom and one of her grandchildren even signed on from Canada.
"I think she was a bit overawed by it all, seeing all of these faces on the screen."
Ms Hart has been living at Andrews House for over four years and previously lived in Rochester, Warrnambool, Echuca, Stawell and Bairnsdale with her late husband Richard, a teacher and school headmaster.
The couple met at Maryborough Technical College and were married for 64 years.
Ms Hart worked as a telephonist with the Post Master General's department until she was married in 1938 and later worked as a school librarian for many years and enjoyed playing music, a skill she could pick up "by ear".
"She played a lot of music and had a lot of friends through her music group who she is still friends with to this day. She played by ear, she is a very talented lady," Ms Tongs said.

Ms Hart also received a letter from the Queen, Prime Minister and two Members of Parliament to celebrate the impressive milestone.