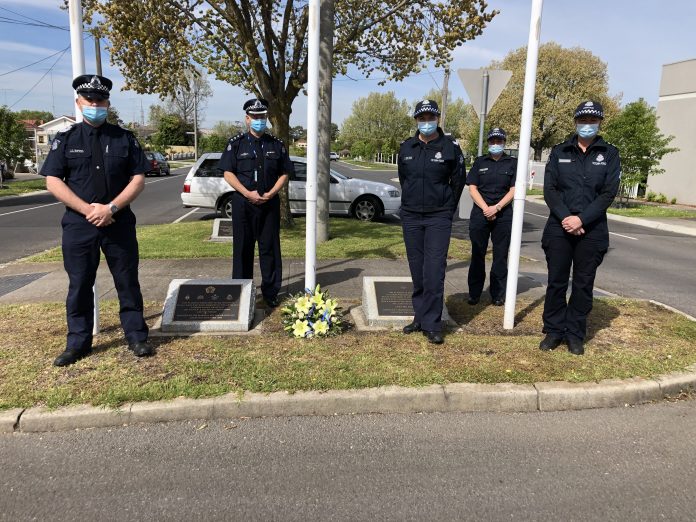 Kate Withers
September 29 marks a significant but sombre day on the calendar for police officers right across Australia.

National Police Remembrance Day looked different this year but police across the nation united to honour the lives of their colleagues who have died in the line of duty.
Chief Commissioner Shane Patton led a procession of police and performed a special wreath laying ceremony at the Police Memorial Honour Wall in Melbourne to mark the occasion.
Members of local patrol also took time to pause and reflect on the day and laid a wreath at the Morwell RSL cenotaph on Tuesday morning.
Latrobe Inspector Paul Huggett said National Police Remembrance Day presented an opportunity for members of the force, their family and friends and the broader community to pay respect to officers who have made the ultimate sacrifice.
"It's a massive day for Victoria Police where we pay respect to those members who have given their lives in the line of duty," Insp Huggett said.
"It's also a massive day for their families and friends, we pay our respects to them as well.
"There's a lot of these ceremonies throughout the state and it's a day all the members get together and reflect on the sacrifice that's been made by their fellow members.
"It's a time to look out for each other and take on the wellbeing of our members and also look after one another and our families and greater Victoria Police family."
Insp Huggett said members of the community could help mark the occasion and acknowledge their local police officers with a simple greeting.
"Even if people just go up and say hello to their police officers, it's great for us," he said.
"Anything's possible and that's the life of a police officer, you never know what's going to happen in the next moment from time to time or the next day.
"I think it's been said before that we're the front row of the greatest show on earth and we never know what to expect."
Members of the community were invited to join police in paying tribute to fallen officers through a special online memorial service via the Victoria Police YouTube account.
A virtual Facebook event was also created for the occasion and the memorial service will remain online for those unable to join on the day.