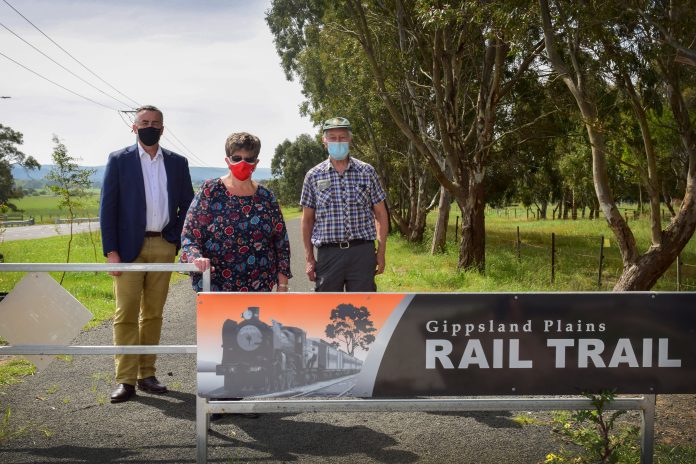 Tessa Randello
The Gippsland Plains Rail Trail has a fresh new look after the completion of two federally-funded projects along the trail.

A 25-metre bridge over Eaglehawk Creek between Glengarry and Toongabbie was installed in May and seven kilometres of the trail between Traralgon and Glengarry are now sealed.
Chair of the Gippsland Plains Rail Trail Commitee of Management Helen Hoppner said the completed works are an asset to the community.
"We think the upgrades amazing it's been a long time coming – over 20 years – it has been absolutely utilised, with COVID it has been utilised so much more than we have ever seen," she said.
"I think that is due to two things; people can come into the community and do their exercise here and adhere to the rules and the seal on it means we have seen more people with prams and people in wheelchairs can easily use it.
"It has been so popular that we may have to extend the carpark."
Ms Hoppner said rail trails around the country were great and that work needs to continue to keep them in top condition.
"The heath benefits for the community of a rail trail is great and that keeps people active, healthy and keeps the community in good health," she said.
"The bridge has been amazing because people don't have to walk through the creek… that connection is absolutely important because it keeps people moving back out into smaller communities and spend their money there."
Federal Member for Gippsland Darren Chester secured $267,000 for the trail as part of a package of improvements and was heartened to see the project finished.
"This is a fantastic example of the state government and federal government working with the needs of the local community," he said. "It is a great way to provide more opportunities for not only locals but visitors to enjoy the towns … like Glengarry, Toongabbie and Cowwarr along the way.
"The Gippsland Plains Rail Trail is an asset and these works to improve local infastructure supports local jobs with the construction and installation of the Eaglehawk bridge undertaken by Gippsland business T & S Welding and Fabrication."