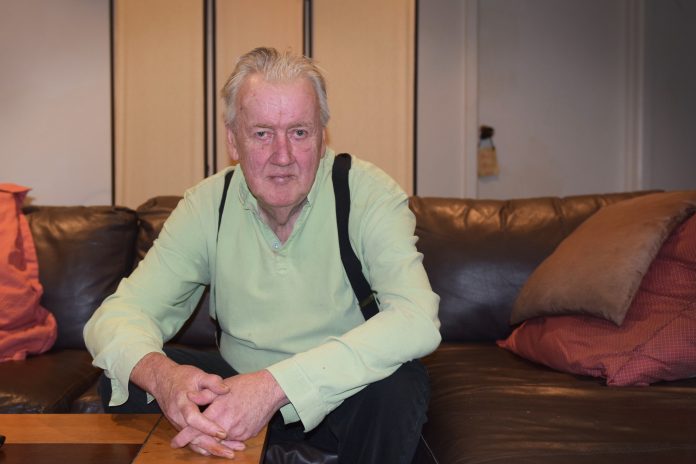 Tessa Randello
Steve Tuckett's life was forever changed by the community support he received from members of the Newborough Men's Shed.

Mr Tuckett said joining the Shed was the best decision of his life, next to going to a rehabilitation centre, an experience members of the Newborough Men's Shed helped him through.
Mr Tuckett found himself living in Melbourne after a high-flying life as an audio visual designer of large-scale museum exhibitions around the world, including the Smithsonian in Washington D.C.
His lucrative business partnership had broken up, leaving him close to bankruptcy and he moved back to Australia to look after his father Ron Tuckett, a former SEC chief engineer, who was then aged in his 90s.
After his father's death, the hi-fi specialist and audio engineer found the only place he could afford to live at the time was in Moe – a town he knew well growing up – and moved to the area "very lonely".
"At the recommendation of my doctor I went to the Men's Shed, it was a bit of a departure from me, I have always been working in sophisticated electronics so I had to get used to it," he said.
"I was lonely at the time and drinking a lot and taking pills because of the pain, the first good thing to happen to me while I was here was that a member of the Newborough Men's Shed asked me what I was doing for Christmas.
"I had been banned from my family Christmas so it was a hard time, on Christmas Eve one of the members and his wife bought me a hamper to my home and that was so lovely."
Mr Tuckett's doctor then told him to get in touch with the GSHS Alcohol and Drug Support program at Leongatha Hospital through the Latrobe Community Health Services, to help with his drinking problem.
"In the lead up to going into hospital I was trying every mental trick I could play tricks on myself to stop myself from going. Only because of the support from the Men's Shed did I go, a member even picked me up and took me down there," he said.
"Before coronavirus restrictions members of the Men's Shed came to check up on with me and helped me through and because of them I have not had a drink in six months.
"Their support, community and encouragement has kept me on the straight and narrow, I have had a call from a member of the Shed every day since I left rehab.

"Since I have joined the Shed we have done so much work for the community like gardening, and working with pensioners; it's been a very humbling experience for me, I spent most of my life travelling around the world, living the rock star lifestyle."
Mr Tuckett said he now feels at home in the Latrobe Valley and is designing the Newborough Men's Shed's website and has organised a virtual sausage sizzle to help keep the Shed's doors open.
"Because of the restrictions around coronavirus the Men's Shed hasn't been able to do their regular fundraising, which is awful because they are worth funding," he said.
"The Shed saved my life and can do the same for so many other people."

The Newborough Men's Shed virtual sausage sizzle is an online fundraiser where people can purchase a soft drink and sausage online to be redeemed in person once possible, to take part go to https://nms.org.au/sizzle.