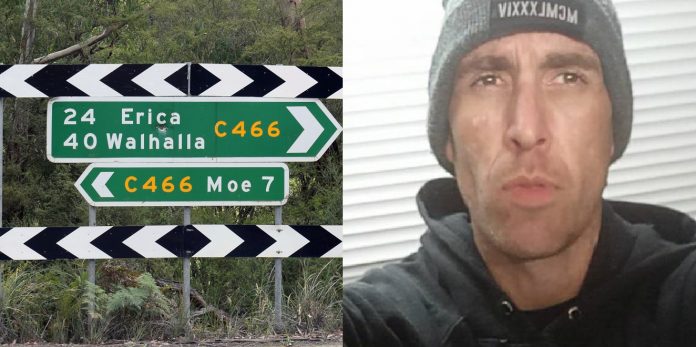 Kate Withers
Police have unearthed a new and potentially pivotal lead in the mysterious death of Newborough man Jarrad Lovison, The Express can reveal.

Investigators now believe the 37-year-old was last seen alive with his green mountain bike, which remains missing, in the early hours of April 16.
It was initially thought the last sighting of Mr Lovison, who cut an imposing figure at seven-feet-tall, occurred the evening prior when he was captured on CCTV visiting Kmart and Woolworths in Moe.
After en exhaustive six-week search, his body was discovered in scrubland at the Moondarra State Park on Tanjil Bren Road.
But the new piece of information suggests Mr Lovison was seen with his bike on Moe-Walhalla Road, which runs off Tanjil Bren Road, in the early hours of April 16.
Missing Persons Squad detectives will return to Moe this week as part of the ongoing investigation into the death, which they continue to treat as suspicious.
Detectives have so far followed a number of leads, including the sighting of Mr Lovison's green bike which was seen propped against a tree on Becks Bridge Road just north of Adam View Court on April 18.
Detective Inspector Andrew Stamper of the Missing Persons Squad said police believe they are closing in on those responsible for the death.
"We have returned to the area a number of times as part of this investigation and will continue to return each time we receive new information," he said.
"There absolutely are people in this community who know what happened to Jarrad.
"We know a white wagon stopped in Becks Bridge Road about 4.30pm on April 18 and took Jarrad's bike, which is still yet to be recovered.
"Again we're asking anyone with information regarding its current whereabouts, as well as what happened to Jarrad and who is responsible, to speak to police."
Investigators are urging anyone with information to contact Crime Stoppers on 1800 333 000 or submit a confidential report at www.crimestoppers.com.au