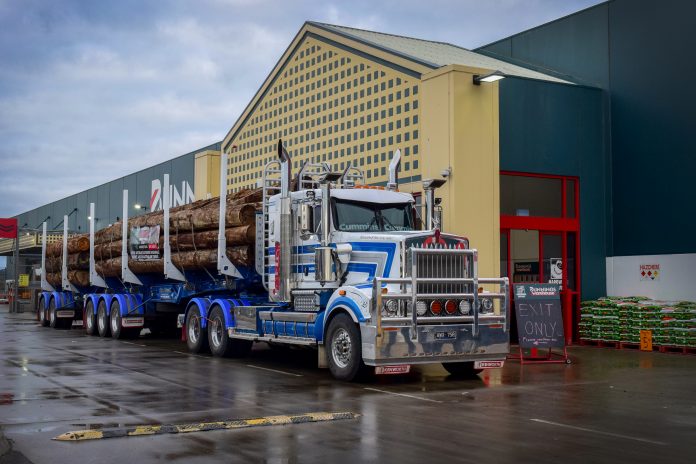 Kate Withers
An ongoing stoush between big business and the timber industry has reached tipping point, with hardware giant Bunnings putting the CFMEU on notice.

In a letter addressed to the CFMEU national secretary, a copy of which has been obtained by The Express, Bunnings Group Limited outlines "concerns arising from the conduct" of the union after a demonstration in Traralgon.

Logging trucks formed a blockade outside the Bunnings store Traralgon in July, in planned action to oppose the chain's decision to stop sourcing timber from VicForests.

The move to cease supply of VicForests timber came after a landmark federal court judgement which ruled it had illegally logged coupes across the state.
The 'Boycott Bunnings' campaign encouraged timber industry workers to stand against the decision, which the union said would decimate the Victorian hardwood industry.
At the time, CFMEU national secretary Michael O'Connor said members "would not sit back and be pushed around by big end of town fat cats like those in Bunnings and Wesfarmers head offices".
But the blockade in Traralgon was met swiftly with a letter of notice from Bunnings, warning it would commence legal proceedings if the union facilitated any further "unlawful" blockades.
In the letter addressed to Mr O'Connor, the company said threats to "inflict further damage to Bunnings' business … will not be tolerated".
"Should the conduct of your 'Boycott Bunnings' campaign involve any further protests … which unlawfully interfere with our business, Bunnings will not hesitate in taking the necessary legal action to protect its interests," the letter reads.
It also includes a direction for the union to withdraw the Bunnings Warehouse logo from all its online platforms, warning a failure to comply was a breach of copyright laws and would result in legal action.
CFMEU national secretary Michael O'Connor said the union was "shocked by the threatening nature of the correspondence from Bunnings".
"We were surprised about the response from Bunnings, it was a very short and peaceful protest, it was respectful of the staff and customers, the local community and the COVID-19 requirements," Mr O'Connor said.
"We see it as an attempt to close down and shut down a legitimate disagreement and we think it was designed to try and intimidate people and make them stop expressing their views about Bunnings' decision.
"This is a sustainable industry and it supports lots of local regional jobs and communities and Bunnings should review its decision.
"We want to highlight to Bunnings and their customers that this decision is not one consistent with a company acting responsibly, and not one that claims it supports local communities."
But Mr O'Connor maintained the union would not be deterred from taking any further action.
"We don't want to cause trouble, we want to make our point peacefully, and our point is that Bunnings have really let down local timber towns and communities," he said.
"Our campaign will continue, we won't be intimidated by Bunnings and the community representatives wont be intimidated.
"As soon as it's responsible to do so within restrictions and guidelines and once it's appropriate we will continue our campaign and we'll do so respectfully of staff, the community and customers."
Bunnings Director of Merchandise Phil Bishop said the "CFMEU-endorsed stand-over tactics on July 22 were unlawful and unfairly targeted our team".
"Despite being asked to keep entrances clear by police, the individuals involved continued to blockade the (Traralgon) store and disrupt customer access," Mr Bishop said.
"Bunnings is not prepared to tolerate unlawful or deliberately intimidating behaviour at our stores and we won't hesitate to act to protect team and customers if the conduct is repeated.
"While we only sell a small portion of VicForets' total harvest, we acknowledge there are concerns about what this means for the local timber industry and we're working closely with affected suppliers on transition plans to minimise any impacts."