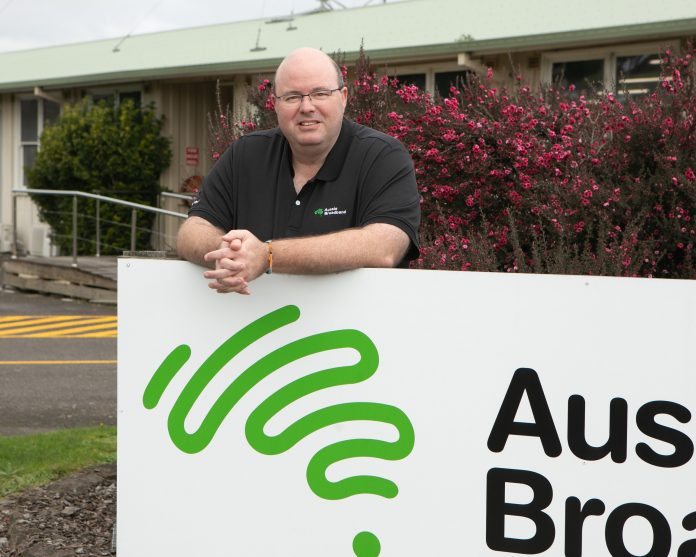 Michelle Slater
A Morwell telco was floated on the stock market for a staggering $190 million on Friday after being founded 17 years ago by a local man who "barely passed VCE".

Aussie Broadband started trading on the ASX under the name ABB, with 40 million shares on offer at $1 each. It was over-subscribed and closed within 75 minutes, with more than 9000 people queuing up before the offer opened.
The company also picked up an extra 100,000 customers in the past five months and employed an extra 150 staff, as more people sought "better quality internet" while working from home.
Aussie Broadband managing director and co-founder Phillip Britt said this success proved that any company could thrive in the Latrobe Valley given a chance.
"I was born and bred in Morwell and ultimately Morwell is my home. I grew up here and it makes sense to have the business here," Mr Britt said.
"Regional people have a different way of thinking and are more focused on customers, they get this more than city people do."
Mr Britt told The Express he "barely passed" VCE and left school to work in a computer shop.

He started his own internet business at 19 and sold it three years later to form Wideband in 2003.

He formed Aussie Broadband with his business partner John Reisinger with $20,000 from a merger between Wideband Networks and Westvic Broadband in 2008.
The Electra Avenue company has become Australia's fifth biggest NBN provider, with more than 300,000 residential, small business and enterprise customers.
"When we started, the internet was not mainstream, many people didn't have email addresses, and now we've seen it evolve into an essential service," Mr Britt said.
"But it hasn't been smooth sailing, there were four points in the 17 years when I thought I'd lose my house, so today's success was not without its difficulties."
Mr Britt worked with Morwell training providers to employ a diversity of locals from the long term unemployed through to professionals who had a knack for customer service.
It employs 300 people in its Morwell office and 160 in a Lynbrook call centre office it opened two years ago, with plans to open more offices in Perth to avoid three-hour time zone differences.
"Our product does exactly as we say it will do, and we've won multiple customer service awards," Mr Britt said.