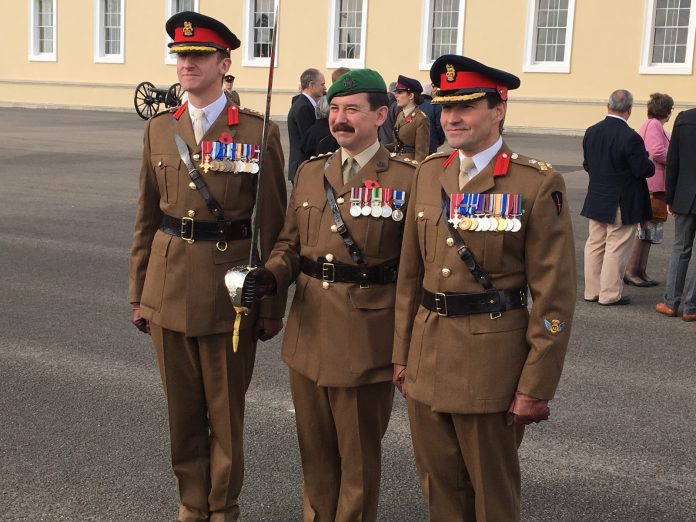 Michelle Slater
A Latrobe Valley man has been made a Member of the British Empire for helping to stamp down on illegal rhinoceros and elephant poaching in sub-Sahara Africa.

Captain Luke Townsend is waiting to be able to travel to Buckingham Palace to receive the prestigious honour for his services to conservation from either The Queen or Prince Charles.
The MBE tops off an already impressive list of accolades including a Sword of Honour, as well as a NATO Meritorious Service medal for taking on the Taliban with the British army in Afghanistan.
Cpt Townsend said a rhino horn can fetch $600,000 USD on the black market, and a poacher can pocket $30,000 USD in an area where the average wage is the equivalent to an English pound a day.
"Rhino horn is worth more than platinum or gold, and rhinos are moving around the park like unsecured gold ingots," Cpt Townsend said.
"These poachers are ex-soldiers or ex-professional hunters and they have these rare skills to track a rhino over several days. They are very good at what they do and they can be heavily armed.
"We know one poacher killed more than 100 rhinos, he cleared out several national parks, one of my colleagues managed to capture him."
Cpt Townsend got involved in securing endangered animals by offering his services as a British army corporal to Prince Charles, after the Prince had put out an appeal to "unite for wildlife".
The Prince took up Cpt Townsend's offer and was keen to help him deploy some of the necessary resources needed in remote African communities.
Cpt Townsend was also able to meet with then UK foreign secretary and now British Prime Minister Boris Johnson to ask for more troops on the ground to scale up operations.
"When I met first the Prince of Wales, he said 'what a thrill to finally meet you', but I was more thrilled to meet him," Cpt Townsend said.
"The Prince sat there for 45 minutes and asked me about the things we needed to be concerned about over there.
"He gave me the backing because he wanted action. He was the most well-informed and concerned individual. I was most impressed."
Cpt Townsend said his priority was helping train and equip under-resourced rangers, as well as establishing relationships with the local communities where poachers were moving through.
"In many places, there was a complete lack of equipment, and some rangers had their toes hanging out the front of their boots," he said.
"We needed to make it more difficult for the poachers, with more rangers to intercept them so they could change the batting average. The protected areas are huge, with so few rangers on the ground."
He spent months out in the bush training rangers with teams of local tracking experts, carrying nothing but a backpack and ground mat, and supplementing meals with bush foods along the way.

"The landscapes are immense, it's hard to explain how vast they are, it's primeval. At night you could hear lions moving up and down talking to each other, you learn how to keep yourself safe," he said.
"Elephants can be very dangerous, they killed one of our British soldiers. But the threat levels were comfortable compared to being in Afghanistan."
Cpt Townsend is now working with non-government organisation African Parks helping secure 19 protected areas from highly organised poaching rings.
He is also working with Federation University on designing an autonomous ground vehicle and drone to monitor vast tracts of land in these protected areas.
To find out more information about African wildlife conservation, visit africanparks.org.