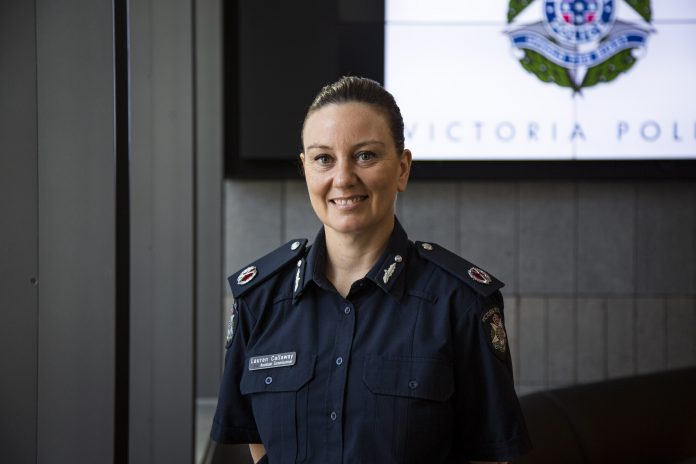 Tessa Randello
Covering police news in the Latrobe Valley Express was more than just a first job for Lauren Callaway, it shaped her future career.

The first female Family Violence Command Assistant Commissioner was appointed on September 7 and in the early 1990s reported the police beat as a cadet for the paper.

She later decided she would rather be the one making the news.
"My father John was a Latrobe Valley Sergeant at the time so naturally I was given the job of doing police rounds as a cadet journalist at The Express," she said.

"As I was reporting I used to think the police had such an exciting job and I decided I would rather be part of the work they do than reporting on it."

AC Callaway said working in the local newsroom set her up for a successful career in the police force.

"At the time journalism was a male-dominated field and it was a really demanding job, I remember getting to the police force and thinking that I could take on anything," she said.
"I think it really set me up for life and many of the skills I gained were transferable; you have to be quick and accurate, with great spelling and grammar and you meet people from all walks of life."
AC Callaway, now in her 40s, said she still visits the Valley and reflects on her time growing up in Sale, Morwell and Traralgon and working at The Express fondly.

AC Callaway graduated from the Victoria Police Academy in December 1994, but said it was not smooth sailing.
"It took me a while to pass the physical test, back in those days you had to complete an obstacle course like you would see in the movies," she said.
"The course itself had some very specific components that were a real disadvantage to women, especially shorter women like me.
"Those components were later removed from the course but every few years we had to complete the course again in a full equipment belt and it was the bane of every policewoman's existence."
After working in Melbourne, Ballarat and Geelong AC Callaway became Sergeant at the DNA Management Unit, while at the same time she also wrote an autobiography of legendary jockey Darby McCarthy.
Darby McCarthy Against All Odds was a passion project for AC Callaway. It took her four years to complete and was published in 2005.
"My family have always been into racing and I met Darby through the racing community and he had so many fantastic stories about his life," she said.
"I never wrote it for the money, but I am really glad I wrote it, members of his family have called me looking for copies and that is really nice."
Before her appointment to Assistant Commissioner, she was a Senior Sergeant for Sex Offenders Registry and Violence Against Women and Children Strategy Group.
AC Callaway was appointed Superintendent Offender Management Division (sex and violence offender intelligence area) in 2016 and Commander in People Development Command in 2018.
AC Callaway said she hoped to bring police responses for for family violence and child abuse together in her new role.
"I would like to build on the relationship between the police force and family violence sectors in government, a lot of the hard work has to happen through government partners and support services," she said.
"Integrating these systems will give victims and survivors the best chance for safety."
AC Callaway has always been passionate about gender equality, having worked in male-dominated industries.

"I am really interested in starting the conversation around gender equality because gender inequality lies at the heart of violence against women and I will bring that necessary conversation to this role," she said.