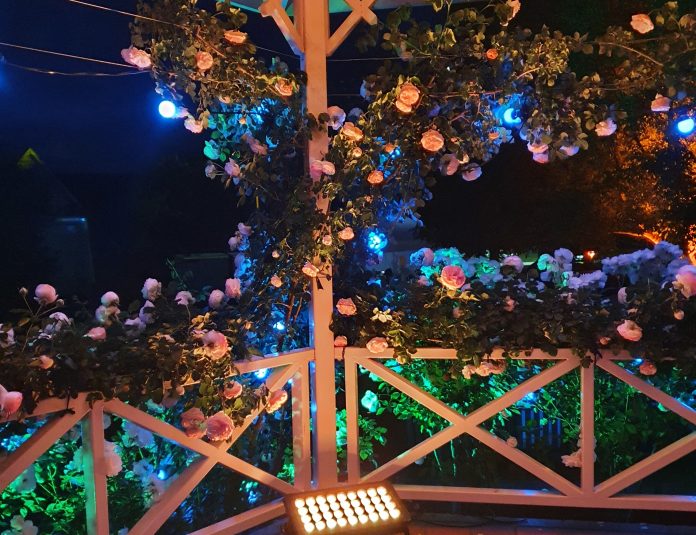 Kate Withers
Visitors may not have been able stop and smell the roses in person this year but the 2020 Virtual Morwell International Rose Garden Festival went off without a hitch.

Held across the weekend, the festival was staged online where green thumbs the world over could stop by and listen to guest speakers, visit stalls, participate in workshops and hear local musicians.
The AGL Midsummer Night Lights illuminated the blooms in all their glory on Saturday and Sunday night and was the only in-person event.
Friends of the Rose Garden chair Del Matthews said the virtual festival was "fascinating" for all involved.
"It was just wonderful, there were so many different aspects of it and we enjoyed every single one of them," Ms Matthews said.
"The guest speakers were quite beautiful, we had Australian-renowned and international ones too.
"We had picnic hampers demonstrations, artists painting, and people that had registered early were able to do a paint by numbers demonstration.
"We even had a bartender from Traralgon doing a cocktail making demonstration and that was just fascinating.
"The Midsummer Night Lights were beautiful, people were just standing there with their mouths open and it was very well organised and socially distanced.
"It was lovely that people could still have that experience even though everything else was online."
Patrons could visit the various events and demonstrations at their own pace online and could ask questions of the rose experts.
"You could go in and go whichever way you wanted as well as listening to talks, and Latrobe City Council did a brilliant job of organising that virtual aspect of it," Ms Matthews said.
"Back at the rose garden all the Friends of the Rose Garden were talking about different aspects of it."
The festival was broadcast to the world as a fully interactive online virtual event.
Latrobe City also staged an outdoor dining initiative across the weekend which featured local cafes and restaurants in alfresco spaces with live entertainment.