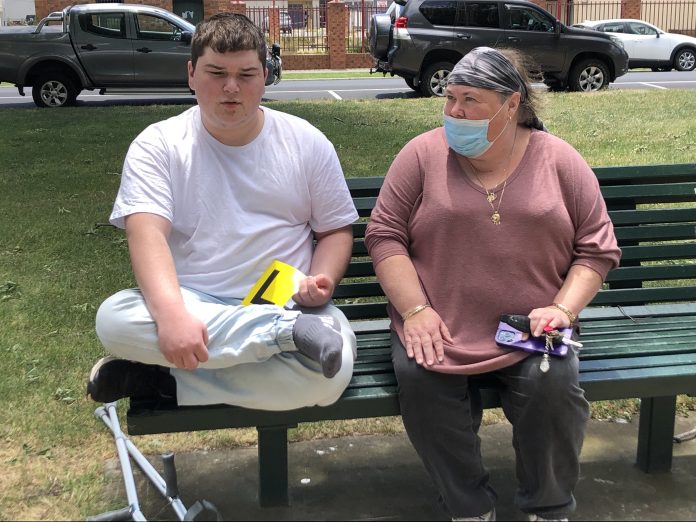 Kate Withers
Nationals Member for Eastern Victoria Melina Bath has called for an urgent review of mask rules after a teenager with a disability was refused the right to sit for his learner's permit for not wearing a mask.

Churchill resident Jacob Davison was booked in to sit his hazard perception test at VicRoads in Morwell, but was turned away at the doors, despite carrying a medical exemption and letter from his specialist.
Ms Bath said Jacob and his mother Kim Meers approached her "quite distressed" after being denied entry to sit the test.
"Jacob was going to go and get his learner's permit and he was studying very hard for that, but unfortunately when he went into VicRoads it was said there was a no mask, not test policy," she said.
"Jacob also then began to take out his exemption, his letter from his specialist, and that was not allowed.
"I took this to the Minister for Roads and Road Safety in parliament last week and I said to the Minister that this really needs to be cleaned up.
"We have a ruling from DHHS that says that masks are allowed (to not be worn) with an exemption, and clearly Jacob Davison has a very good exemption."
Jacob, 19, has autism and sensory processing issues which make wearing a mask difficult.
"He is a disabled young man, a man with a great future, but he also needs a driver's license," Ms Bath said.
"He's got a vision of what he'd like to do, he'd like to study animals in the future, he's got a job to go to but a learner's permit is one of those key steps for him to go towards independence.
"It's really unfortunate that the government makes these directives, yet there is a mismatch in information flowing down to state government agencies."
Jacob said he felt "horrible" after being turned away after studying hard to prepare for the test.
"I was doing really well with it (studying for the test) and I was getting a pass on the test (online) so I thought I was doing all right," he said.
"I would have more independence to be able to go out, see my friends … feel that I'm a part of the community."
After speaking with media, Jacob received a phone call from VicRoads and was offered an apology and the opportunity to sit his test in a quiet room without a mask.
Jacob sat his test on Tuesday and successfully obtained his learner's permit.