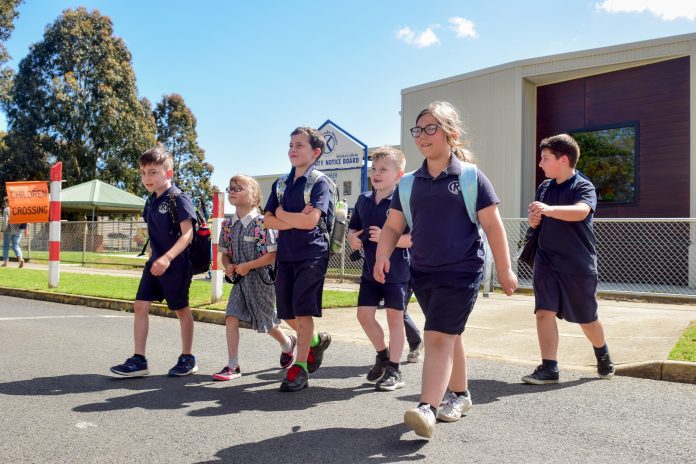 Michelle Slater
Latrobe City Council said it is looking into a school crossing safety upgrade after Kosciuszko Street Primary School parents warned children could be hit by cars on Catterick Crescent.

Parent Peta Lewellin has been pushing for a trained school crossing supervisor after a near-miss with her seven-year-old son earlier this month, following longstanding safety concerns around increasing traffic on Catterick Cres.

Ms Lewellin told The Express safety issues had been exacerbated with COVID-19 restrictions, meaning parents could not enter the school and must wait outside on the street to pick up their kids.

"Lots of parents must wait on the opposite side of the crossing. I walked halfway across to meet my son and guide him across the road to hold the space for him, but someone didn't stop," Ms Lewellin said.
"All the parents shouted 'Oh my God! That was close!'. We've seen many cars do this. Parents are acting as untrained crossing supervisors without the stop sign or hi vis."
Catterick Crescent is a council-managed road in Traralgon, but there is a supervised school crossing on Kosciuszko Street with the nearby Lavalla Catholic College opposite the primary school.
Ms Lewllin said Catterick Cres became "very chaotic" at school pick-up and drop-off times, but there was only a set of flags up at these hours to indicate that children were crossing.
She accused both Latrobe City Council and VicRoads of handballing the issue between each other and she called for a crossing upgrade to be budgeted for and immediately prioritised.
"We fear a kid or parent will get hit and die, I think it's tragic that Latrobe City's budget takes priority over children's safety," she said.
However, a Latrobe City spokesman said council would undertake a traffic and pedestrian count to determine if the crossing met the minimum requirements for VicRoads funding.
He said the crossing could then be included in Latrobe City's annual funding application to VicRoads, pending the survey results.
"Council officers contacted the school principal this week to discuss further traffic safety messaging," the spokesman said.
"We recommend that parents are encouraged to use the currently supervised crossing at the western entrance of the school."