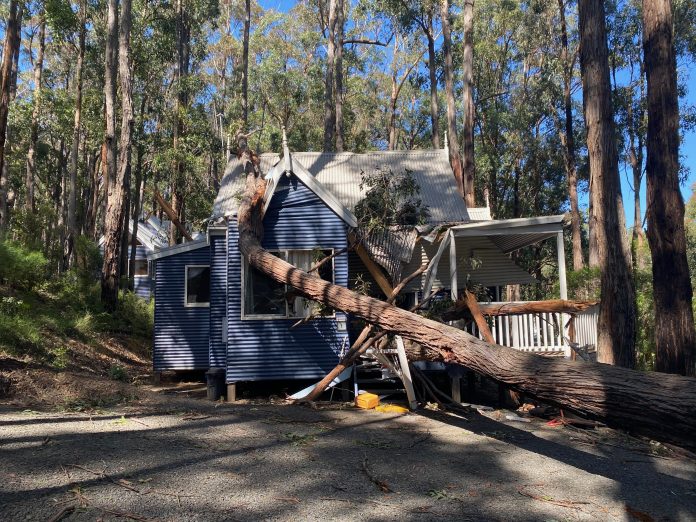 Hayley Mills
Local State Emergency Service volunteers worked tirelessly through the early hours of Monday morning responding to more than 160 calls for assistance.

Requests for assistance ranged from trees down across roads, driveways and minor damage to fences.
There were also a number of reports across the region of trampolines and other unsecured backyard items flying away.
Wind gusts reached 91kph across the Latrobe Valley while at Wilsons Promontory and Alpine regions there were gusts of up to 100kph.
Morwell SES unit was the busiest throughout Monday, responding to 49 calls for assistance while Moe and Warragul each responded to 35.
In Glengarry, residents woke to branches down across Cairnbrook Road blocking the school crossing.
Glengarry Hotel publican David Barnes said in his 35 years of living in town he had never felt winds like that before.
"It is probably the worst I have ever felt the wind in Glengarry, it was like a mini cyclone came through," Mr Barnes said.
"I was in bed and I thought the roof was going to take off and I think everyone else would have been in the same position."
While Mr Barnes had no structural damage to his property or business there was still a mess to clean after tree branches, tables, chairs and umbrellas were scattered through the newly-renovated outdoor area at the hotel.
Erica residents Steve and Sharon Kent experienced mixed fortunes.
"About 2am I heard the first tree come down before a second one not long after," Mr Kent said.
"One tree came down on our shed-come-workshop and the other on one of our three studio cottages. Luckily, the family home was left untouched."
Mr Kent said that his shed was "pretty much destroyed" but believed the cottage could be repaired.
SES community resilience coordinator Jane Fontana reminded residents to continue to stay vigilant and follow the advice of professionals during these situations.
Check that loose items such as outdoor settings, umbrellas and trampolines are safely secured and move vehicles under cover or away from trees.
Be careful on the road, trees can drop branches or fall over at any moment. Avoid travel if possible.
Stay away from fallen powerlines, always assume they are live.
Stay informed, monitor weather warnings, forecasts and river levels at the Bureau of Meteorology website, and warnings through VicEmergency.
A reminder if you need SES emergency assistance to phone 132 500 or Triple Zero (000) in a life-threatening emergency.