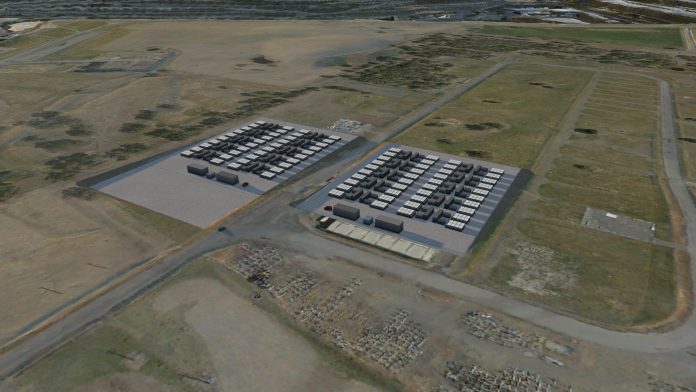 Michelle Slater
The state government has welcomed news of AGL's planned 200 megawatt battery to be built at Loy Yang A, describing it as a "major win for the Latrobe Valley".

AGL announced on Monday that it was forging ahead with building a grid-scale battery to the north of Loy Yang A's raw coal bunker on a 3.5 hectare footprint.

The 200MW battery will provide up to four hours of energy storage and should be operational by 2023, with construction to start late next year pending regulatory approvals.
AGL has stressed the project would not affect operation of the coal plant or change the planned closure date of 2048.
The battery will help shore up grid shortfalls or coal outages, and supply will be dispatched under management from the Australian Energy Market Operator.
AGL major projects general manager Lucy Martin said they were still finalising where the battery would come from, the capital expenditure and jobs numbers.
Ms Martin said most jobs would be created through the construction phase rather than operating the big battery.
She said the battery was designed to strengthen the role of renewables in the grid, but assured that Loy Yang "remained a really important part of base load generation" in Victoria.
"Batteries are an essential part of the switch towards renewables, when the wind's not blowing or the sun is not shining, then we need to have that capacity to be able to firm up supply," Ms Martin said.
"Batteries and renewables are a part of the longer term solution for Australia, AGL is one of the big movers in this market in terms of moving forward with grid-scale batteries."
AGL's announcement comes just weeks after the state government unveiled plans for a 300 megawatt battery to be built near Geelong, making it the biggest in the southern hemisphere.
Energy Minister Lily D'Ambrosio commended AGL for securing Victoria's next big battery.
"This is a major win for the Latrobe Valley, whose economy has long been powered by energy," Ms D'Ambrosio said.
"Big batteries will play a major role for the energy grid of the future and supporting renewable energy."
Member for Morwell Russell Northe also welcomed AGL's investment after initially questioning why the state government announced Victoria's first big battery was going to the Geelong region.
"It makes sense that this type of investment will take place in the Latrobe Valley because we have been the hub of electricity generation in the state for decades, and there is a transition from non-renewables to investment in renewables," Mr Northe said.
"I think the project will be well received, particularly if it creates jobs, security of supply and will keep electricity prices down."
AGL is developing an 850MW battery system on four sites, including the Valley, Torrens Island power station in South Australia, Liddell and Broken Hill in New South Wales.
The plans are a part of the energy giant's climate statement, which sets a target of net zero emissions by 2050.