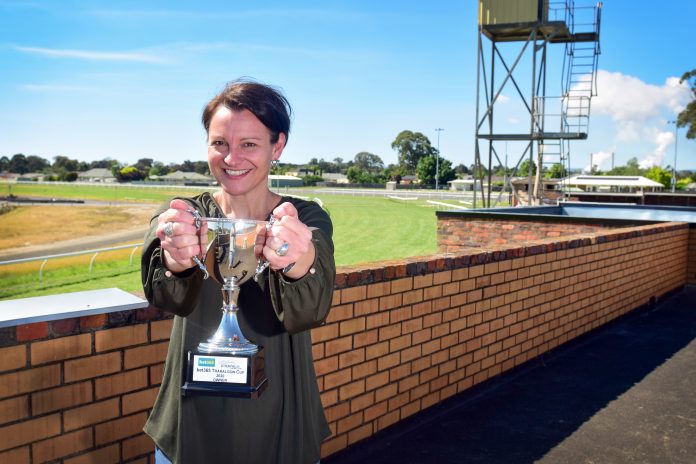 Hayley Mills and Gregor Mactaggart
The 2020 Traralgon Cup will be run and won on Sunday.

But due to coronavirus restrictions still in place, only a handful of people can be in attendance.
It is a blow for the Latrobe Valley Racing Club, having staged its annual Derby Day meeting in similar circumstances on October 31.
LVRC chief executive officer Jenelle Fothergill said timing was not on their side.
"It's definitely a different year for us," she told The Express.

"We've had Derby Day with the inability to have crowds and now the state government have just released protocols for racing clubs.
"Sadly we just fall short of being able to have a crowd here for Cup Day.
"The whole atmosphere changes for us, it's all on the business side with only owners allowed to come and they need to pre-register if they have a horse running on the day."
Even though the general public is a scratching, Ms Fothergill said a great deal of hard work has gone into making Traralgon Cup Day as big a success as possible.
"Closing down allowed us time to focus on the track and facility maintenance, which has been great," she said.
"The track is the number one focus, it is all about the horses racing on that.
"But the grounds are in fantastic condition. We took a lot of time last year to upgrade our gardens and they weren't quite at their peak.
"This year we've got beautiful roses, the flowers are blooming, so it definitely doesn't stop for us, but it would have been nice to have the crowds here to enjoy that."
Ms Fothergill was optimistic once the green light was given for the general public to return to racecourses, the LVRC would be well supported.
"We've had lots of people emailing and texting us regarding their disappointment on not being able to come to race days this year, so we're hoping to come back bigger and better next year," she said.

The eight-race program had 95 acceptors today, headlined by a field of 12 accepting for the $70,000 Bet365 Traralgon Cup (1900m), run at 4.30pm.

Brett Scott, who has trained the Moe and Ballarat Cup winners during recent months, will chase another feature country success.

Last year's winner Prince Ziggy is back to defend his crown, with trainer Jamie Edwards calling on the services of star jockey Noel Callow.

There is strong Gippsland interest in the race.

Team Gelagotis has accepted with Nudge Bar, who will be ridden by Craig Newitt.

Brigadier, who ran second in last year's Cup for Sale trainer Wayne Walters, is back for another tilt alongside another Sale galloper in Ally's Reward (Allan Douch).

Heartland Raider will be aiming to give Moe hobby trainer Charlie Gafa his second Traralgon Cup victory after Blacktype Magic's triumph in 2001.

Racing starts at 1pm, with the last at 5.10pm.

Television coverage of the meeting is available on Racing.com (Channel 68).

FIELD FOR $70,000 BET365 TRARALGON CUP (1900m), run at 4.30pm on Sunday.

1 Imelda Mary (Trainer – Brett Scott, Jockey – Noel Callow) barrier 2

2 Savaheat (Trainer – Mick Price and Michael Kent jnr, Jockey – Michael Dee) barrier 9

3 Portland Jimmy (Trainer – Patrick Payne, Jockey – Rhys McLeod) barrier 6

4 Prince Ziggy (Trainer – Jamie Edwards, Jockey – Noel Callow) barrier 10

5 No Effort (Trainer – Gavin Bedggood, Jockey – Daniel Moor) barrier 1

6 Diamondandbubbles (Trainer – David Brideoake, Jockey – Beau Mertens) barrier 3

7 Lord Bouzeron (Trainer – Francis Finnegan, Jockey – Will Price) barrier 5

8 Meteor Light (Trainer – Shawn Mathrick, Jockey – Zac Spain) barrier 11

9 Nudge Bar (Trainer – Peter Gelagotis, Jockey – Craig Newitt) barrier 7

10 Brigadier (Trainer – Wayne Walters. Jockey – Kate Walters) barrier 12

11 Heartland Raider (Trainer – Charlie Gafa. Jockey – Campbell Rawiller) barrier 8

12 Ally's Reward (Trainer – Allan Douch. Jockey – Nathan Punch) barrier 4