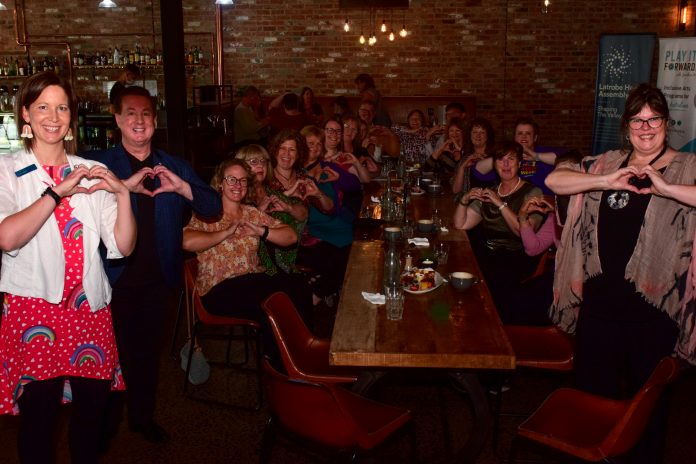 Cher Jimenez
IT was love at first sight when multi-award winning composer and conductor Dr Jonathon Welch AM first came to Latrobe Valley seven years ago.

"I'll never forget the first time over that hill (while driving from the city) and I saw the expanse of the Valley and then there's the chimney stacks (of Hazelwood), I thought 'my God, wow this is so beautiful!" he told The Express.

For several years, Mr Welch worked with Latrobe Community Choir on many community projects in an area that he is well-known to have mastered – bringing out the best in people through music.
The 62-year-old musical legend was the founder of the internationally-acclaimed Choir of Hard Knocks that he formed in 2007 with people who were experiencing homelessness and disadvantage.
Last week, Mr Welch's new masterpiece, a music video of his "love song" for the Latrobe Valley, had its world premiere online and was launched in Traralgon.
My Valley, My Home has been a work in progress for the Essendon-based conductor who began writing the song's lyrics almost three years ago.
Mr Welch said the original plan was to launch the song in a concert with the Latrobe Valley Community Choir in March this year which was cancelled because of restrictions.
With everything being done online, the concert turned into a digital project where members of the community were encouraged to sing the song and submit videos that were put together to form a music video version.
For Mr Welch, who worked on the project together with the community choir and Latrobe Health Assembly, what transpired to make the music video was a blessing in disguise.
"I think this is, I suppose, a silver lining to come out of this very difficult year that we've had that we can still create something so positive and sing so beautifully," he said.
Everyone who sang in the music video – young and old, all abilities and community organisations and some technical people, were all Valley residents.
An Auslan interpreter was also involved in the project which was launched during Social Inclusion Week. "This song was really about highlighting the best of the Valley," Mr Welch said.
"It's not only what's beautiful about the landscape but what's also beautiful about the people in the community.
"When you hear the lyrics I wanted to reflect why people choose to live here when there are lots of opportunities to live in the city or overseas, but because it's the beauty of the Valley, it's the friends and family and it's the care and support that they gave each other during difficult times (that make them stay)."
Mr Welch hoped the song would become an anthem within the community.
"This is my love song to the Valley and hopefully people will feel that as well too when they listen to the lyrics," he said.
Watch My Valley, My Home via this link https://youtu.be/NpgcON4hhfk