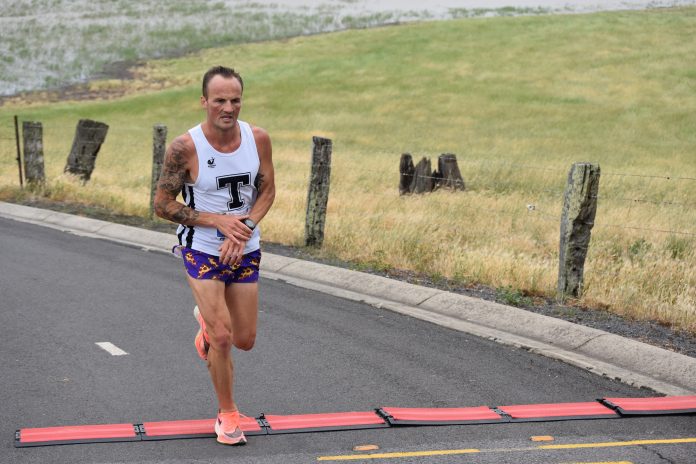 Gregor Mactaggart
Zack Beasley only took up running two years ago.

Yesterday, he won his first Traralgon Marathon in magnificent style.

Beasley, 28, produced a scintillating performance in wet, blustery conditions to win the prized event in a time of 2:40.28.

He finished 14 minutes clear of nearest rival Peter Cutler, with Mark Andrew rounding out the top three.
The triumph caps a remarkable ascent for the Churchill resident, who shared his remarkable story with The Express post-race.
"I quit smoking a couple of years ago and started out with parkrun first, then joined the Harriers," Beasley said.
"I'd done a bit of cross country at school, but I finished second in the Community Fun Run and I won a free membership with the Harriers, so that sucked me in."
Beasley sported the scars of tackling the 42.195km assignment, which took in the surrounds of the Gippsland Plains Rail Trail before finishing with an uphill climb at Traralgon Vineyard.
Blood was dripping from cuts on the backs of his ankles and a new pair of shoes might also be on the cards.
"It was pretty windy out there, I went into the race aiming for a 2:45, so to run 2:40 was great," he said.
"I'm really happy to win … but I'd like to win one in a full year.
"This is only my third marathon, I ran 2:56 to win my first one at Lilydale and 2:52 last year (in Traralgon).
"I'd like to thank my partner Jodi, Harriers president Phill (Mayer) and all the athletes who ran out there today, making the event what it was, and give my mates at the Athletes Foot a shout out."
Beasley, who said he would have today off and go for a massage to recover, will again test his limits on December 12 when he lines-up in a 100km race at Wilsons Promontory.
Narelle Crozier was as dominant as Beasley on her way to taking out the women's event.
Crozier produced a slashing performance to win in a time of 3:14.17, nearly 53 minutes clear of her nearest rival.
Liz Kenney finished runner-up, with Christine Hill rounding out the top three.
Traralgon Harriers president Phill Mayer said due to COVID-19 restrictions, the event, which is the oldest continuously run marathon in Australia, was restricted to club members only.
"We had 80 runners across the three events (marathon, half-marathon and 10km), and considering we've got 120 members, that is two-thirds of our members running today," Mayer said.
"At times the winds were gale force out there, so credit to everyone who got out there and took part, as well as the volunteers who ensured the event, now in its 53rd year, ran smoothly.
"Also thanks to the Gippsland Plains Rail Trail committee and the team from Traralgon Vineyard, who allowed us to use their facilities as our finish point."
In the half-marathon, Clinton Jolly took the honours courtesy of a 1:34.47 run.
Jolly finished a minute clear of Andrew Greenhill, with Stephen Renehan in third place.
Kay Arrowsmith was an impressive winner of the women's half-marathon.
Arrowsmith stopped the clock in 1:42.32, four and a half minutes clear of Yani Cornthwaite, with Bryanna Mifsud in third.
The 10km event featured some electric times.
In the men's event, Greg Semmler broke the 40-minute barrier, prevailing in 39.03.
Marlon Mifsud was second and Miles Verschuur rounded out the top three.
Molly Irvine continued her good form by winning the women's 10km in a fine time of 43.22.
Irvine finished more than six minutes ahead of runner-up Kate Mayer and Tegan Moscript finished third.
2020 Traralgon Marathon running carnival – selected results

Marathon:

Women: Narelle Crozier 3:14:17, Liz Kenney 4:07:05, Christine Hill 4:29:21, Kim Essex 4:32:24.
Men: Zackary Beasley 2:40:28, Peter Cutler 2:54:39, Mark Andrew 3:00:43.

Half Marathon:

Women: Kay Arrowsmith 1:42:32, Yani Cornthwaite 1:47:02, Bryanna Mifsud 1:47:14.
Men: Clinton Jolly 1:34:47, Andrew Greenhill 1:35:54, Stephen Renehan 1:37:19.
10km event:

Women: Molly Irvine 43:22, Kate Mayer 49:42, Tegan Moscript 52:01.
Men: Greg Semmler 39:03, Marlon Mifsud 40:18, Miles Verschuur 41:02.