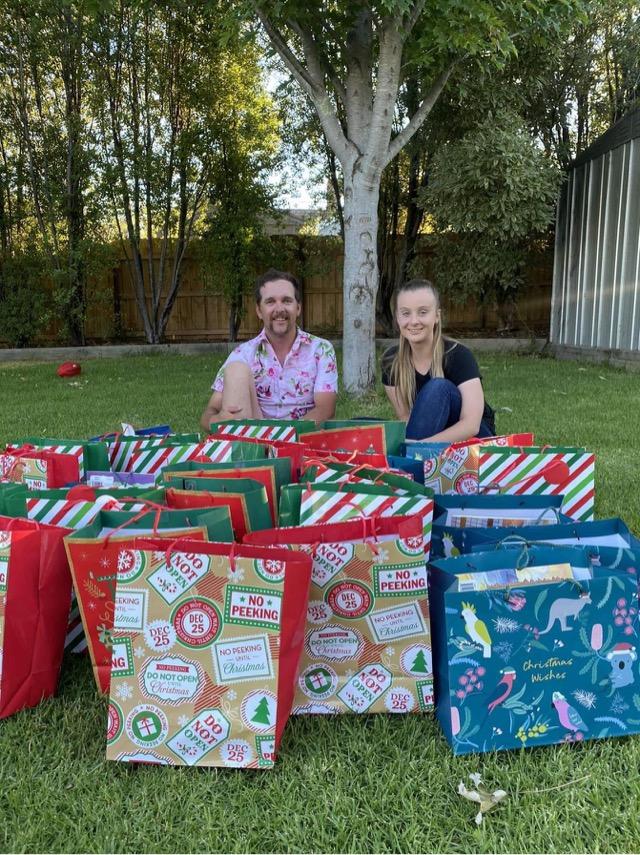 Cher Jimenez
It didn't take long for a young Traralgon couple to decide that a one-off act of kindness would lead to something bigger than expected.

On November 17, Maddy Healey posted a photograph of a children's wooden balance bike that she wanted to pay forward in social media.
It was a birthday gift for her partner Reece Hack that was given by a friend "as a joke".
"We both said we didn't need it so instead of putting it on marketplace and get money I decided to post it on the Pay It Forward Mums & Bubs – Gippsland Facebook page," Ms Healey told The Express.
She wanted to give the item away to make a child happy to open a gift on Christmas Day. Eventually the bike found a family who was struggling to buy a present for their little girl.
As soon as the bike was gone, Ms Healey and Mr Hack, who have a six-month-old son, thought of doing something greater.
The next day the couple prepared 30 gift bags containing newly purchased toys and activities for children and posted them on the same Facebook page.
"We don't like the thought of a child waking up on Christmas morning and wondering why Santa didn't come to them but went next door!" Ms Healey wrote on the page.
"It's nothing fancy or big but if it helps to put a smile on a little girl or boy's face then that's all that matters.
"If you or you know someone that will struggle to put a toy under the tree this year, please get them to message me."
Her post attracted a total of 113 comments, mostly from mothers, who were doing it tough and requested to receive gifts for their children.
"It was hard (to choose), there's a lot of people who messaged me and told me their stories and that's how I chose," Ms Healey said.
Some of the comments came with a warning about the possibility that others make take advantage of the couple's goodness.
With a young baby in tow, Ms Healey delivered all 30 gift bags to families across Traralgon, Morwell, Moe and Churchill in one day.
"Most people were home and they're very thankful, some were close to tears," she said.

The couple decided to make 70 more Christmas bags, with some of that total set to be delivered to two local organisations providing foster care for children.
Ms Healey also opted to do a meet up in Traralgon instead of dropping the gifts on people's doorsteps.
She said she and her partner had decided to keep doing the project every year as they both grew up seeing how families struggled during the Christmas holiday.
"My mum works in homelessness so it's kind of an eye-opener for me to see how people are struggling," she said.
Ms Healey said the couple just wanted to help those less fortunate during the festive season.
"We just want to have less kids out there not getting anything on Christmas," she said.
"I hope that there'll be more kids smiling on Christmas Day and know that Santa came. Especially as a mum now, it'll break my heart if I'm unable to give something to my kid."
Ms Healey said some people had offered to donate money for the project.
The couple were planning to prepare a third batch of gifts as Christmas draws near.
Those who wish to support the project can send an email to maddyhealey98@gmail.com