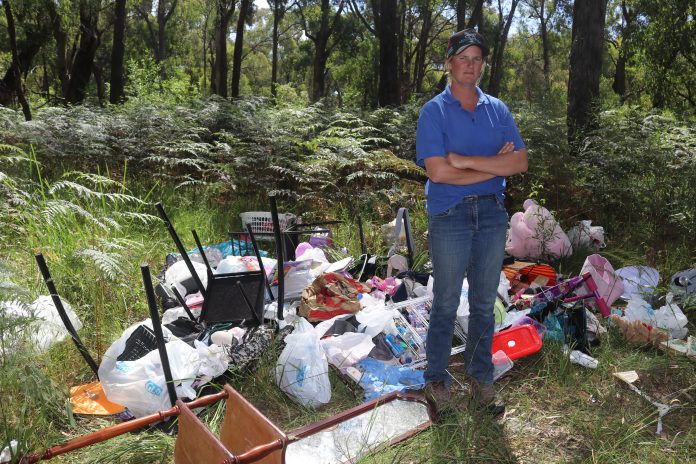 Michelle Slater
The Conservation Regulator is investigating ongoing illegal dumping in bushland surrounding the Yinnar South Transfer Station between Colleys Road and Whitelaws Track.

Latrobe City Council is also cracking down on dumping hotspots with officers monitoring the Colleys Road bush reserve, as well as HVP plantations in Morwell and Moe South.
Neighbouring landholder Blair Taber said she was fed-up with "selfish pigs" continually leaving junk in the Colleys Road bush reserve which is popular with bush walkers, horse and trail bike riders.
The local horsewoman regularly rides through the bushland reserve and said hard waste had been dumped and left in the bush for years from what she believes are people shirking tip fees.
"I often see a heap of stuff around the boundaries of the transfer station, out the back of the tip there's been stuff left there for years. Those people are selfish pigs who ruin it for everyone," Ms Taber said.
"It's definitely ongoing because people keep getting away with it."
Ms Taber said she had found asbestos sheeting, gas bottles, cars, tyres, old motors and even a plastic bag full of dead birds chucked in the bushes.
However, she was fuming after the latest trailer load dumped near Colleys Road containing clothes, furniture, women's bras, kitchen utensils, kids' toys and books and bags of cigarette butts.
"A lot of this stuff could have been donated to the op shop, I don't know how they could live with themselves doing this. It would take more effort dumping it here than taking it to the tip," she said.
A Latrobe City spokesman said council was starting a new campaign to tackle illegal dumping and was also calling on the community to report it.
He said council spent nearly $200,000 a year cleaning up rubbish dumped on roadsides, reserves and bushland.
"Almost anything that can be purchased can potentially end up dumped. Council staff have even come across a wedding dress that was dumped," the spokesman said.
"While everyone has old or unwanted belongings at some time or another, dumping them on the roadside or in bushland is not the proper way to dispose of them."
Latrobe City's penalties for illegal dumping range from $330 to $4000 – far more than the cost of disposing rubbish legally.
The Conservation Regulator also encouraged anyone with information about dumping on public land managed by DELWP to phone 136 186.
Penalties for littering in a state forest can be up to $6600, or nearly $10,000 and/or one-month jail for aggravated dumping.