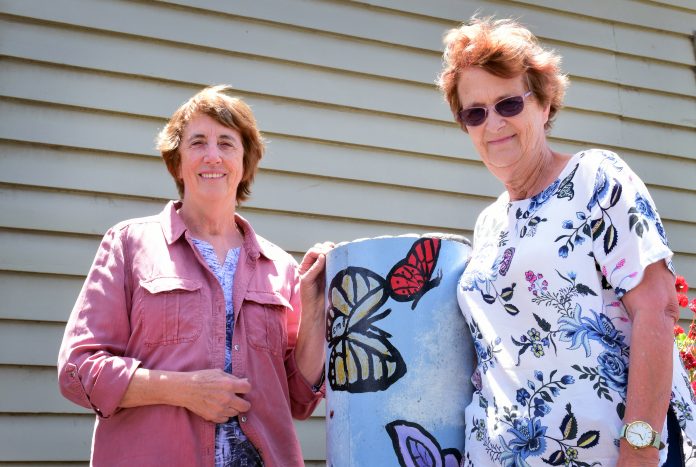 Kate Withers
After nearly 23 years stationed at its old railway rooms the Traralgon & District Art Society is on the move.

TADAS is in the process of shifting from its railway rooms to make way for Gippsland line railway upgrades, which are set to begin this month.
The group will now move into a studio on Dunbar Road, where it will continue to run classes for its 80 members.
President Andrea Ramsay and committee member Rita Fleming have been with TADAS for about 70 years combined and said the impending move was "bittersweet".
"I think we're all feeling a little bit sad because we've been here for 23 years and we're going to miss the trains and the steam trains when they start up again," Ms Ramsay said.
"The fact it's so easy for people to just get out of their car and get here, so we're excited about the new premises – it's going to be a totally different set-up.
"We'll be sharing, we've got our own room and our own office, but because we've had our own space here at the railway station we could come and go any time wanted.
"It'll be a little bit different up there but I think we're going to have some different classes up there.
"We've tried to build this place up, not just myself but previous people who have been in office, we've built this place up to get to the stage where it was one of the bigger art groups in southern Victoria."
Instead of setting up camp on the platform and painting passing trains, the group will now hold outdoor sessions at its new headquarters.
"We've got a big grassed area, the trees … it's just going to be great," Ms Ramsay said.
"We can just take our easels outside and set them up and paint and I hope to do demonstrations with that sort of thing too."
TADAS will move into its new Dunbar Road studio, at the Connecting2Australia Community Connections centre, this month and classes will begin there in the new year.
The group will continue running its kids club, classes for teens, social painting groups and mid-week classes and hopes it will be able to return to the station once works are complete.
"VicTrack and Latrobe City Council have been fantastic in helping us find a new premises and moving us out too," Ms Ramsay said.
"There's a lot of history and fond memories here (at the railway station), we absolutely love the steam trains so we're really going to miss them.
"But it's going to be fantastic, we'll have different plans and different classes and a whole lot of different things happening. It's exciting. It's a new era."