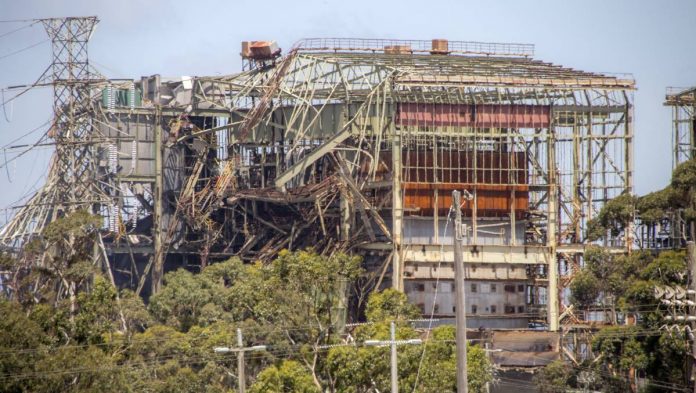 Michelle Slater
Demolition contractors will have another crack at demolishing what remains of Hazelwood boiler house 4 next week in a controlled explosive collapse, pending weather conditions.
Delta Group had attempted to knock the first of the old Hazelwood Power Station's four boiler houses down last month.
The demolition did not go to plan in what was a suspected misfire when only a portion of the structure containing unit 8 came down, with unit 7 remaining in place.
A fire then broke out in the remaining structure in the aftermath of the demolition, which was brought under control soon afterwards.
Delta Group will focus on completing the demolition of unit 7.
ENGIE will notify the local community when the demolition will take place once weather conditions are assessed and preparation works are finalised.
Demolition of the remaining boiler houses and two remaining mine dredgers are scheduled to take place next year.
An ENGIE spokesman said onsite monitoring after the partial collapse of boiler house 4 had provided "confidence around the processes in place".
"Workers and members of the public remained safe and without injury and there was no threat or risk to the local community or the environment," he said.
"The results of monitoring for noise, dust and asbestos indicated that the demolition complied with all applicable regulatory standards.
"All asbestos monitoring confirmed no positive detections of asbestos fibres anywhere on site."
For more information, visit hazelwoodrehabilitation.com.au.